My Insane Love of Dinner Parties
Posted on 12 August 2010
I was lucky enough to go to the University of St Andrews in Scotland (before you ask – I do not play golf…) There were so many reasons that I was insanely lucky to attend but here are the top two: it is one of the most beautiful places I have ever been and full of amazingly awesome people. One thing that is pretty unique about St Andrews is the explosion of dinner parties that happens the second you move out of your dorm rooms and into flats. I loved to throw dinner parties and it would not be uncommon to hold one a week at least!
How could I not have loved going to school here?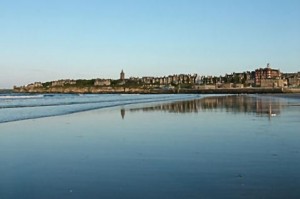 Even though it sounds fancy, we did it to save money (that and you can get up to far more mischief in your own home than a restaurant…!). It is far cheaper for everyone than to eat out. One person makes the food, the rest bring the wine and you can all spend a meal together without the sticker shock at the end of the meal. We would take it in turns to host, almost like a rotation and every host brought something to the table. Some were great cooks, some were great mixologists and some just had a lot of booze and knew far too many drinking games! All were a blur of slightly tipsy but yummy fun and they are one of my fondest memories from being in school.
When my husband and I moved in together one of our first furniture purchase was our dining room table (even before our bed or chairs!). I wanted to have a table large enough to fit eight people but would not take over our NYC sized apartment's living room. We found a genius table from Crate and Barrel. It looks like a desk most of the time and it seats four but then with a swivel on its' hinge and it doubles in size and somehow it's a dining room table for eight. Truly magical! Sadly they do not sell them anymore, I really wanted to post the link as I believe that every space compromised person needs to own one immediately!
Some how this seats eight people when it folds out!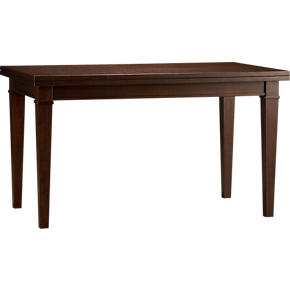 Staying true to my university style we still throw dinner parties at home, using our magic expanding table. This week we seem to have two. Not quite sure how we have them back to back but we do love to entertain. As one guest mentioned two nights ago, we had a guest from West Virginia, one native to New York, one from from Minnesota, two from North Carolina and one from London! How awesome is that? All sitting around eating a meal in Brooklyn – doesn't get better than that!
As I mentioned in a post a long time ago (time is flying while I am writing this blog!), one of my favorite parts about dinner parties is planning the menu. Since that post I have had a couple of requests for more menus and ideas for dinner party dishes.
The best piece of advice I have read about menu planning is to pick one thing I am itching to cook and base the rest of the meal around it. Wednesday night's was the White Chocolate and Vanilla Bean Panna Cotta (how could it not be, for proof see photo below!). I wanted everything else to fit in nicely with it. It all did for the most part but next time I'm changing out the Pork Tenderloin, Creamed Corn and Potatoes for something else… I'll keep you posted on what it will be!
On the menu from Wednesday night…
For an amuse bouche I served Chilled Gazpacho with diced avocado.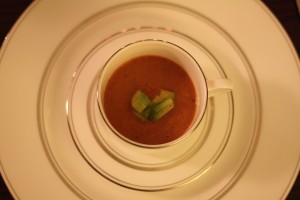 For an appetizer these Puff Pastry Tarts but I replaced the blue cheese for goat cheese.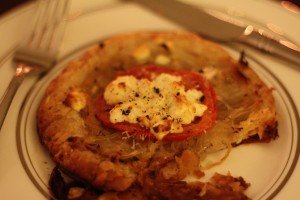 For the entree I made Brined Pork Tenderloin, Buttery Mashed Potatoes and Creamed Summer Corn (if it seems as though I am obsessed with making that meal it is because I am!)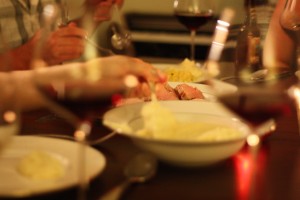 And then for dessert I tried out a new recipe, a White Chocolate and Vanilla Bean Panna Cotta with macerated strawberries and mint.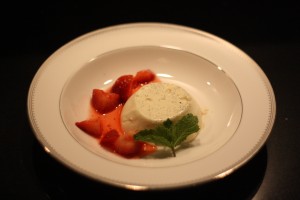 Enjoy!
Photographs of St Andrews from www.st-andrews.ac.uk (the University website)
Search

Subscribe

Archives

Categories