Creamed Summer Corn
Posted on 28 April 2010
In Ina Garten's most recent cookbook, Back to Basics, she mentions that in any well constructed menu you have to make a certain dish the "star". The second I saw fresh, sweet unshucked corn back in my grocery store I knew that it would be the star of my dinner party. I began to plan my menu for our dinner party around it. I knew I wanted to make something that would highlight the sweetness and the juiciness of the corn but I also wanted something that was more refined and less messy to eat than corn on the cob (which I entirely love but do not think you can usually serve at a dinner party when everyone is wearing dresses!)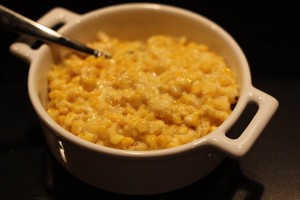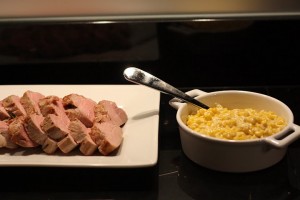 Immediately Ad Hoc's creamed summer corn came to mind. From that point on it was easy to choose the rest of the menu. I would serve a leaner meat, as the creamed corn would add the richness and some obvious creaminess to the entree, I decided on brined and roasted pork tenderloin. To start I would have something green, fresh and exciting but easy on the palate, a warm goat cheese salad, which I posted on Monday. For dessert, a rich and decadent chocolate molten cake with whipped cream, raspberries and mint, which I will be posting tomorrow (and there's a video to go with it. Get excited!).
As anyone who has been reading this little blog of mine knows I am so excited about the quickly approaching summer, maybe even more than usual. Just one of my reasons was so I could make this creamed summer corn from Thomas Keller's book, Ad Hoc at Home. Last year, when my sweet husband originally bought me my copy of Ad Hoc it was the beginning of winter here in New York. Even though I knew corn was not in season I still made the creamed summer corn. It was delicious, unlike any other creamed corn I had had before. It was almost like a hybrid of creamed corn and our favorite!, the Mexican style grilled corn from Cafe Habana, a restaurant in New York. The cayenne pepper adds a little spicy smokiness and the lime juice and zest kick this creamed corn into something extraordinary. Without sounding hyperbolic I would say that a mouthful of this corn is a taste of glorious summer sunshine!

Notes: While I made this creamed corn along side of a lean pork tenderloin it goes with all kind of meats. I would say more simple preparations, such as a nicely charred steak, butter roasted turkey (you could even brine it) or even seared and roasted duck breast. It is such a perfect summer side.
Tip: To remove the silk (the long strands inside the husk of the corn) place the kernels in a large bowl and cover with a couple of inches of cold water. Stir the kernels with your hand and let sit for a couple of minutes. The silk will rise to the top and at that point you can just swish your hand around gently on the top of the water and the silk will stick to you. Carefully drain the corn and continue with the recipe.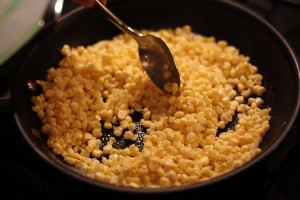 Creamed Summer Corn, serves 4 as a side (modified from a recipe from Ad Hoc at Home, by Thomas Keller)
4 ears yellow corn, shucked
1 tsp lime zest
2 tbsp unsalted butter
1/2 tbsp fresh lime juice
3/4 cup heavy cream
1/8 tsp cayenne pepper
1 tbsp finely chopped chives, optional
1. With a sharp knife, carefully cut vertically down each ear of corn to slice of the kernels. Put kernels in a large bowl, then hold each cob over the bowl and use a spoon or the back of a knife to scrape any remaining corn and the milk from the cob.
2. Grate the zest of the lime, preferably with a Microplane grater, set aside. 3. Melt butter in a large frying pan over medium heat. Add corn and lime juice to pan and season with salt. Reduce heat to medium-low and cook until all the liquid has evaporated and the corn begins to sizzle, 15 to 17 minutes.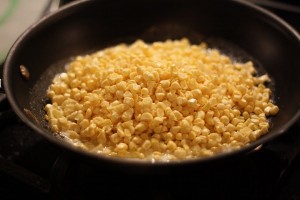 4. Stir in cream, cayenne and lime zest. Continue to cook for 6 to 8 minutes, until the cream is absorbed by the corn. Add salt to taste, stir in the chives (optional), serve warm and enjoy!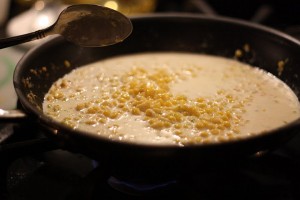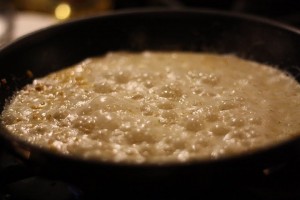 Search

Subscribe

Archives

Categories