Chef & the Farmer's Brined Pork Chops
Posted on 03 June 2010
As anyone who has read this blog from the beginning knows, I love anything brined and I adore pork, which means that I am downright lusty when it comes to brined pork. I have already posted a recipe for brined pork tenderloin, but for a while now, one of good friends and neighbors has raved about the pork chops at the Chef & the Farmer in Kinston, North Carolina. My husband is from Morehead City, North Carolina and when we fly into Raleigh we pass through Kinston on our drive. We seem to only travel through in the early morning so we have never been able to get dinner at Chef & the Farmer, much to our chagrin. We often look at the menu and discuss what we would get. This is a game I could plan for hours. If you have not guessed yet, we're really into food… I think the ones in the lead at the moment are baked oysters with bacon, fennel and arugula and the braised pork shoulder and butternut squash lasagne. Not even mentioning the deviled eggs my neighbor was describing that he had last time he was there! As we were not able to make the trip down, thankfully Chef Vivian Howard mailed our friends four vacuum packed and outrageously thick (two-inches!!), Rainbow Meadow Farms' bone-in, blade end pork chops, allowing us to get a taste up here in New York.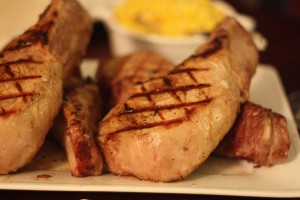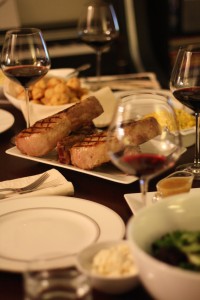 After defrosting them for three long days (I told you there were thick!), they were finally ready. The chops came pre-brined – the brine recipe is below for those of you who want to make these at home and who would not after looking at the pictures?
I took the chops out of their bags and let them sit for thirty minutes at room temperature, anytime up to an hour is good. In general I do this for all meat, with the exception of ground meat, especially when grilling or sauteing. If the meat is cold when you first put it on the grill it gets a shock. This results in a tough outer layer and the meat is also more likely to stick to your grill. As the chops were so thick, I knew it would take a while to get the perfect medium-medium rare I was looking for. I heated the oven to 350°F, and set our cast iron grill over a medium high flame. I am big fan of hatch marks since I really think they are an indicator of an accomplished griller and they are the easiest thing to do – if you possess some spatial awareness! Simply, you just have to turn the meat 90° (a quarter turn). I say 'simply', I think the size of the chops yesterday confused me as I somehow turned one pair 180°, resulting in two sets of parallel lines – brainy!!
Using the timings for the pork chops below, we had perfect medium pork chops. (As I said in my last brined pork recipe, only cook the pork to this temperature if you know where your meat comes from. If you do not cook the pork to a higher level of doneness.) The brine had permeated the pork with the sage, thyme and rosemary intermingling wonderfully. The meat was juicy and flavorful. The only way it can get better is when we finally head down there and get to eat at the Chef & the Farmer!
Notes: I served these gorgeous chops with creamed summer corn, mashed potatoes (I used milk to replace the cream for lighter potatoes), gourgeres (recipe up soon) and a green salad.
I cannot recommend brining enough. I went into some of the science behind it in my post for the brined pork tenderloin, but if you do not want to re-read just know that brining will add moisture to leaner meats and also add a terrific depth of flavor.
In the how-to I mention measuring the temperature of the meat to check its' doneness. I use a Taylor Digital Thermometer that I can leave outside of the oven, with an alarm so it just alerts me whenever my meat is done.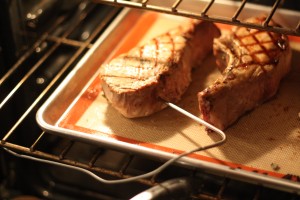 To grill 2″ thick pork chops to medium – medium rare…
1. Once the chops were room temperature, place them on the heated grill. Cook for 4 minutes, before turning them 90° and cooking for 3 more minutes.
2. Flip the chops over and repeat – cook for 4 minutes, rotate, cook for 3 more.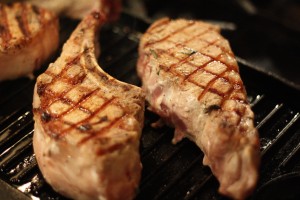 3. Place the chops onto a sheet pan and place in the oven. Keep checking until the center of the chops reach 135°F (see Notes)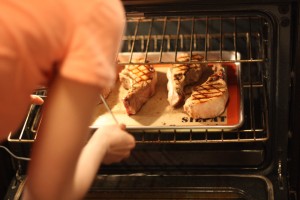 4. Pull out of oven, cover and allow to rest for 5 to 10 minutes.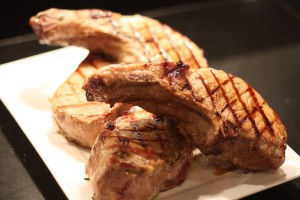 Chef and the Farmer Pork Brine recipe, brines 1 whole pork loin or 12 2″ pork chops
Reproduced with the kind permission of Chef Howard from Chef & the Farmer
3 quarts plus 3 cups water
1 1/4 cups kosher salt
1 1/2 cups brown sugar
6 tbsp crushed black peppercorns
3/4 cup Dijon mustard
10 smashed garlic cloves
Handful thyme
3 sprigs rosemary
Small handful sage
1. Combine all ingredients in a stock pot. Bring to a boil, and boil for 1 minute. Allow to cool to room temperature, then chill in the fridge before adding the pork.
Search

Subscribe

Archives

Categories