The Final Recipe: Creamy, Buttery Mashed Potatoes
Posted on 07 May 2010
If I could make a type of food into a hug, it would be mashed potatoes. Nothing is quite as comforting or as reassuring as mashed potatoes. I could eat mashed potatoes for every meal – and I have occasionally done that, just ask anyone who has been at my house the week after thanksgiving, mashed potato pancakes anyone? – but I especially like them for dinner. There is nothing as satisfying as the type of 'full' you get when you eat potatoes and then are able to just snooze on the sofa, if you don't believe me, come over to my apartment and watch my hubbie do it every evening in the winter!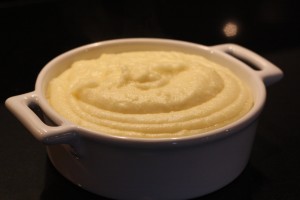 As the name may suggest, these mashed potatoes are seriously buttery and creamy. They are literally heaven in your mouth. I am not sure how to put it other than that… They are basically the french version of mashed potatoes, pommes puree. I get this texture by using a ricer (see Notes below for information about ricers). Ricing the potatoes into the cream and butter allows air to get into the mixture, resulting in lighter, fluffier potatoes without the need to use a machine or another utensil to whip them. The ricer also makes the potatoes far smoother than another other device except for maybe a tamis and who has room for one of those in their kitchen? Please excuse me for a moment while I go and try to find space for a 12 inch round drum in my little cupboards…
These potatoes make a glorious side dish for all manner of dishes. I especially like to serve them with my meatloaf though.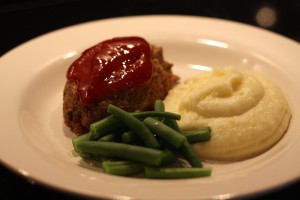 Notes: Potatoes have gotten a bad rap recently with all this high-protein, low-carb dieting. But I say Atkins, smatkins… I am certainly not recommending you eat these every day (although you will want to!), but potatoes are fundamentally good for you. They contain a ton of vitamins C, B3 and B6, potassium, iron as well as trace amounts of B1, B2, magnesium, calcium, folate and other minerals. And if that was not enough, the undigestable starch within potatoes acts as fiber. All in all, I am a big fan of potatoes!
Due to space constraints I do not like to have utensils or tools that only do one job but this tool has changed mashed potatoes for me. I had never seen a potato ricer until a couple of years, having always used a regular masher, but now, unless I am making lumpy mashed potatoes for a texture reason, I always use a ricer. A ricer is basically a device that squeezes the potatoes through small holes so the streams of potato are no thicker than a grain of rice (see below for photo). Ultimately, it produces the smooth, silky texture that makes this mashed potato recipe so good!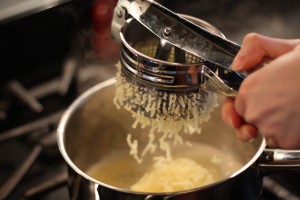 Tips: Although I mentioned using leftover mashed potatoes above in a joking way, there really are ways to use them so they do not taste like leftovers. Some great examples are: using them to thicken soups, or making a mashed potato soup, mashed potato pancakes, croquettes, fish cakes… There are so many uses when you think about it. I'll post recipes for these in the future.
Creamy, Buttery Mashed Potatoes, serves 3-4 as a side
4 large potatoes, preferably Yukon Gold or Maris Piper (about 2 to 2 1/2 pounds)
4 tbsp unsalted butter, more to taste
1/2 cup heavy cream, more to taste
Kosher salt, to season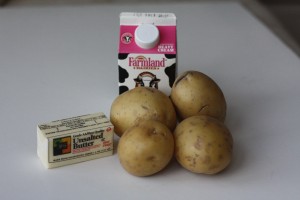 1. Peel potatoes and chop into 1 1/2 inch chunks. Place into a large saucepan and cover with cold water. Over high heat, bring to a boil. Boil for 15-20 minutes or until potatoes are very tender (test with your knife).
2. Drain potatoes thoroughly, reserving the pan, and place into a bowl. Add butter and cream to the pan and heat over low heat until butter melts.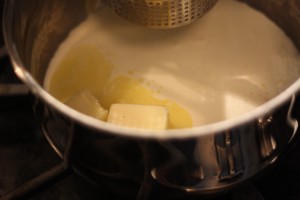 3. Place as many potatoes as will fit in the ricer and press down firmly over the butter and cream. Rice the remaining potatoes in batches.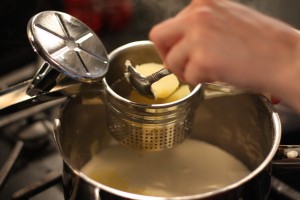 4. When you have riced all the potatoes, using a regular spoon, stir the mixture vigorously to combine and whip the potatoes. Season with kosher salt. If you want to, add more cream and butter, in small increments, stirring to combine after every addition. Serve while piping hot.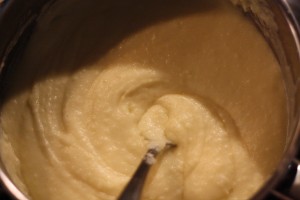 Search

Subscribe

Archives

Categories