Buttermilk Pancakes
Posted on 16 July 2010
Two breakfast classics in one week – I must be spoiling you!  Just like the waffles posted on Wednesday this recipe is also from Fine Cooking Magazine and it too is the pinnacle of pancakes. To get all philosophical, the Platonic ideal of a pancake, if you will… The buttermilk gives them a slight tang so it is more adult that the cloying false, sweet-tasting package mixes and the way the baking powder and soda reacts with the buttermilk gives the pancakes unimaginable lightness and softness. The recipe is simple as mixing wet ingredients into dry and then spooning the batter onto the griddle – so easy and perfect for the weekend!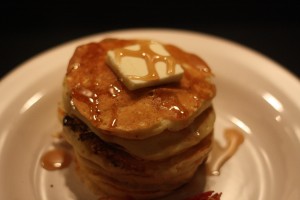 I love making these buttermilk pancakes on my stovetop cast iron skillet. As our kitchen is on the smaller side (hence this blog's name!) I love having equipment and tools that do multiple things, so our cast iron grill (which I used to cook the Brined Pork Chops, Marinated Skirt Steak, the flank steak for the Carne Asada Fajitas, the Pat LaFrieda Beef Burgers, and the asparagus for the deconstructed Grilled Asparagus with Prosciutto, Fried Bread, Poached Egg, and Aged Balsamic Vinegar salad) is a double sided grill/griddle. This opens up storage space as both would be big and bulky, and as they are cast iron, heavy! We own this not-too-expensive Lodge grill/griddle, which is perfect for some indoor grilling (with the extractor fan on high!) or some weekend breakfast pancake action.
Notes: You can tell the griddle is hot enough when water droplets dance for a few seconds on the surface. To test this, sprinkle water from your fingertips onto the griddle, the water should form droplets and jump around for about 3-4 seconds. If it evaporates sooner turn the heat down slightly, and if it takes longer keep heating the griddle.
You can keep you pancakes warm in a 200°F oven on a baking sheet. Try to have the pancakes in a single layer.
Buttermilk Pancakes, makes 12 4″ pancakes
2 1/4 cups all-purpose flour
4 tsp sugar
1 1/2 tsp baking powder
1/2 baking soda
1/2 tsp fine salt
2 1/2 cups buttermilk
2 large organic eggs
2 tbsp melted unsalted butter
Vegetable oil, for greasing the griddle
1. In a large bowl, whisk together flour, sugar, baking powder, baking soda and salt. In a medium bowl, combine buttermilk, eggs, and melted butter. Pour the wet ingredients over the dry ingredients and stir gently until just combined (there may be a few small lumps as shown below).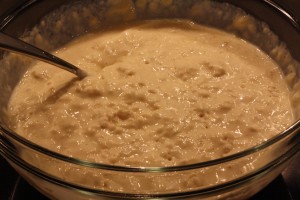 2. Very lightly oil a griddle and heat it over medium heat (see Notes). Drop 2 tbsp of batter, gently use a spoon to create a round 3 1/2″ shape (they spread slightly). Make sure to leave space between the pancakes for flipping. Cook until the pancakes are covered in bubbles and are golden brown on the bottom.
3. Carefully flip the pancakes and cook until the bottom is golden brown as well and the center feels firm when poked.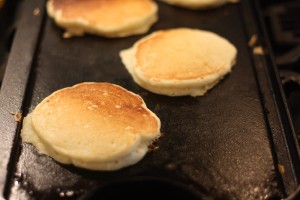 4. Serve with your choice of toppings and sides; I prefer freshly whipped cream and Vermont maple syrup (first photo) but the hubby keeps it real with applewood smoked bacon, butter and Aunt Jemina's syrup

(second photo) – I think we can probably all agree that his may look better!
My cream and maple syrup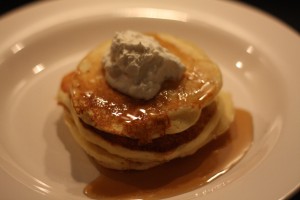 C's bacon, butter and syrup!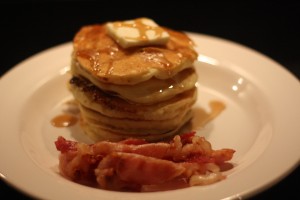 Search

Subscribe

Archives

Categories