Grilled Asparagus with Prosciutto, Fried Bread, Poached Egg, and Aged Balsamic Vinegar
Posted on 07 April 2010
So, today in New York it hit 90°F, it almost seems as though have jumped over spring right into summer. Whilst I am excited for summer and am already dreaming of corn on the cob, perfectly ripe Jersey tomatoes and the bounty of berries that flood the green markets all over the city, I still have a soft spot for spring vegetables. After a bleak winter, eating either hearty root vegetables or some weak tasting imported produce I welcome the asparagus, leeks, bunches of celery, and fresh garden peas that are now in most supermarkets.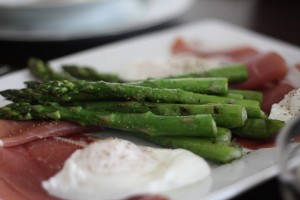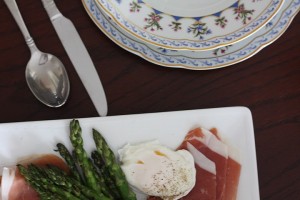 I think this recipe is the perfect transition from spring into summer. It has the asparagus from the spring but you grill it, giving it a smokey taste and feel, reminiscent of summer barbeques. When combined with the softness of the poached egg, the crunch of the croutons, the saltiness of the prosciutto and the sweetness of the aged balsamic, you have the best of all worlds!
This recipe is from Thomas Keller's latest book Ad Hoc at Home, named after his casual dining restaurant in Napa Valley. The hubby and I ate there when we went to Napa a couple of years ago and thought that our three meals there (we went back a couple of times during our week stay!) were the best food we had during our trip. If you don't have this book yet I suggest you buy it, your tummy will thank you!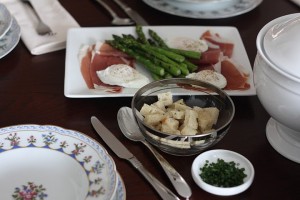 Notes: an ice bath is a bowl containing cold water and ice. They are used commonly in kitchen to 'shock' food, which means to immediately halt the cooking process by reducing the temperature drastically. They are frequently used when blanching green vegetables as it allows them to maintain their vibrant color. For this recipe, I would recommend a medium to large mixing bowl.
Before placing the egg in the water to poach them the water is stirred. While researching this article I read online that this is to reduce the water temperature, this is not the case. The movement in the water creates a force on the egg making it more likely for the egg to stay in a pretty spherical shape. The purpose of the vinegar is to coagulate (or thicken) the egg white.
Once you have finished step one you can refrigerate the eggs in the ice water for several hours.
To grill the asparagus you will need either a charcoal or gas grill (if you have one it means you are lucky enough to have a garden!) or if you live in a little New York apartment, like me, then you will need a grill pan. We have this great cast iron one and I can't recommend it enough.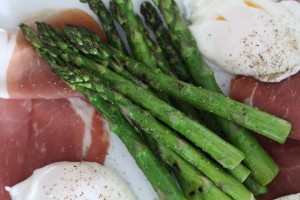 Grilled Asparagus with Prosciutto, Fried Bread, Poached Egg, and Aged Balsamic, serves 6
2 tbsp white wine vinegar
6 large eggs
2 bunches asparagus
Canola oil
3 oz thinly sliced prosciutto
2 cups torn croutons (or you can use these easy ones)
Extra virgin olive oil
Aged balsamic vinegar
Fleur de sel
1. In a large, deep saucepan, bring 6 to 8 inches of water to the boil. Prepare an ice bath (see above). Add vinegar to the boiling water and reduce heat to a simmer. Crack one egg into a small ramekin. Using a spoon, stir the water at the edges of the pan twice to get the water to swirl, add the egg to the center of the pan and simmer gently for 1 1/2 minutes, until the white has set but the yolk is still runny. Using a slotted spoon, carefully remove the egg to the ice bath. Skim and discard any foam on the top of the water of the saucepan. Repeat with each egg.
2. Prepare your charcoal or gas grill to cook at medium heat or place your grill pan over medium-high heat. Break off the less tender end of a stalk asparagus, by bending it and seeing where it snaps (if the asparagus is fresh, it should not be too far up). Trim the rest of the stalks to an equal length. If you are using thick asparagus, as opposed to pencil thin asparagus, peel stalks. Spread asparagus on a parchment lined baking sheet, coat with canola oil and season with salt and pepper.
3. Arrange on grill and cook for 1 1/2 to 2 minutes on each side, until the stalk are tender. Arrange on a platter.
4. Meanwhile, bring a large pot of water to a simmer. With a small pair of scissors, carefully trim any uneven edges from poached eggs. Lower eggs into the water for 30 seconds to quickly reheat. Remove with a slotted spoon and blot with a paper towel. Season and arrange with asparagus.
5. Arrange prosciutto and croutons on the platter, drizzle with olive oil and balsamic and sprinkle with fleur de sel.
Search

Subscribe

Archives

Categories