Marinated Skirt Steak
Posted on 14 June 2010
Marinating is similar to brining (which I believe my love of is well documented), both add flavor to the meat but a marinade is more concerned with tenderizing the meat rather than adding moisture.  This recipe takes a slightly tougher skirt steak and makes it tender, delicious and more-ish.  At a push I would say that the flavors in this dish are Central or South American and when the steak is left for long enough the flavors seep fully into every bite.  This marinade is especially easy to make, just a quick toasting and crushing of spices and a short whisk.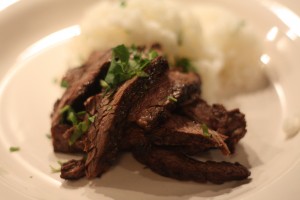 Skirt steak is a great cut of meat, it is cheaper which is a huge bonus but it also contains a ton of flavor. Due to the location of the steak on the cow, the meat is tougher. There are a couple of things you have to do to get this cut as tender as a filet. Marinating goes a long way into breaking down the tougher fibers; the vinegar, worcestershire and red wine are the ingredients in this marinate that do that. As I have mentioned before, bringing the meat to room temperature before you cook helps the meat cook better as the meat is 'relaxed' and will not get shocked from the heat of the pan, resulting in a tough outer layer. Resting the meat after cooking helps the juices to redistribute.  But I would say the most important point is cutting the meat against the grain. The skirt steak is made up of long thin muscle fibers which are very chewy if you cut along them. If you cut 'against the grain' (at right angles to the fibers) you cut through these fibers leaving you with all the flavor but none of the long chewy strands. You should be able to see the direction of the fibers within the meat but if you want to read more, Serious Eats has a great article, with detailed pictures, explaining the science behind it.
Notes: as well as being able to serve this as is with a salad or a starch, the steak would be excellent in fajitas or steak sandwiches.  We had our leftovers on ciabatta with mashed avocado, thin sliced of mozzarella, mixed baby spring lettuces and a lemon vinaigrette.
Marinated Skirt Steak, serves 4 people (modified from a Saveur recipe)
1 tbsp black peppercorns
1 tbsp coriander seeds
1 tbsp fennel seeds
2 dried chiles de arbol, broken
1 dried bay leaf
1/2 cup dry red wine
2 tbsp red wine vinegar
2 tbsp worcestershire
4 garlic cloves, crushed, skin-off
3 sprigs rosemary
1/2 extra virgin olive oil
2 lbs skirt steak (cut into 3 long strips)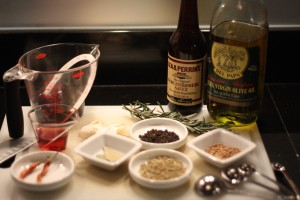 1. Toast peppercorns, coriander seeds, fennel seeds, chiles, and bay leaf in a small skillet until fragrant, about -3 minutes.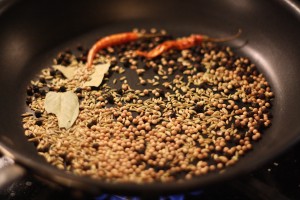 2. Transfer to a cutting board and lightly crush with bottom of saute pan.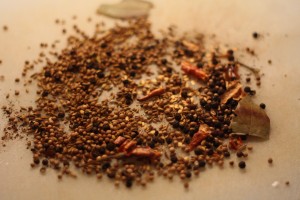 3. Pour spices into 9 by 13 inch casserole dish and add wine, vinegar, worcestershire, garlic, rosemary and oil. Whisk to combine. Add steaks, turning over to coat. Cover and place in refrigerator at least 4 or up to 12 hours, turning occasionally.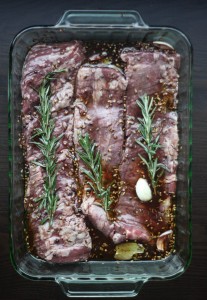 4. At least 30 minutes before cooking, remove steak from marinade and set at room temperature. Pour marinade into a small saucepan and bring to a boil. Set aside to use to baste the steak as is it cooking.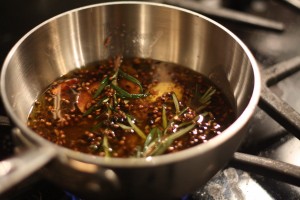 5. Heat a cast iron grill over a medium high flame. Grill steak for 6-8 minutes each side, (6 minutes – medium rare, 8 – medium well), basting with cooked marinade occasionally.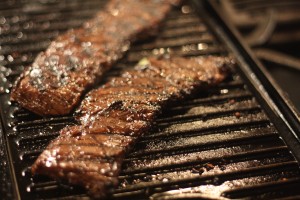 6. Remove from grill and allow to rest for at least minutes. Slice steak thinly against the grain (see above for notes) and serve hot or at room temperature.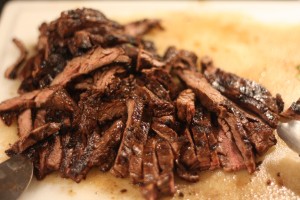 Search

Subscribe

Archives

Categories