Carne Asada Fajitas
Posted on 17 June 2010
As this week has somehow become a super healthy week I thought I would add one more delicious yet waist band friendly meal before I do a sweet treat tomorrow.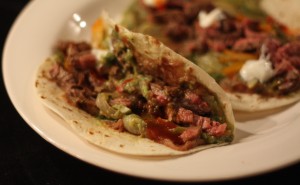 Just like the Marinated Skirt Steak on Monday, this flank steak (or arrachera as the cut is called in Mexico) is a less expensive cut of meat. Like skirt steak you also have to marinate it but this time for longer, I would suggest at least four hours but longer ideally (you could put the steak in the marinade before you head to work).
I served this with sauteed onions and peppers, refried beans, guacamole, sour cream and different kinds of hot sauce. I had two fajitas and tried a different sauce of each, one had taco sauce and the other, my go-to Huy Fong Garlic Chili Sauce. Not surprisingly I preferred the super spicy Garlic Chili Sauce! The flank steak retained enough of the flavors from the marinade, the vinegar seeped into the meat nicely and the paprika, cumin and New Mexico chile pepper gave it a little zip. I really feel as though what sets this marinade apart though is the prevalence of fresh ingredients; the garlic, the lime juice, the chopped scallions and cilantro all permeate the meat and make the steak taste completely fresh even though it has a nice char to it from the grill.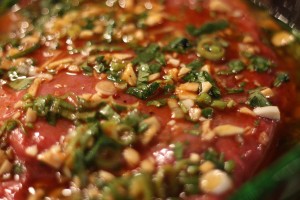 I cooked the peppers and the onions simply over a medium low heat with a splash of olive oil and a sprinkle of salt until they were soft and cooked through. I also made the guacamole. It is a super quick side which I will post the recipe for soon.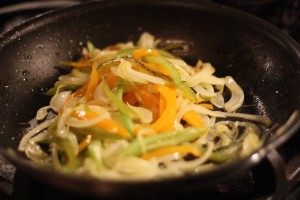 Notes: as I was typing the directions for the garlic I suddenly realized that not everyone would know what crushed meant. I do not mean using a garlic press, I mean crushed with the flat side of a chef's knife and then roughly chopped into smallish chunks.
Carne Asada Fajitas
6 garlic cloves, crushed and roughly chopped (see Notes)
1/3 cup cilantro, stems and leaves roughly chopped, tough ends removed
2 scallion, green and whites, roughly chopped
Juice of 1 lime, about 2 tbsp
3 tbsp sherry vinegar
1 tsp kosher salt
1/2 tsp smoked Spanish paprika
1/2 tsp ground New Mexico chile pepper
1/4 tsp ground cumin
4 tbsp olive oil
4 tbsp canola oil
1-1 1/2 pound flank steak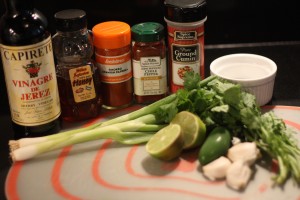 1. Mix all ingredients in a small bowl, except for oils. Whisk in oils. Pour marinade into a 9 by 9 inch baking dish. Add beef and turn to coat. Leave to marinate in the refrigerator for at least 4 hours, up to 24 hours, turning every hour or so.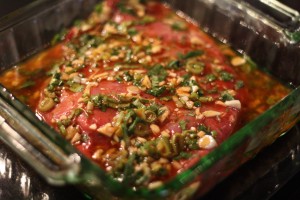 2. Remove baking dish from refrigerator about 1 hour before cooking. When ready to cook, heat grill pan over medium high heat. Cook for 7-10 minutes on each side, depending on how well cooked you would like it.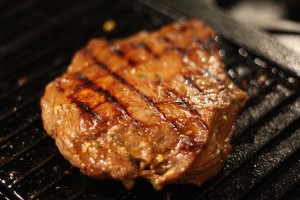 3. Remove from grill and cover with foil, let rest for 5 minutes. Slice thinly.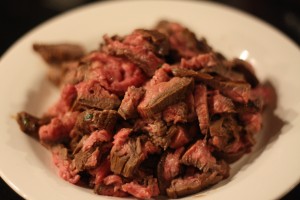 4. Serve with other fajita accompaniments, see above for ideas.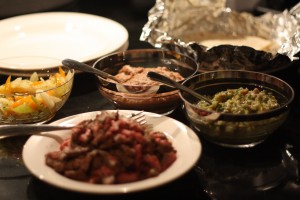 Search

Subscribe

Archives

Categories