Pat LaFrieda Burgers at home
Posted on 27 May 2010
I thought that I would post this just in time for Memorial Day and also as, and I say this with a super straight face… tomorrow is National Hamburger Day! I really should not laugh as hamburgers are one of my favorite, favorite food groups (that's right, I think of them as a food group all on their own). In my four short years in this city I have attempted to eat all the "best" hamburgers in this city. This is an almost impossible task as burger mania has taken over this town and every restaurant is on a quest to have the number one burger. People attribute this burger craze to the recession as hamburgers are comforting and affordable. I believe it is because they are darned delicious and if cupcakes have had their time to shine why can't burgers?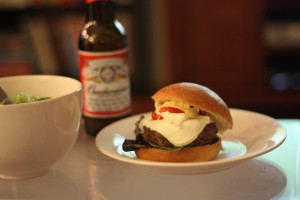 Every month there seems to be a new place 'you just have to go to' in order to get the best burger. For a while I have been fixated on Minetta Tavern's Black Label Burger. I just have to get past the $26 price tag and the fact that you cannot get a table there unless you want to eat on a Tuesday at 10pm. As I always do, whenever I think something is overpriced in a restaurant, I try to research it as much as possible to recreate it at home. With this burger I instantly hit a wall! This is because, dear readers, I have as much chance of finding out what goes into Minetta Tavern's Black Label burger as I do the composition for Coca Cola. The meat mixture for these patties is ground at Pat LaFrieda's warehouse in the Village and they have a thick confidentiality agreement with Minetta Tavern to never reveal the exact blend of meats that goes into their Black Label beef. All I have managed to uncover is that it is made with dry aged rib eye steak the thought of which makes me drool a little! You know when there are legal documents about the composition of the meat in a burger that the world is crazy about burgers.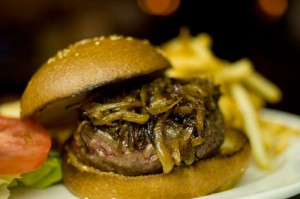 The Minetta Tavern 'Black Label' Burger
But it is not just Minetta Tavern that has these confidentiality agreements with Pat LaFrieda, Shake Shack does as well; my culinary school was just a block away from Shake Shack's home in Washington Square Park and I was constantly amazed by the length of the lines. It did not matter if I was heading into class or leaving for the day, there would always be a crazy queue (you can avoid this by going online at home and checking out the line on the Shake Shack cam or with their app… I kid you not!). And the lines at this location are not some anomaly. If you head to the Met's home, CitiField, the vendor with the craziest lines is ALWAYS Shake Shack. The average wait in line is two innings (the photo below does not do the lines justice) – burger fever has taken over New York!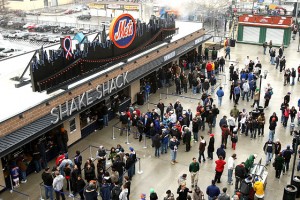 Most of the contenders for NY's best burger all buy their meat from Pat LaFrieda's. When I saw the list of restaurants that they supplied the meat for I almost could not believe it! Almost every place that I have had foodgasms over the burgers was on the list… Blue Smoke, Union Square Cafe, BLT Burger, 5 Napkin, Stand, City Hall, Broome Street Burger and newcomer, The Breslin's lamb burger. They supply upwards of two hundred restaurant in the New York area.
Until recently you could not get any LaFrieda burgers at home, (although there is an approximation on Food&Wine.com of the Minetta Burger from Minetta Tavern, which at $16 is a slightly more wallet happy than their Black Label Burger), so when I found out that Pat LaFrieda was going to begin selling to our online grocery store, FreshDirect, I did a little happy dance! While none of the burgers for sale are the exact restaurant mixes, you still get variety: there are the original, brisket and short rib styles. We opted for the brisket variety as I had read that this was the juiciest and most flavorful of the three, being made with chuck, brisket and shoulder, yum!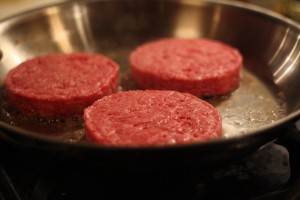 In a 12 inch frying pan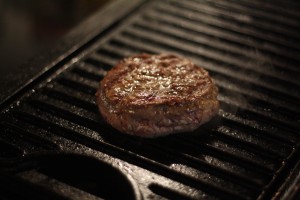 On a cast iron grill
We tried cooking the burgers two ways; the first in a frying pan, draining off the excess grease until we got a nice crust on either side and the second was on a cast iron grill. We found that 6 minutes on each side resulted in the perfect medium burger, this should be true of all 6oz patties. However we cooked them, we still added cheese during the final stages to get it nice and melted, mozzarella for me, sliced American for the hubby. I love brioche so we use brioche rolls and then added lettuce, tomatoes, ketchup and mayonnaise (and onions and Dijon for me, what can I tell you I love filled burgers.)
The hubby's American cheeseburgers…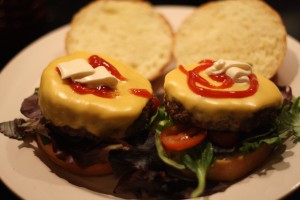 And my fully loaded mozzarella burger…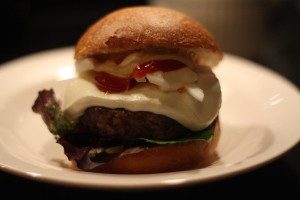 The advice we were given was correct! The brisket burgers were so juicy and flavorful. The brioche soaked up all the juices that begin to run out after your first bite, keeping each mouthful as good as the first. I think we'll be going back for the other kinds of burger soon, I'm pretty sure that the short rib burger has my name all over it.
* Photo of the Shake Shack line courtesy of GrubStreetNY
* Photo of Minetta Tavern Black Label Burger courtesy of SeriousEats
Search

Subscribe

Archives

Categories