Brined Pork Tenderloin
Posted on 27 April 2010
So day two of our dinner party menu brings us the main entree, brined pork tenderloin, following our Warm Goat Cheese Salad appetizer posted yesterday. As with the rest of the recipes this week, the amount of active time to make this delicious protein is laughable for something so delicious. It does, however, require a fair amount of inactive time, waiting for the brine to cool, then brining itself, so make sure to read the recipe carefully and work backwards on your timeline. If you want to do everything day of I would make the brine at least 4 hours before your guests arrive, to give it an hour or so to become cool enough for you to chill it in the refrigerator. You can also make it up to 3 days in advance and store it in the refrigerator, if you would prefer. I would then begin brining the tenderloins 2 1/2 hours before your dinner guests arrive.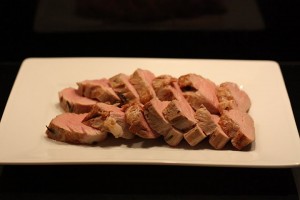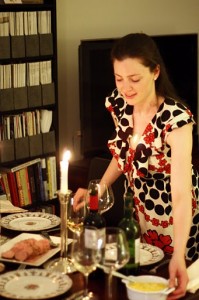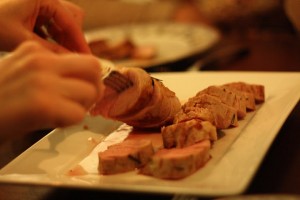 This recipe produces tender, moist and herbed pork. The flavor that the brine imparts into the tenderloin in such a short time is remarkable. I serve my pork pink at medium to medium-rare but I also make sure I know exactly where my tenderloins are coming from. If you do not have a butcher you completely trust I would recommend you firstly, cook your meat longer and second, you find yourself a good butcher. There is nothing like heritage raised pork cooked to medium-rare. It has a flavor that is missing from bland, supermarket meat. If you are using regular pork I would suggest you definitely brine the meat to give it some flavor and much needed moisture but do make sure to cook it a little bit longer, (USDA recommends an internal temperature of 160°F).
Brining is a great way to add moisture (aka juiciness) to the 'healthier' lean meats, like pork tenderloin, chicken, turkey. In meats with a higher fat content – think T-bone steak, flank steak, pork shoulder, lamb shank and so on – the fat is marbled through the meat and different ways of cooking cause the fat to melt into the meat to make it juicy. The leaner meats are not blessed with this fat so we have to give them a helping hand by brining them. A brine is also a great way to impart some flavor into the meat. The pork brine that I have used in this instance has rosemary, thyme, parsley, garlic and peppercorns but you can completely mix it up. The only things that must always be present in a brine are salt and water. This is because technically brining works by giving the meat moisture by osmosis but I am not a science teacher and it gets a little boring after that so I'll stop there! All you really need to know is you can brine something in a solution with water and dissolved salt and any other herb or spice you would like, and you will get juicy, flavorful meat.
With all these herbs, how could you go wrong?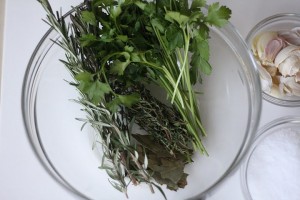 Notes: We served this pork with a light red. At our local wine store, we were recommended a Rioja to go with this light meat and decided on Decenio 2004 or Decenio 2008.
I used a 9 by 13 inch baking dish, it is 2 inches tall and has a 3 quart capacity. Even though these do not match the exact dimensions how beautiful are these bakers, below? I am totally in love! Both are available from Sur La Table.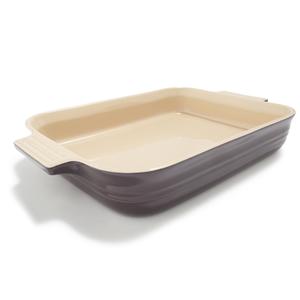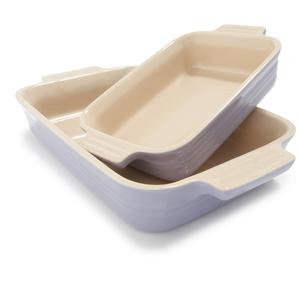 To cook the pork you need a large roasting pan with a roasting rack that fits both tenderloins. Make sure to get a roasting pan that you can use over direct heat (your burners) so that you can sear your meat in the pan before finishing it off in the oven. This will reduce clean up and make for more flavorful roasts when you use the juices for your gravy! I have this roasting pan set but I covet this one.
Searing is just a cooking term used to describe cooking something over high heat quickly, usually in a frying pan or on a grill. It helps to keep the moisture inside and creates a delicious crispy exterior. You can sear food before roasting or braising or if it is applicable you can eat it as is, i.e. seared sashimi grade tuna or a juicy steak.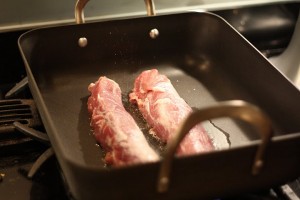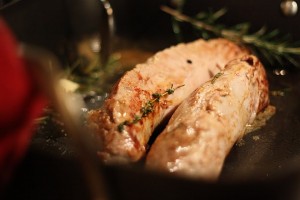 Tip: As I was running short on time, I used 2 cups of water in the brine in the saucepan and cooled down the boiling liquid with the remaining 6 cups of water and ice necessary for the recipe. If you have plenty of time you can, of course, use all 8 cups of liquid immediately and boil them all. Just remember that this will take far longer to cool down.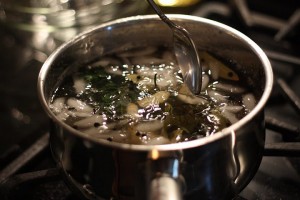 Brined Pork Tenderloin, serves 4-6 people
2 pork tenderloins, excess fat removed, should wear about 1 to 1 1/4 pounds each
Pork Brine (see recipe below)
1 tbsp canola oil
1 oz unsalted butter
6 thyme sprigs
2 rosemary sprigs
2 garlic cloves, smashed, skin on
1 1/2 tbsp lemon juice
1. Place pork in a container large enough for both tenderloins and the chilled brine (see Notes above). Refrigerate for 1 1/2 hours (do not brine for longer than 4 hours, the pork will become salty).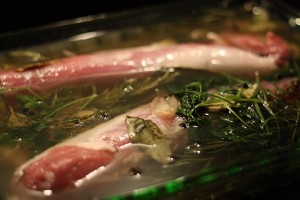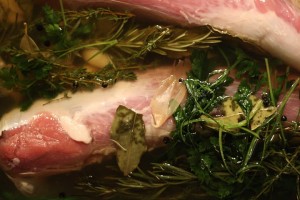 2. Remove container from refrigerator and let sit for 30 minutes at room temperature. Remove pork from brine and dry with paper towels and set to one side to allow them to keep coming up to room temperature.
3. Heat over to 350°F. Place your large roasting pan over two burners set to high-medium/high heat. Add canola oil. Season your tenderloins with kosher salt and pepper. Add the pan and cook until each side is golden brown, turning to sear (see Notes) each side, about 5-6 minutes.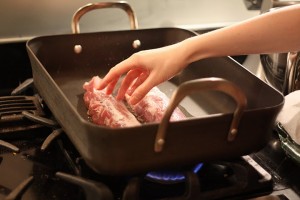 4. Add butter, thyme, rosemary, garlic and lemon juice. Baste the tenderloins with the juices for 2 minutes.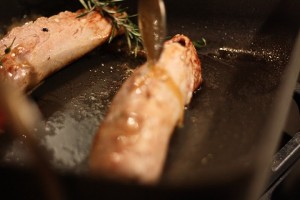 5. Add the rack to the pan and place the tenderloins on the rack. Place the thyme, rosemary and garlic over the pork. Roast for 20 minutes, until the internal temperature is 135° to 140°F. If you like your pork less pink, cook longer. Remove from oven and rest for 15 minutes for medium rare to medium.
6. Slice pork on the diagonal into 1/2 to 3/4 inch slices. Arrange slices on a serving platter. If you want you can garnish with the rosemary, thyme and garlic.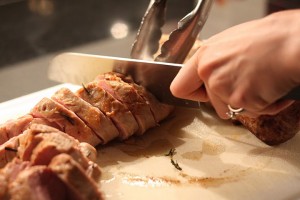 Pork Brine
2 cups water
1 cup kosher salt
1 garlic bulb, cloves individually crushed, with skin on
10 bay leaves
2 oz flat leaf parsley (also called Italian parsley)
1/2 oz thyme sprigs
3 rosemary sprigs
2 tbsp black peppercorns
1/4 cup plus 2 tbsp honey
3 cups cold water plus 3 cups ice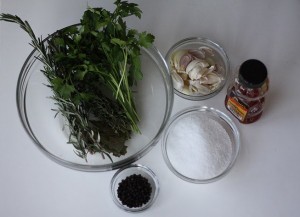 1. Combine all ingredients, except for the cold water and ice, in a large saucepan. Cover and bring to the boil, boil for 1 minute, until salt is dissolved, you can stir occasionally if you feel compelled.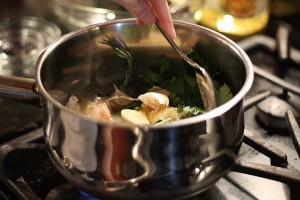 2. Remove from heat and add cold water plus ice, stir, and allow to cool to room temperature. Place in refrigerator to chill.
Search

Subscribe

Archives

Categories