Warm Goat Cheese and Pickled Pepper Salad
Posted on 26 April 2010
As I have mentioned in a previous post, alright… many previous posts, I love to entertain. This previous Friday we had one of our favorite couples over for a last minute dinner party. As I knew I had a lot of errands to run that day I wanted to make something that I could do most of the preparation earlier in the day and then throw everything together that evening. I decided on a menu of this warm goat cheese salad, then brined pork tenderloin with creamed summer corn, and a molten chocolate cake with freshly whipped cream, raspberries and mint to finish. I'll be posting the recipes day by day so that you have the full menu for your own dinner party this weekend!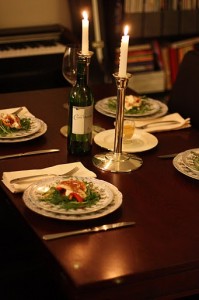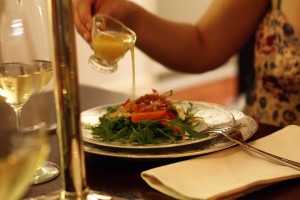 This salad is perfect for this time of year (that is not to say it does not work during colder times of the years as well though). The peppers are bright and colorful, the arugula is peppery and a little bit spicy, the dressing adds some acidity and sweetness to the dish and the goat's cheese is creamy, gooey and melts over the peppers and greens and it pulls the whole dish together.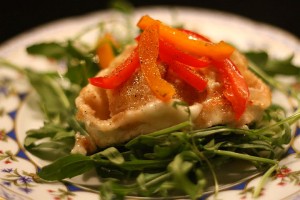 This salad is one of my go to recipes. It looks elegant but is really simple to make. With the exception of heating the goat cheese right before serving, you can do everything in advance. I washed the arugula leaves that afternoon and wrapped them with slightly damp paper towels, in a log shape, and put them back in refrigerator, ready to plate that evening. I cooked the peppers, left them to cool in the pan and then made the vinaigrette in advance (once you have the liquid for the dressing you can pour the rest of the cooking liquid away). I even made the breadcrumbs and split the egg for the egg white. So when my guests arrived all I had to do was dip the goat cheese in the egg white, then breadcrumbs, heat through and plate! And I was done in five minutes, ready to sit down and enjoy the evening!
Notes: In the ingredients below I did not specify a type of bread to get the fresh breadcrumbs from. Until last Friday I had always used regular white bread, quickly grated in my food processor to make the breadcrumbs, but alas!, five minutes before our guests were arriving I realized that I did not have any white bread, only brown wholegrain. Rather than run out and get a whole loaf of white for just two slices, I used brown bread. I could not taste the difference so any bread you have lying around is perfectly fine to use. You do, however, need to use fresh breadcrumbs, if you use dried crumbs the goat cheese does have the same softness and it becomes more crunchy and grainy, which is not what you want.
The pan that I use to fry the goat cheese is my nonstick crepe pan. I find that the shallow sides of the pan make it easier to pick up the goat cheese to flip it. You can use any frying pan though. I like to use a fish spatula as its' length allows it to easily slide underneath the whole round and gives it the support it needs as it begins to get gooey as it cooks.
We went to a local wine store and told them what we were making and they recommended a delicious white wine for us. It was dry and fruity, which offset the creaminess of the goat cheese perfectly. It was also really reasonably priced, which is always awesome! It was the 'Les Trois Domaines des Cotes de Gascogne', Croix Blanche 2008. Although I have taken wine courses and attended a ton of wine tastings (some fun, some less than fun), you can never know everything so I always think it's best to consult with someone who works with the wines day in and day out.
Tip: Goat's cheese can be tricky to slice. A knife usually gets stuck half way through the log and the cut never looks smooth. A quick tip I picked up in culinary school is to slice goats cheese with a household item everyone (hopefully!) has at home, unflavored waxed dental floss – I've used mint by mistake before, not good! The dental floss just glides through the cheese easily, leaving perfectly clean looking rounds of goat cheese. This works for other soft cheeses as well.
Warm Goat Cheese and Pepper Salad, makes 4 appetizer sized salads
1/2 cup white wine vinegar
1/2 cup water
1/2 cup sugar
1 red pepper, sliced
1 orange pepper, sliced
1/2 tsp Dijon mustard
3 tbsp olive oil
4 1/4 inch slices goat cheese, preferably Boucheron (see video in Tips, above)
1 egg white
1/3 cup fresh breadcrumbs, from 2 slices of bread, crusts removed
1 tbsp unsalted butter
2 oz wild baby arugula
Salt and freshly ground pepper, to taste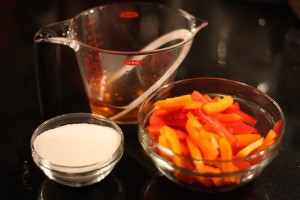 1. Combine vinegar, water, sugar and peppers in a small saucepan and bring to a boil. Reduce the heat to a fast simmer (the bubbles are still quick) and cook for 5-7 minutes, stirring occasioally, until the sugar is dissolved and the peppers are beginning to get soft. Remove from heat and allow peppers and liquid to cool.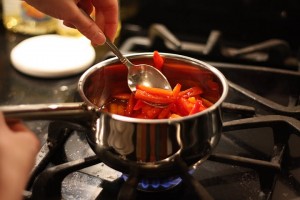 2. Pour 3 tbsp of the cooled pepper cooking liquid into a small bowl. Add mustard and whisking continuously, slowly add the olive oil. Set aside.
3. Get two shallow pans/plates or bowls out and place the egg white in one and the breadcrumbs in the other. (I have my eye on these breading pans, but have to wait until I have slightly more room in my over packed kitchen to get them.) Place a round of goat cheese in the egg white, turn to coat and then place in the breadcrumbs, again turn to coat and shake of any excess.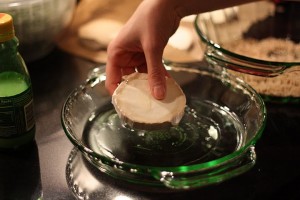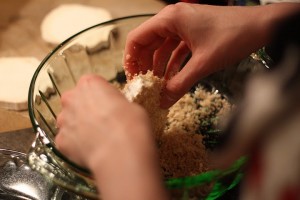 4. Heat the butter in your pan (see Notes above), over a medium-high heat, swirl the pan to coat with butter. Add the goat cheese slices and cook for 2 minutes or until lightly browned, using a spatula, flip the slices and cook for 1-2 minutes more.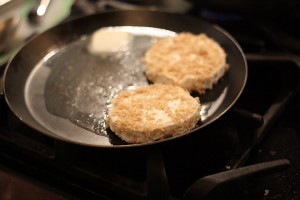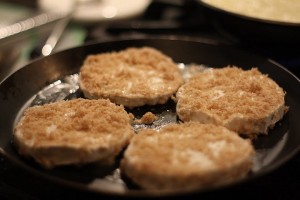 5. Place 1/2 oz of arugula on each plate, add a large spoonful of the pickled peppers. Top with a goat cheese round, add a couple more peppers. Drizzle with vinaigrette (made in step 2). Serve whilst the goat cheese is still warm.
Search

Subscribe

Archives

Categories