Blue Cheese Puff Pastry Tarts
Posted on 24 May 2010
These tarts are one of my go-to's. I always have puff pastry in the freezer; it has so many uses that it is always best to keep it on hand (lids of pies and stews, the base for this tart, palmiers, even cutting it into strips and sprinkling with a little sugar and cinnamon makes a delightfully easy sweet treat). Although you can make puff pastry at home, it is pretty tricky. I find it far easier just to buy the dough frozen and defrost it as I need it. I will put up a recipe for homemade puff pastry (and perhaps another video!) so you can take a gander just in case you want to make your own. I also always have a couple of ounces of cheese in our cheese drawer. You can add any kind of good cheese to these tarts, I have added blue cheese, goat cheese, cheddar cheese, anything with a good strong flavor.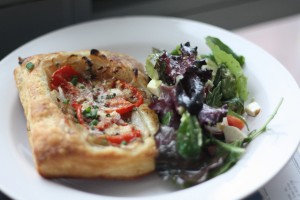 They look fancy enough for a dinner party but are quick and easy enough to make for a lunch. Whenever I do make them for other people I always receive rave compliments! All you have to do is defrost the puff pastry and caramelized the onions and you are ready to go, everything else is so quick. I served this most recently with a salad of mixed baby lettuce with avocados, fresh mozzarella (I really love cheese!), with a white truffle and white balsamic vinaigrette.
Notes: I recommend that the onions should be thinly sliced lengthwise, by which I mean root to tip.
I use an Australian blue cheese called Roaring Forties Tasmanian Blue as it is creamy, melts perfectly but is strong enough to use sparingly. I use it in these tarts and in my blue cheese salad dressing for cobb salad (the recipe for which I will post soon).
Blue Cheese Puff Pastry Tarts, makes 2 tarts
1 sheet of pre-made puff pastry, defrosted, folded into thirds
2 tbsp olive oil, plus more for drizzling
1 large onion, thinly sliced lengthwise (see Notes)
2 large cloves garlic, thinly sliced
2 tbsp white wine
1 tsp thyme leaves, minced
1/4 cup freshly grated Parmesan
1/4 cup blue cheese, crumbled (see Notes for recommended cheese)
2 medium Campari tomatoes, sliced into 5 slices each
2 tbsp chives, sliced finely
1. Heat oven to 425F. Line a baking sheet with parchment paper. Flour a clean work surface and place the folded puff pastry and dust flour over the top. Using a rolling pin, roll puff pastry into an 8 by 7 inch rectangle. Cut the dough into two smaller rectangles, along the long side, so you have two 4 by 7 inch rectangles. Place on the prepared baking sheets. Prick edges of the smaller rectangles with prongs of a fork (as shown in picture below). Add one tablespoon of Parmesan to each tart.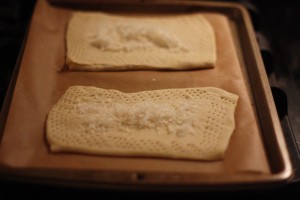 2. Heat olive oil in a large frying pan over medium heat. Add onions and garlic, saute for 15 minutes, stirring occasionally, until onions are soft and translucent. Turn heat down to low, add wine, thyme and season with salt and pepper. Cook for another 10 minutes, until onions are a golden brown.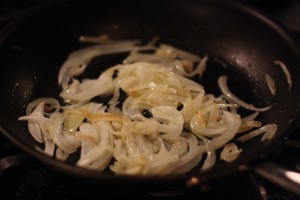 3. Place half of caramelized onions on top of Parmesan cheese in the center of each tart.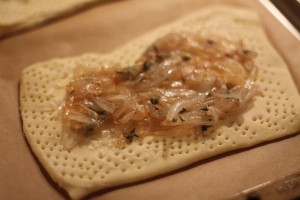 4. Add crumbled blue cheese, slices of tomatoes, the rest of the Parmesan, and half the chives. Drizzle with olive oil and sprinkle with kosher salt and freshly ground black pepper.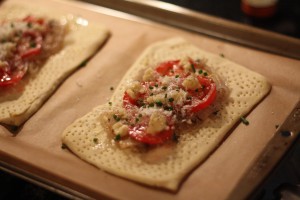 5. Bake for 25 to 30 minutes, until the pastry is golden brown and has risen. Sprinkle with the remainder of the chives and serve with a fresh green salad.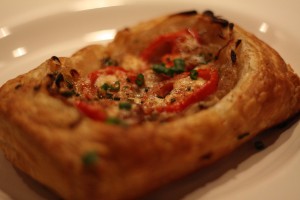 Search

Subscribe

Archives

Categories