White Chocolate and Vanilla Bean Panna Cotta
Posted on 20 August 2010
This dessert is every bit as sinfully delicious, decadent and moreish as the name suggests.  I am totally in love with white chocolate as I you may have notice when I posted a recipe for White Chocolate Chip Cookies before posting one for regular choc chip cookies!  An obsession with vanilla lends itself to a love of white chocolate as unlike regular chocolate, white chocolate  is made up of sugar, milk solids and cocoa butter (rather than chocolate liquor from cocoa solids) and flavored with vanilla.  This lack of cocoa solids has spurred some purists to claim that white chocolate is not really a "chocolate".  Personally I believe if it walks like a duck and talks like a duck… From my experience with working with chocolate (dark and milk), white chocolate behaves exactly the same. You have to be careful of the milk solids splitting from the cocoa butter (if this happens all you have to do is whisk in some more chocolate to re-emulsify) and you also cannot add water to chocolate (white or otherwise), it will "cease" and become grainy and impossible to stir (to remedy this you just have to reheat and whisk in some more chocolate… Are you seeing a pattern here? Adding more chocolate solves basically anything in cooking or elsewhere!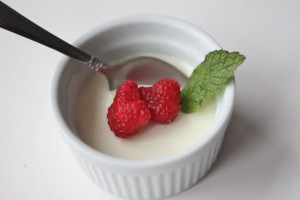 The reason for white chocolate's melt-in-your-mouth quality is due to the high percentage of cocoa butter. It has a very low melting point which just so happens to coincide with human body temperature.  Humans and white chocolate = a match made in heaven!
This recipe is so unbelievably easy I almost do not want to post this and keep it an ambiguous secret (just like I wanted to with the Molten Centered Chocolate Cakes!)  I served it at both dinner parties last week trying to perfect the recipe. The second time I added more white chocolate, six ounces rather than four, which you are more than welcome to do but the hubbie preferred the texture of the original one which is here.
Notes: I use an excellent brand of white chocolate chips by Guittard called Choc-Au-Lait (they are unable to call it white chocolate due to the lack of cocoa solids as mentioned above). I have found this to be the most consistent of all white chocolate I have used and it saves me time not having to chop up the chocolate before use. The only downside is I usually sneak a couple as a chef's treat while I am cooking which usually leads to an impromptu snack!
I used the extra liquid to make a seventh panna cotta which I kept as a snack for the next day. I found that it had any of the lumps and bumps that were not dissolved, you can also strain the liquid to alleviate some of this.
White Chocolate and Vanilla Bean Panna Cotta, makes 6 individual cupcake sized desserts
1 vanilla bean, split with the seeds scraped out, pod reserved
2 cups heavy cream
1 tbsp sugar
4 oz white chocolate, morsels or cut into small pieces (see Notes)
2 tsp gelatin (1 0.25 oz sachet)
2 tsp water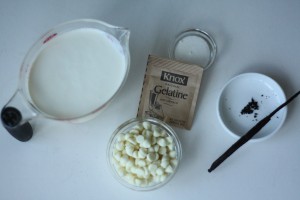 1. Add cream, vanilla seeds, vanilla pod and sugar to a small saucepan over medium heat. Heat for 10 minutes, until the cream begins to steam and the sugar has dissolved, make sure not to boil the cream.
2. Meanwhile, in a small bowl add the gelatin to the water and stir. Set aside. (It should turn to solid almost instantly).
3. Once the cream is heated remove the vanilla pod and discard. Place chocolate chips into a medium sized bowl and pour the hot cream over them and add the gelatin and water mixture. Stir to dissolve the chips and gelatin making sure there are no lumps of chocolate or gelatin. At this point you can strain the mixture through a sieve if you believe you still have lumps.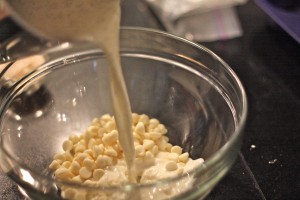 4. Pour the mixture into a measuring cup (I used this Oxo 4 cup fat separator). If unstrained, let sit for 2 minutes. Pour into a silicone cupcake tray. There will be enough for 6 full cupcake sized panna cotta and some extra (see Notes). Place in refrigerator until set, about 3 hours.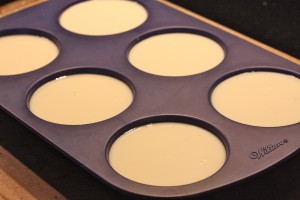 5. To unmold, run a knife around each panna cotta and carefully invert the cupcake cups to extract them out. Serve with your choice of berry, strawberries or raspberries both work well, as does a sprig of mint!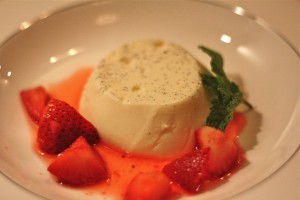 Search

Subscribe

Archives

Categories