Chewy White Chocolate Chip Cookies
Posted on 15 July 2010
Some may say that writing a recipe for white chocolate chip cookies before I have posted a recipe for regular choc chip cookies is sacrilege. The good news is you can replace the white chocolate chips with semisweet chocolate chips to make regular choc chip cookies. I am one of the weird breed of people who prefers white chocolate over milk chocolate or dark chocolate… I know, I know… white chocolate is not really chocolate (it's based of cocoa butter rather than cocoa solids and then flavored with vanilla). Apparently I have stunted chocolate maturity!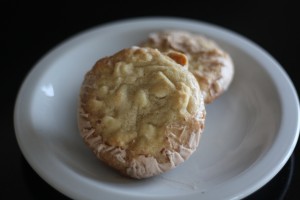 One of our friend's friend just opened an artisan ice cream company called Snookelfritz in Chi-Town. Instantly after opening they received rave reviews from Daily Candy, Time Out Chicago, Grub Street, Tasting Table (basically ALL the major food sites everyone reads!) and a local paper, the Chicago Reader. And it is easy to see why.
The premise behind Nancy Silver's Snookelfritz is using local and sustainable ingredients to make amazing sounding (and tasting) ice creams, such as Pear and Brown Butter; Rosemary, Honey and Goat Cheese; Roasted Strawberry and Honey Nougat; Valrhona Chocolate and Torrone Nougat; and Rhubarb and Creme Fraiche Sherbert. With the ingredients coming from the nearby farmers' market and all the ice creams made by hand with different choices each week, I was intrigued and knew I had to get my sticky fingers on some samples. Thankfully our friend was receiving a large shipment that weekend and I got to try them all!
Said large shipment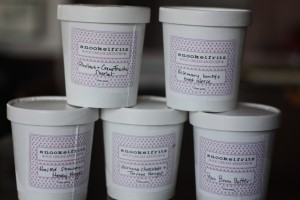 When I first tasted Snookelfritz's Roasted Strawberry with Honey Nougat ice cream I knew that a chewy white chocolate chip cookie would compliment it perfectly. This is the recipe for those cookies.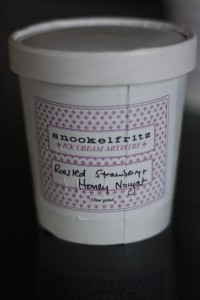 * I also made ice cream sandwiches with the Rhubarb and Creme Fraiche Sherbert. I used the vanilla bean cookies from my Raspberry Cream Sandwiches, de-li-cieux!
Notes: As mentioned you can switch these cookies to any kind of chocolate for semisweet chocolate chip cookies, double choc chip cookies, or even triple chocolate chunk cookies for the ultimate indulgence!
In the recipe I mention that the cookies need to cool completely.  This is not the case if you do not intend to make ice cream sandwiches… in the case that you are making them to eat as is, I fully encourage eating them the second they are cool enough to be eaten. Nothing tastes better than a warm, and just fresh out of the oven cookie!
Chewy White Chocolate Chip Cookies, makes 16 cookies
1 cup plus 6 tbsp all purpose flour
1/2 tsp baking powder
1/2 tsp fine salt
1 stick butter, room temperature (4 oz)
3/8 cup light brown sugar
3/8 cup sugar
1 egg, room temperature
3/4 tsp vanilla extract
1 cup white chocolate chips (preferably Guittard Choc-Au-Lait chips)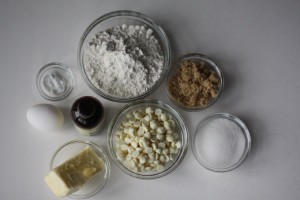 1. Heat oven to 375°F. Line 2 baking sheets with Silpats or parchment paper. Combine flour, baking powder and salt in a medium bowl and set aside. In the bowl of a stand mixer, cream together butter and sugars. Beat on medium speed for 4 minutes until light and fluffy, scraping down halfway through. Add egg and vanilla and beat for 1 minute, or until combined.  Scrape down the side of the bowl.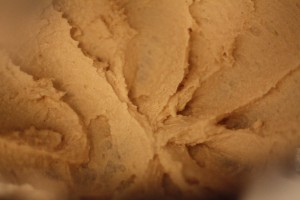 2. Turn speed to low and add flour mixture in 3 additions. Turn off mixture and stir in chocolate chips. Roll into 16 equal balls, about 1 1/2″ to 2″ each and space out well, 8 to each sheet.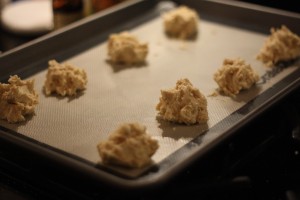 3. Bake for 6 minutes, then rotate and cook for 6 more minutes or until cookies are golden. Leave to cool for 2-3 minutes on the sheet and then move to a cooling rack to cool down completely.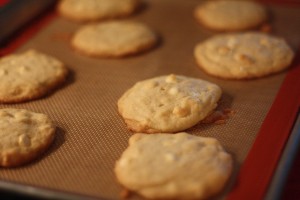 Search

Subscribe

Archives

Categories