Gazpacho
Posted on 25 June 2010
Gazpacho is the quintessential summer soup. Obviously begin chilled helps you cope with the sweltering heat but the flavors in this soup are ones that make you sweat a little, getting you even cooler. The soup traditionally comes from Andalusia in Spain where it has been made since mediaeval times. Peculiarly the addition of tomato is a relative new one; with them only being added to the soup in the 1700's. Most of the ingredients in this particular soup are in the traditional recipes, the only addition I made that I had not seen elsewhere in mediterranean cookbooks is half a jalapeno (if you haven't noticed by now I really do love spice!). Every historical recipe I have found for gazpacho has been different, showing that there really is no right or wrong way of making it. This also means that you can play around with the ingredients and add whatever you have on hand or substitute ingredients for others (one way of switching it up would be to change the vinegar to white wine vinegar or even sherry vinegar).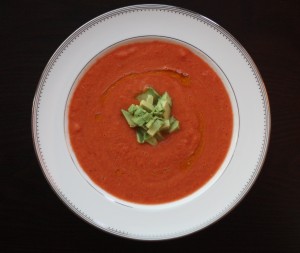 My craving for gazpacho started a little while ago. A few weekends ago some good friends from college and I were in Connecticut celebrating our friend's birthday. The weekend had taken a very sporty turn with plenty of tennis, swimming and baseball (even if it was beer baseball… but more on that another time!) and we were all in need of a refreshing something to try to cool us down. As we were naming the things we were craving I suddenly became aware of how much I needed gazpacho. The chilled, refreshing soup would be the perfect thing that weekend but alas! We could not find any fully ripen tomatoes at that point. Thankfully, just in time for a lovely, humid New York summer there is a glut of tomatoes already. Some recipes call for adding tomato juice, this is due to the fact that tomato juice is a more consistent product than the juice from most tomatoes, at this time of year we thankfully do not have to worry about that. The juice should be sweet and flavorful enough already.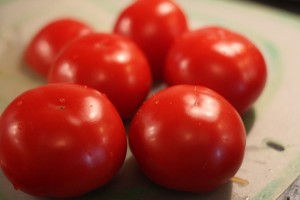 This recipe is really as easy as putting everything in a blender and whizzing it until you have the consistency you want. I prefer mine smooth but you can leave it chunkier for a more rustic appearance or you can put the soup through a strainer to get a very refined soup. I personally think that if the soup is too smooth it lacks texture and become too thin tasting.
Notes: I suggest adding creme fraiche to the soup right before serving. Please do not tell any of your Andalasian friends as they may cry…
Gazpacho, serves 4
1 slice white bread, crusts removed, cut into small squares
2 lbs large vine ripened tomatoes, roughly chopped
1/2 English cucumber, peeled and chopped
1 red onion, roughly chopped
1/2 red pepper, roughly chopped
1/2 orange pepper, roughly chopped
2 cloves garlic, chopped
1/2 jalapeno pepper, seeds removed and chopped
3 tbsp extra virgin olive oil, plus extra for swirling
2 tbsp red wine vinegar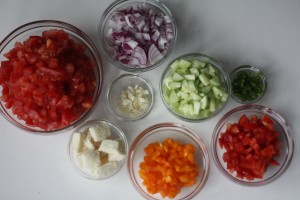 1. Soak bread with 1 tbsp water. Leave to absorb water for 5 minutes. Carefully squeeze out excess.
2. Place tomatoes, bread, cucumber, peppers, onion and garlic in a blender. Blend until desired level of smoothness.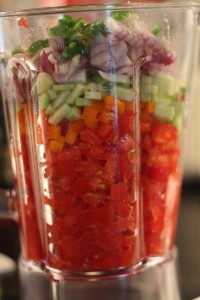 3. Pour into a non metallic bowl (ceramic, glass or plastic) and add oil and vinegar. Season with salt and pepper. Mix thoroughly, cover with wrap and place in refrigerator for at least 2 hours to allow the flavors to meld.
4. Serve with your choice of croutons, a drizzle of some more extra virgin olive oil, avocado, chopped cucumber, diced pepper or creme fraiche.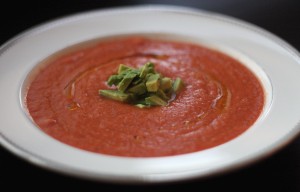 Search

Subscribe

Archives

Categories