Pork and Potato Croquettes
Posted on 07 June 2010
Last week I posted photos and a recipe for a brine for delicious pork chops. Given the immense size of the chops (Fred Flinstone would have been sated!), the hubby and I could only finish half of our chops. This left us with a cup and a bit of leftover, tender and juicy pork, perfect for making a quick weekday meal with. I had served the chops with mashed potatoes and we had some packaged up in the fridge. As I was working through my mental recipe roledex, my mind stopped at croquettes. (I also served creamed summer corn and gourgeres, which are mini Gruyere cheese puffs.)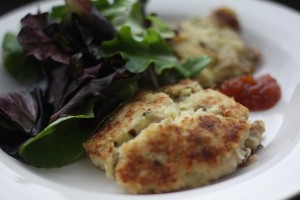 The beauty of croquettes is that you can add whatever you have around to them. In my case, I kept them relatively simple and added mascarpone, chopped chives and mustard. I used an egg to bind the mixture and then rolled the patties in some panko bread crumbs. These gave the cakes a light and crispy exterior, which was a perfect contrast to the creamy and soft interior.
I served these with a mixed salad and my homemade, spicy but sweet, tomato and chili jam. All in all the meal took about 35 minutes to make. Perfect for a quick and easy lunch or a weeknight meal.
Notes: This recipe either feeds two people as an entree, with two croquettes each, or four people as a starter.
The diced pork is leftover from my Chef & the Farmer's Brined Pork Chops post last week.
I used my Creamy, Buttery Mashed Potato recipe to make the mashed potato in these croquettes. The only changed I made was to replace the cream with milk for a lighter texture.
If you are unable to find mascarpone cheese, you can use 1 tbsp sour cream.
You should be able to find panko bread crumbs in most supermarkets in the ethnic aisle, or in a Japanese speciality store.
Pork Croquettes, makes 4 croquettes
1 1/2 cups medium diced pork (see Notes)
1 cup mashed potatoes (see Notes)
2 tbsp mascarpone cheese (see Notes)
1 1/2 tsp chopped chives
1 tsp Dijon mustard
1 large egg, beaten until whites and yolk are combined
1/2 cup panko bread crumbs (see Notes)
2 tbsp olive oil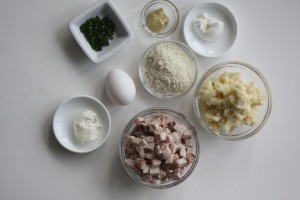 1. Heat oven to 275F. Line a baking tray with parchment paper. Add pork, potatoes, mascarpone, chives, and mustard to a medium mixing bowl. Add egg and mix until thoroughly combined. Form into 4 hamburger shaped patties. Roll in panko crumbs.
2. In a 12 inch frying pan, heat olive oil over medium high heat. Add croquettes to pan, making sure they are not touching. Cook for 4 minutes on each side, until the croquettes are golden brown, flipping carefully with a spatula. Move croquettes from the frying pan onto the baking sheet and place in oven for 6-8 minutes.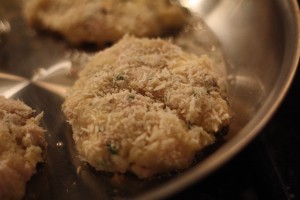 3. Serve with a simply dressed salad and tomato and chili jam.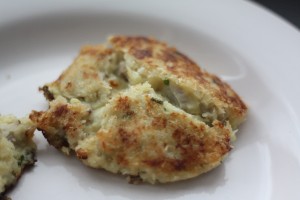 Search

Subscribe

Archives

Categories