Tomato and Jalapeno Jam
Posted on 08 June 2010
When I was last at a farmer's market I became slightly over eager about the new summer produce (well, almost-summer produce). Somehow, this translated into my coming home with 3 pints of little, ripe grape tomatoes. I diligently added them to every salad I ate for a week, momentarily pondered making a chilled tomato soup but at the last minute decided that this jam would be the perfect way for the last pint of these beauties to get used.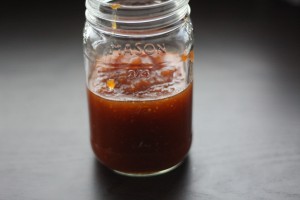 This is my first attempt at a savory jam. As a serious cheese lover, I have long been a fan of the savory jam especially when the jams have even the slightest kick to them. This jam has a whole chorus of high kicks to it, from the jalapenos, the ginger and the garlic. The vinegar and the sugar help to round the flavor out and make it sweet and spicy all at the same time.
I was amazed at how quickly the jam thickened. Keeping the skin on the tomatoes not only keeps more nutrients from the fruit but it also helps with the thickening process. And here is some more good news – tomatoes are better for you when they are cooked than when they are raw. Crazy but true! I spent at most five minutes preparing the ingredients, threw some in a blender, then poured the puree with the rest of the ingredients in a saucepan and just stirred occasionally.
I served this jam on the side of my Pork and Potato Croquettes to my darling man and it got rave reviews!! It could honestly be served with a thousand things, just a few off the top of my head: anything grilled, anything eggy and breakfast-y (it would be amazing with an omelette or a frittata), or as I mentioned above, with cheeses.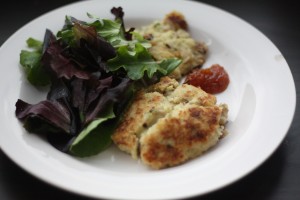 Notes: If you are unable to find jalapeno peppers, you can use any peppers that are a similar level of heat.
Tomato and Jalapeno Jam, makes 1 cup (8 fl oz)
1 pint ripe grape tomatoes (about 9 oz)
2 green jalapeno peppers, (see Notes) halved and seeds mostly removed
2 garlic cloves, peeled and roughly chopped
3/4 inch piece ginger, peeled and roughly chopped
1 tbsp fish sauce
3/4 cup sugar (about 5 oz)
3 1/2 tbsp red wine vinegar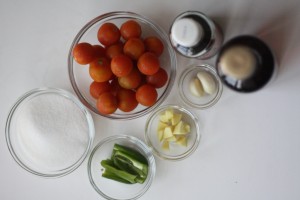 1. In a blender combine tomatoes, jalapenos, garlic, ginger and fish sauce.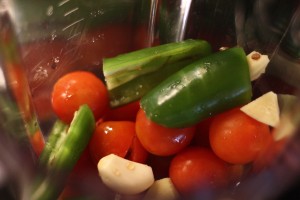 2. Blend until pureed.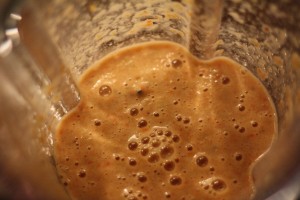 3. Add puree, sugar and vinegar to a small saucepan and bring to a boil. Reduce heat to medium low and simmer for 30-40 minutes, until reduced by a third. Stir occasionally to make sure the jam is not burning.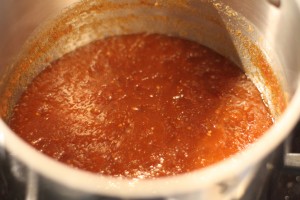 4. Pour into sterilized jar and allow to cool at room temperature. Once cooled, store in fridge for up to 2 weeks.
Search

Subscribe

Archives

Categories