Spring Frittata
Posted on 12 May 2010
So this morning I woke up to one of New York's daily options for spring… During this precarious season, there is always a high probability that it will be miserably overcast, frightfully damp and cold with a good chance of drizzling rain. Every day like this makes me feels as though summer is months away. I forget that the day before may have brought glorious sunshine, warm breezes and the sound of children playing in the park. All I can think about is getting way from the grey. So sometimes I have to make myself something that will cheer me and remind me that summer (or the rest of spring for that matter) cannot be too far away.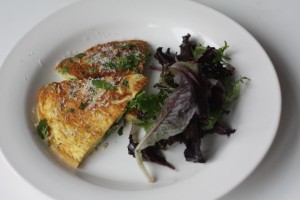 Which is how this frittata came into being. I looked into my fridge and freezer and grabbed the first three spring vegetables – it was just coincidence they were all green. This meal is so easy to make, it takes no time at all and makes a filling and healthy meal. I served my frittata with a mixed mesclun salad with a quick lemon vinaigrette – made by whisking together freshly squeezed lemon juice, Dijon mustard, a tiny squeeze of honey, salt and pepper and then continuing to whisk, adding olive oil in a slow drizzle. If you serve this with some warm, buttered French bread as well, you can almost imagine the sun! A meal made in Provencal heaven (you may have to close your eyes very tightly!)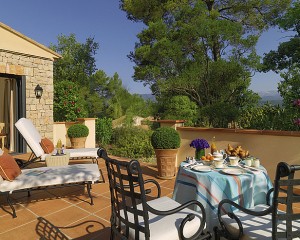 Asparagus, Pea and Mint Frittata, serves 4
1 tbsp unsalted butter
10 asparagus spears, trimmed and cut into 1 inch pieces
1/3 cup fresh or frozen peas
4 extra large eggs
1/2 cup Parmesan cheese, plus extra for garnish
2 tbsp heavy cream
2 tsp mint, cut into thin strips, plus extra for garnish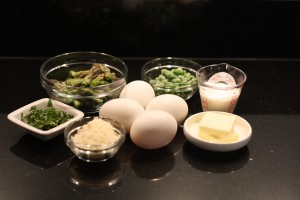 1. Turn broiler on to high. Place a 10 inch non-stick frying pan over medium high heat. Add butter and allow to melt. Add asparagus and peas and stir to cook with butter, cook for 4 minutes, shaking the pan occasionally to prevent burning.
2. At the same time, whisk eggs, cheese, cream and mint until well combined. Season with salt and freshly ground pepper. Cook for 4 minutes or until edges of the eggs turn golden brown. Pour egg mixture on top of asparagus and peas. Turn heat to medium and cook for 4 minutes.
3. Place pan until broiler and broil until eggs are just set. Invert frittata on to a plate.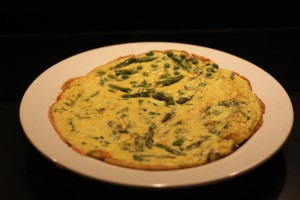 4. Slice and serve with a green salad and warm, buttered French bread.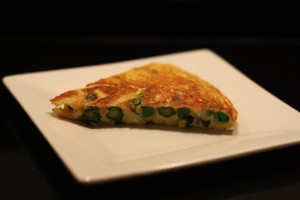 Search

Subscribe

Archives

Categories