Truffled Mushroom Risotto
Posted on 05 October 2010
As I mentioned in my Creamy, Brandied Mushroom Crepes, I did not like mushrooms for the longest time. By a long time, I mean from birth until sort of now… I would even go so far as to fill in the allergy section on my permission slips for school trips with mushrooms and spinach on the off-chance that they would feed them to me (that's right, Mrs. Smith, I was never really allergic to either!). The remedy I have found for my dislike and general mistrust of mushrooms is to make something with them at home. For some reason when I make things myself I hate them less…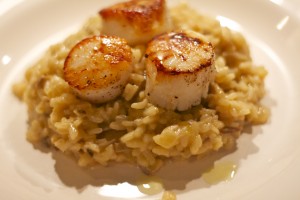 In this dish I add a few of my all time favorite things which thankfully, compliment the cremini mushrooms so well. This dish tastes like fall/autumn in a bowl. The Gruyere cheese has a nuttiness and meatiness of its' own which pairs well with the meatiness of the mushrooms. The thyme has the same woodiness and the white truffle oil has the same earthiness as the mushrooms themselves. I can just imagine Titiana and Oberon sitting down for plate now…
I chose cremini mushrooms, also called crimini mushrooms, because I feel as though they have a better flavor than the button mushroom. The common white button, cremini and portobello are all the same variety of mushroom just at different stages of development. The youngest is the white button mushroom, causing them to be the mildest tasting and the softest; they owe their white color to being bred especially for this quality, in the wild they would be far browner. The portobello mushrooms are obviously the furthest along in the cycle, developing the large cap and the dark gills underneath (this is what would happen to all button mushrooms is they were left to grow). The cremini mushroom is in between these two phases. They have begun to develop the meaty taste, the darker gills and the brown coloration (hence them occasionally being called baby bellas) but are still small and tender. If you see both baby bellas and creminis in the vegetable aisle buy whichever looks healthy and is cheaper, they are exactly the same thing.
Tips: I served mine with three golden, pan-seared diver scallops and drizzled them with extra white truffle oil and a green salad with a white balsamic vinaigrette. I seasoned the scallops with kosher salt and pepper and cook them in a touch of extra virgin olive oil on high heat for 2 minutes on each side.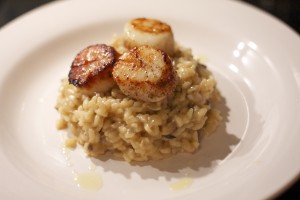 Truffled Mushroom Risotto, serves 2
2 tbsp unsalted butter
1/2 large Spanish onion, finely chopped
1 garlic clove, finely chopped
4 crimini mushrooms, finely chopped
1 cup arborio rice
1/2 cup white wine
2 1/2 cups chicken or vegetable stock
1/2 tsp thyme leaves
1/3 cup grated Gruyere cheese
1/4 cup grated Parmesan cheese
1. Pour stock into a medium saucepan and heat over high heat until boiling. Melt butter over medium heat, add onion and stir to coat with butter and cook for 5 minutes, until soft. Add garlic and let cook for 1 minute, until beginning to soften and become fragrant. Add mushrooms and stir to coat thoroughly, add a sprinkle of kosher salt and let sweat for 5 minutes, until the mushrooms begin to give off moisture.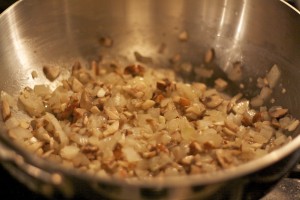 2. Add rice and stir thoroughly with mushroom-butter mixture. Allow to cook for 1-2 minutes until the rice is warmed.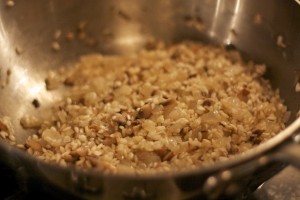 3. Add white wine and turn heat up slightly to medium-high and stir while simmering until the wine is absorbed. Begin adding the boiling stock in half cup amounts, simmering the liquid and stirring almost continuously to prevent the rice sticking to the pan until the stock is absorbed before adding more (this process should take about 20 minutes). Once the stock has been absorbed and the rice tastes cooked with only a slight bite, add the thyme and cheeses. Stirring the melt the cheeses.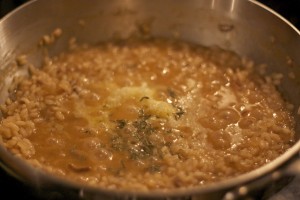 4. Season with salt and pepper and serve immediately.
Search

Subscribe

Archives

Categories