Creamy, Brandied Mushroom Crepes
Posted on 19 May 2010
Ever since I was little my parents have tried to broaden my palate and make sure that I would not turn out to be a fussy eater. And for the most part, that has been the case; there are few things that I will not eat or at least try. Growing up I had a tactic to get out of eating foods that did not appeal to me. I always claimed I was allergic to them. This white lie saves me and my hosts – yes, I still do it occasionally, although my cover may be busted now – from very dramatic scenes. For some reason, I am completely incapable of behaving normally when I do not like something I am eating. Just to give you an example, the first time I ever tried an olive, I cried, in public! I may only have been eight years old but these things stick with you.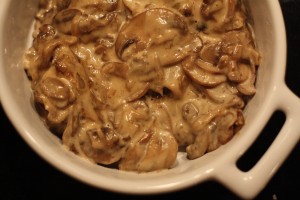 Mushrooms are one of those foods for me (along with olives – still!, sweetbreads and calves liver – I have tried and I just can't, oysters, mussels and clams – so very chewy, and I am sure there are more that I am missing). But I realize that I am shutting myself off to tastes that other people like or even love. As a chef I know that I have to be able to stomach anything and so now as an adult I am making sure that my palate is as open to tastes as possible.
I simply make myself eat certain things. The best method I have found to do this is to either eat the item in a fancy restaurant (thank you Le Bernadin, you almost made me like oysters), but when budget does not allow, I make it myself at home. Almost all the foods that terrify me are all spongy or slimy, so for me it is a texture issue. All I have to do is somehow change the texture until I can appreciate the flavor.
I have added mushrooms to risottos, soups, stews and some sauces to get myself used to the taste. In this sauce the mushrooms are sauteed over high heat and browned so that they are not spongy and they have texture. I also added garlic, cognac, Dijon mustard and cream, all flavors that cut the sponginess and mask any negatives I would find in the mushrooms.
As I mentioned yesterday I serve this mushroom sauce with the caramelized onions and goat cheese and a pile of crepes. This allows everyone to mix and match and add what they would like to their crepe. You can also use this sauce as a side with any grilled meat. The creaminess is the perfect compliment to the charred smokiness.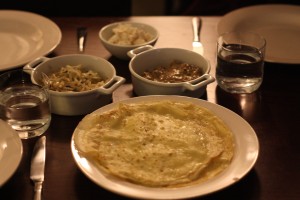 Notes: In the recipe below I state that the garlic should be "smashed and then roughly chopped". The smashing simply means to squish the clove with the side of a large chef's knife, and then roughly chop to get larger pieces of garlic. This gets more of the flavor out of the garlic but allows you to have a larger surface area so the garlic will not get burnt easily when cooking over a high heat.
To serve crepes with just this sauce, fold the crepe in half and then in quarters and form a small pocket, then fill this pocket with the filling. It is a more refined presentation of a crepe.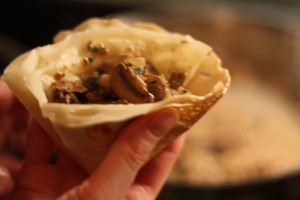 Creamy Mushroom Sauce
1 tbsp unsalted butter
1 tbsp canola oil
1 large garlic clove, smashed then roughly chopped (see Notes)
7 oz cremini mushrooms, thinly sliced
2 tsp Dijon mustard
2 tbsp cognac
2 tbsp heavy cream
Chives, finely chopped, for garnish (optional)
4 crepes, made with Basic Crepe recipe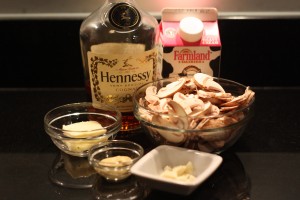 1. Heat large frying pan over medium high heat. Add butter and canola oil. Add garlic and cook for 2 minutes, stirring often to prevent burning.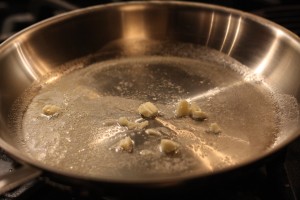 2. Add mushrooms in a single layer, shaking the pan often and cook for 5 minutes, until mushrooms have absorbed most the oil and have begun to brown.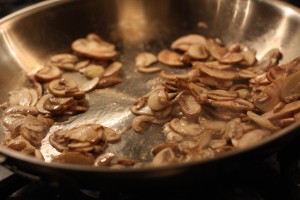 3. Add mustard and stir to coat mushrooms and garlic with it.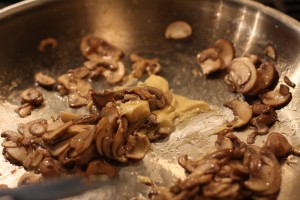 4. Add cognac and allow it to evaporate. Add cream and stir to combine. Season with salt and pepper. Turn heat to low to keep warm until ready to serve.
Search

Subscribe

Archives

Categories