Caramelized Onion and Goat Cheese Crepes
Posted on 18 May 2010
Adding these onions, caramelized slowly with garlic and thyme and a splash of white wine, with melting goat cheese to basic crepes takes them completely out of breakfast and into a sophisticated dinner realm. The addition of wine also makes this a more adult tasting meal.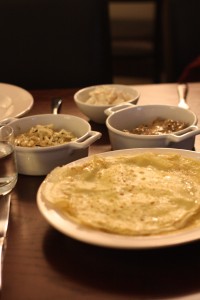 When I make these caramelized onions I serve them in a mix and match way. I put a couple of different fillings on the table, these onions, some crumbled goat cheese and a mushroom filling (which I will post tomorrow). This way everyone is able to make their perfect crepe. I also add a large, fresh green salad with a simple vinaigrette.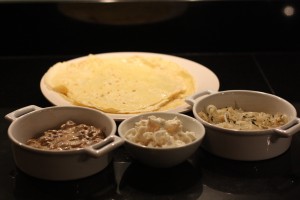 Caramelized Onion and Goat Cheese Crepes, makes 4 filled crepes
2 tbsp unsalted butter
1 large yellow onion
1 garlic clove, minced
1 tbsp thyme, minced
1/4 cup white wine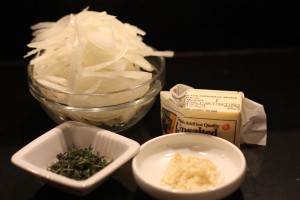 4 crepes, made with Basic Crepe recipe
4 oz goat cheese, I use Bucheron, crumbled into small pieces
1. Place a frying pan over medium heat. Add butter and allow to melt. Add onion and cook until soft and translucent, about 10 minutes. Add garlic and cook for 1 minute, until fragrant. Add thyme and wine, turn the heat down to low and cook until onions are soft and beginning to turn a golden brown. Season with salt and pepper.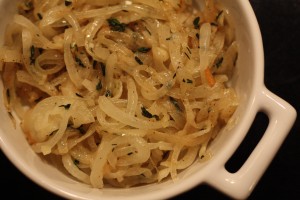 2. If using freshly made crepes, place onions down the center of the crepe. Cover with goat cheese pieces and roll into a thin log and serve immediately.
If the crepes are not warm. Place onions down the center of the crepe. Cover with goat cheese pieces and put under a broiler until the cheese melts. Roll into a thin log and serve warm.
Search

Subscribe

Archives

Categories