Roasted Beet, Blue Cheese and Walnut Salad with Arugula
Posted on 29 October 2010
Until last summer I thought that there was one type of beet. The large bright purple bulb that haunts your dreams as a small child if you have any German relations (I can say that because I do have German relatives), served chilled and pickled with a tangy vinegar sauce. They were honestly the stuff of nightmares to me as a child. Thankfully I have grown up since then and last summer I signed up for our local CSA. Even though I know CSAs are pretty crunchy and very predictable for a girl living in Brooklyn, I decided to go full force into the cliche.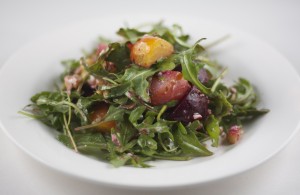 Almost instantly our fridge was inundated with far more lettuces, dark green vegetables and varieties of eggplants than I knew possible (we ate eggplant parmesan and baba ganoush about twice a week) and of course beets! Piled up and spilling out of our fridge. As one of my friends said, it looked as though a greenmarket had exploded in our fridge.
Needless to say, I had to get creative with ways to cook all the vegetables that I had so little experience with. Sometimes the best is also the most simple. Roasting beets with a sprinkle of salt and a little butter brings out their sweetness and their flavor. Combining this with crumbled Gorgonzola, chopped toasted walnuts and peppery arugula with a wholegrain mustard is a fast and easy yet beautiful salad full of color. If you serve it when the beets and the walnuts are still warmed for the oven it is perfect for the season.
I roast the different varieties of beets separately as they leach their color as they bake. Having them in different foil pouches keeps their bold colors so they are all distinguishable in the salad.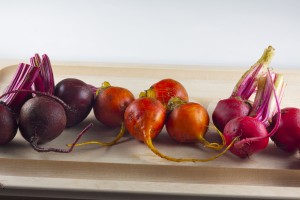 I use a mixture of beets so the salad has a lot going on, in tastes, texture and visually. The three varieties I recommend are baby beets (the same as regular beets but smaller and slightly sweeter), golden beets and candy beets. Candy beets (shown below) are beautiful when sliced open, especially through the middle. When they are roasted the colors do blend a little but you can also use them raw, sliced very finely, in salads to get that great concentric circle design. The candy beets shown below are sliced from top to root.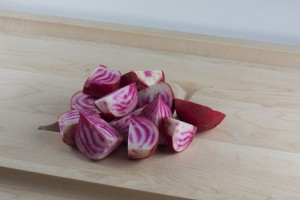 Notes: In the directions for the vinaigrette I state that you should whisk the dressing until it is emulsified. An emulsion is simply a mixture of two liquids that do not want to blend together being mixture together, in this case oil and vinegar. When they are mixed they form as unstable emulsion which means that it will divide up again into the two separate parts. Mustard acts as a stabilizer and helps the dressing stay together (egg yolk, garlic and some nut butter also work).
Roasted Beet, Blue Cheese and Walnut Salad with Baby Arugula, serves 2 as an appetizer
6 beets (preferably 2 golden, 2 candy and 2 baby), scrubbed thoroughly
1 1/2 tbsp unsalted butter
1/2 whole walnuts
1/2 cup blue cheese (preferably Gorgonzola), crumbled
2 cups arugula, washed and dried thoroughly
1 recipe of Mustard Vinaigrette (see below)
1. Heat oven to 350ºF. Trim the beetroots by cutting the roots and tops off. Tear off three 4 by 4 inch squares of foil. Keeping the different variety of beetroot separate, place 2 beetroot in each square. Add 1/2 tbsp of butter to each set and sprinkle with kosher salt. Make a pouch out of the foil and place on a baking tray in the oven. Roast for 60-90 minutes until a knife can slide through them easily.
2. When the beetroots are tender enough, pull them out of the oven and open the foil pouches to release the steam and let them begin to cool. Place the walnuts on the baking sheet and pop in the oven until they are lightly toasted, about 7-8 minutes.
3. When the beetroots are cool enough to touch, begin to rub the skins off with paper towels. You can do this by picking them up and surrounding them with a paper towel and rubbing the beetroot lightly, the skin should slide right off. Cut each beetroot, from top to bottom, into 4 or 8 segments depending on the size of the beet. Remove walnuts from the oven and chop into
4. In a large bowl, add the cut beets, crumbled blue cheese, arugula and chopped walnuts. Drizzle the mustard vinaigrette over and toss the salad together. Serve immediately.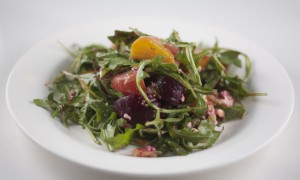 Mustard Vinaigrette
1 1/2 tbsp white wine vinegar
1 tsp whole grain mustard
3/4 – 1 tsp clover honey
2 – 2 1/2 tbsp olive oil
Salt and pepper
1. Put vinegar, mustard and honey in a small mixing bowl. Using a whisk, mix the ingredients together well. Continuing to whisk rapidly, begin to pour the oil into the bowl in a slow but steady trickle, until you get the desired consistency. Continue to whisk until the dressing is emulsified (see Notes). Set aside until the salad is assembled.
Search

Subscribe

Archives

Categories