Kansas City-Style Barbecue Sauce
Posted on 05 August 2010
I am slightly crazy about barbecue. As I have mentioned before, I grew up in England and barbecue there is not so much an art form but more slabs of meat blackened over charcoal. My first foray into the world of bbq was a place in Washington DC called Rockland's. The initial bite into the tender, juicy chopped pork with a tart but sweet ketchup-vinegar sauce on a soft potato roll was only rivaled by my last delicious moist one. My favorite part of a good barbecue sandwich is when all the juices and oils from the meat and sauce combine in the joint between the top and the bottom of the bun. The joint becomes soaked with the liquid and the potato roll is the perfect vessel for absorbing it… mmmm…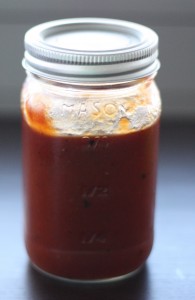 Since that first chopped pork sandwich my mind has been blown repeatedly by the variety of barbecue in the US. My husband is from the Southern Outer Banks and while he can appreciate a good barbecue sandwich from other places, he is still loyal to the vinegar based Eastern North Carolina style that he grew up with (we will have recipes for this coming in the fall). He has tried to convert me into becoming a devotee, with early morning and late night trips to Smithfield's Chicken n' Bar-B-Q. While he presents a convincing case, especially when I can get extra coleslaw on my sandwich, it is still a tie. South Carolina's mustard based comes in close at 3rd but I also haven't tried the mayonnaise based white sauce that's been coming out of Alabama recently…
Whenever we make pulled pork at home we always separate the batch three ways from the get-go. One third my husband douses with vinegar sauce, one third is packaged up immediately for me to make Brunswick stew later and one third is left plain for everyone to add the variety of sauces we have lined up, including, but not limited to, Kansas style sauce, South Carolina mustard style sauce, a sauce that I am obsessed with called J.T. Pappy's Flamin' Gator sauce (it really is as good as the name!) and about 6 different hot sauces we have on rotation…
The sauce used at Rockland's is a fairly traditional Kansas City-style sauce. The requirements of a traditional Kansas City sauce is that is be ketchup based with vinegar, molasses, brown sugar and usually with onions or onion powder and red pepper or powdered cayenne for a little heat. The recipe below is also for a Kansas style sauce and the only differences between this sauce and the Rockland's sauce is their addition of white vinegar and molasses.
This sauce is thick and sweet but also has more that a slight hint of heat at the end. It is perfect on chicken, pork and ribs. I baked chicken thighs in this sauce last week and they turned out juicy, moist and flavored through with the sauce.
Notes: you can replace the 1/2 onion for 1/2 tbsp onion powder if needed.
Kansas City-Style Barbecue Sauce, makes 3 cups
2 cups ketchup
1 cup water
1/2 cup cider vinegar
1/2 onion, finely sliced from root to tip (see Notes)
8 tbsp brown sugar
2 tbsp white sugar
1 1/2 tbsp freshly squeezed lemon juice
1 tbsp Worcestershire sauce
1/2 tbsp freshly ground black pepper
1/2 tbsp ground mustard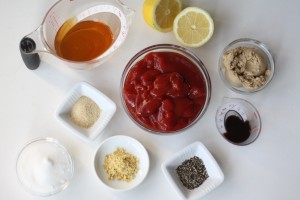 1. Combine all ingredients in medium saucepan. Bring to a boil and then reduce to a simmer. Simmer gently until the sauce is thick and smooth, about 1 1/2 hours, stir occasionally to prevent burning.
2. Can be stored in an airtight container for up to 1 month.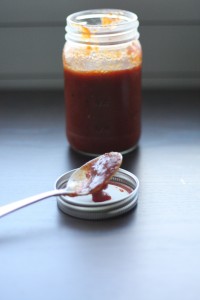 Search

Subscribe

Archives

Categories