Barbecue Chicken Thighs
Posted on 06 August 2010
This is honestly the most simple recipe you will ever see… I almost feel guilty for putting it up! But it came in so super handy when I had some boneless skinless chicken thighs recently. I made the Kansas City-style Barbecue Sauce with no exact meal in mind for it, knowing that it was an all-purpose sauce for grilling, marinating and cooking with. The evening I made the sauce I decided to try out simply baking the chicken in the sauce and what a surprise – success! I told you this sauce was versatile!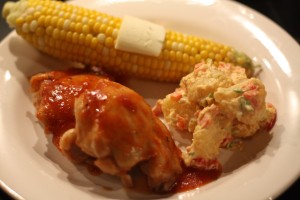 This is the perfect way to take a low-cost, but in my opinion one of the tastiest, meat and make it into something fantastic so easily. This meal only took half an hour to pull together but tasted as though the chicken had been marinating for hours. The meat was still juicy and tender and the sauce complimented both the sides I made. I served this with fresh corn on the cob, boiled with a teaspoon of sugar and a splash of milk, which I put a little pat of butter on for some extra summer goodness and Potato Salad, made with red peppers and scallions and a mayonnaise-mustard dressing.
Notes: This recipe would work equally well if you grill the meat too. Just cook the chicken over a medium heat grill for about 6 minutes on each side, making sure it is cooked through. Pull it off the grill when it is just done.
Baked Barbecue Chicken Thighs, serves 3 as an entree
6 boneless, skinless chicken thighs
1 cup Kansas City-style Barbecue Sauce, cooled or room temperature
1. Heat oven to 375°F. Place chicken thighs in a 9 by 9 inch baking dish and add barbecue sauce. Turn to coat completely and allow to sit at room temperature while oven is heating. Turn occasionally.
2. Place baking dish in oven, and cook for 10 minutes. Remove dish from oven and using tongs, turn chicken pieces. Place back into oven and cook for a further 10 minutes, or until cooked through.
3. Turn broiler onto high and place baking dish underneath. Broil for 2 minutes until chicken gets a slight crust. Remove chicken pieces to serving plate. Return the sauce in the baking dish back under the broiler while you plate the rest of your meal. Pour some sauce over the chicken before serving.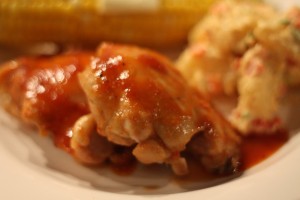 Search

Subscribe

Archives

Categories