Easy Potato Salad
Posted on 09 August 2010
After last week's Barbecue Chicken Thighs this recipe may be the second easiest recipe I have posted on this site. I almost feel guilty for posting them both together. The only reasons that I do not are firstly I know how little I want to be standing in front of a hot stove in the summer time so minimizing that time is in everyone interests and secondly this salad and the Barbecue Chicken Thighs go together so well. I made both of them at the same time and served them together with freshly boiled summer corn on the cob. All you have to do is stir everything together and you have a perfectly creamy, slightly spicy and tangy potato salad.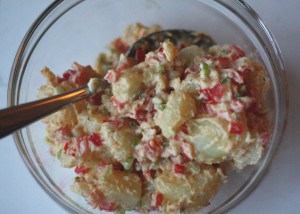 There are so many variations that you can add to this salad as well. You could change the red pepper for a green one, add a splash of vinegar to give it an acidic tang, or add a pinch of sugar like one of our friend's family recipes states.
I usually serve this warm, right after the potatoes have cooked but it is equally good chilled or at room temperature making it the perfect side for a pot luck grill out or for an outdoor picnic.
Easy Potato Salad, about 4 servings as a side dish
3 small Yukon Gold potatoes, peeled and chopped into chunks
1/2 large red pepper, chopped
2 scallions, sliced finely
5 tbsp mayonnaise
1 tsp Dijon mustard
1/4 tsp sweet paprika
1/4 tsp ground cayenne pepper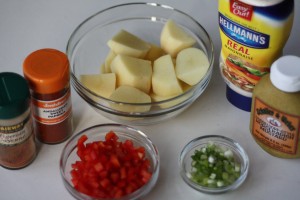 1. Add potatoes to a medium pan of cold, salted water. Bring to a boil. Cook until fork tender, about 15-20 minutes, checking tenderness regularly. Drain.
2. While the potatoes are cooking, combine mayonnaise, mustard, paprika and cayenne. Add peppers and scallions and drained potatoes. Stir until all ingredients are well coated in the mayonnaise mixture. Season with salt and pepper to taste.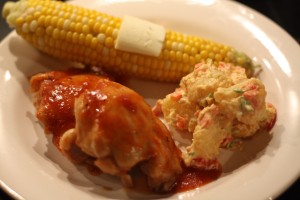 Search

Subscribe

Archives

Categories