Pecan Blondies with Cream Cheese Swirl
Posted on 22 July 2010
Sorry about the lack of a post yesterday. While I was making these delicious brownies, my kitchen seemed to rebel against me, making sure that what should have been a simple twenty minute long recipe into one that took me about forty. The first occurrence was as I was measuring everything out, I had finally finished with each ingredient when for absolutely no reason my red food coloring fell out of the cupboard above and landed directly in the baking soda, creating a small but powerful mushroom cloud of powder to cover my countertops. After this the first batch of pecans seem to take tanning too seriously and came out burnt and black rather than fragrant and nicely browned. Then I confused the salt with the sugar and had to begin the filling again. Finally when it came to taking photos the blondies and their pan seemed to hold their heat forever so I could not cut them! I think I must have said 'why is nothing easy' about a million times!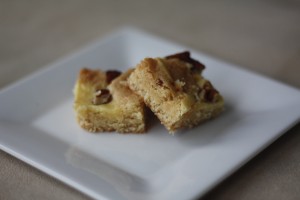 But without further ado let's talk blondies! As the timeline for these was all kinds of crazy I had to force feed the hubby some blondies this morning. At first I was met with a weak 'but I just brushed my teeth', before he gave in moments later. The verdict, good taste but more cakey than chewy or fudgy. He could be not used to the texture as the brownies I usually make, Katharine Hepburn's Brownies, are so rich, chewy, sinfully amazing, while these are lighter and less dense. They are however still amazingly more-ish and despite my ham fisted attempt at making these, with falling ingredients included, they are remarkably easy to make. Using just two bowls, this recipe could not be less complex.
Notes: To toast the pecans, place pecans on a baking sheet and into a 350°F oven for 7 minutes, checking to make sure they are not getting too dark. You want them lightly browned and fragrant.
Pecan Blondies with a Cream Cheese Swirl, makes 24 (from the More from Magnolia cookbook)
Cream Cheese Filling
4 oz cream cheese, cold
2 tbsp sugar
1 large egg yolk, at room temperature
1 tbsp all purpose flour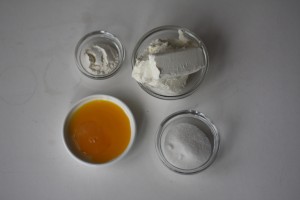 Blondies
1 1/2 cups cake flour
1 tsp baking powder
1/4 tsp fine salt
6 oz unsalted butter, at room temperature (1 1/2 sticks)
1 1/4 cups firmly packed light brown sugar
1/4 cup sugar
2 large eggs, at room temperature
2 tsp vanilla extract
1/2 cup coarsely chopped toasted pecans (see Notes)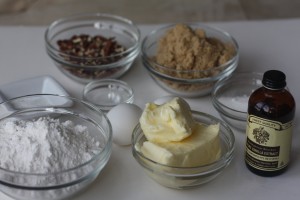 1. Heat oven to 350°F. Grease and lightly flour a 13″ by 9″ baking pan.
2. Make the cream cheese filling. In a medium bowl or in the bowl of a stand mixer, beat the cream cheese and sugar until smooth. Add the egg yolk and flour and beat well. Set aside.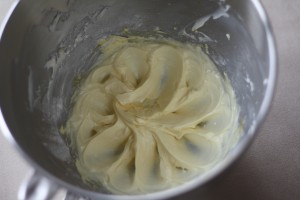 3. Combine flour, baking powder, salt and set aside. In a large bowl or in the bowl of a stand mixer, cream the butter with the sugars, about 2 minutes. Add eggs and vanilla and beat until well combined. Add the flour mixture in 1 addition and stir until thoroughly mixed. Spread the batter in the baking pan.
4. Add spoonfuls of cream cheese mixture over the batter. Using a bread knife make circles through the cream cheese mixture to make a pattern. Sprinkle the pecans over the batter.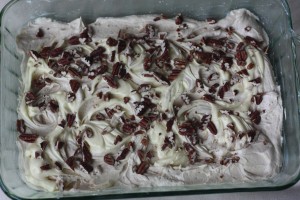 5. Bake for 30-40 minutes, checking after 20 minutes, until an inserted toothpick comes out with moist crumbs attached (but not batter).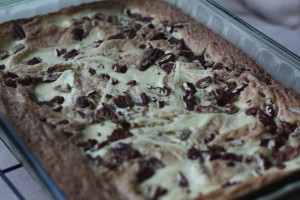 6. Allow to cool to room temperature before cutting into 24 1½" by 1½" squares and serving.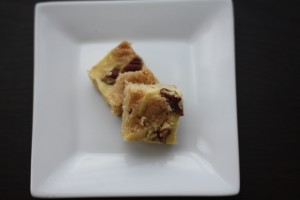 Search

Subscribe

Archives

Categories