Fusilli with Summer Yellow Squash, Bacon and a Light Cream Sauce
Posted on 13 July 2010
Huge apologies on the massive gap since my last post!! The hubby and I have been on a whirlwind tour of the absolutely divine Amalfi coast in Italy. We flew into Naples and then travelled to Positano, Sorrento, Capri and flew back to London by way of Rome. Talk about a romantic and beautiful country, I already miss it. Pictures will follow at some point! The whole time we were there the weather was gorgeous, which should inspire some salad eating in normal circumstances. While there were a couple of times that I did seek out some green for the most part I could not be distracted from the delectable pastas and pizzas; I think my favorite dish of the whole trip was the tagliolini with a zucchini flower cream I ate on our last night in Rome. I have no idea how they made it yet but I know I will be trying to figure out until I get it!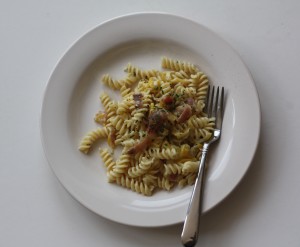 I thought that after a week of eating pizza and at least one pasta dish with some pastries and gelato thrown in for good measure that I would not be able to eat anymore when I came home. All plane flight home I kept reminding myself that the second we landed my healthy summer diet would really begin (even if it is a couple of months too late!) Somehow that did not happen and the first thing I made was this fusilli dish with some perfectly in season, local summer yellow squash.
This recipe is originally a Martha Stewart one, I have made just a few adaptations with easier to find ingredients and some chives for some color and a slight onion-y kick without the onion breath. It is a breeze to make, taking only 15-20 minutes to make, including chopping and bringing the water to a boil! It should serve four people but I hate not being able to offer seconds so I would say it serves 2-3. The worst that will happen is you will have leftovers, which is handy as this pasta dish is just as delicious the next day and when you first make it.
Notes: You can leave out the bacon to make this dish vegetarian friendly but I would suggest upping the garlic and the chives to kick up the flavor.
Fusilli with Summer Yellow Squash, Bacon and a Light Cream Sauce, serves 3 as an entree
8 oz fusilli
4 slices smoked bacon, cut into 1/2″ pieces
1 lb summer yellow summer squash (about 2-3 medium squash)
2 garlic cloves, thinly sliced
1/2 cup heavy cream
1/4 cup grated Parmesan cheese
4 tsp chopped chives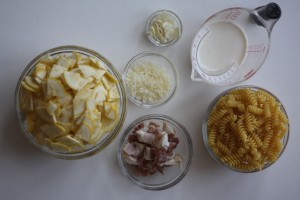 1. Bring a large pot of salted water to a boil. Add pasta and cook until al dente, following package instructions. Reserve 1 cup pasta water; drain pasta and return to pot.
2. While the pasta is cooking, heat a large saute pan over medium heat. Add bacon and cook until browned and crisp, about 5 minutes. Using a slotted spoon, transfer pieces to a paper towel lined plate to drain. Leave bacon fat in pan.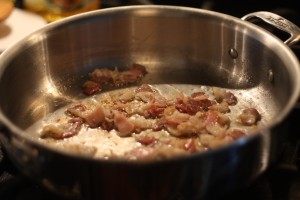 3. Return skillet to medium high heat and add squash and garlic to pan. Season with salt and pepper and stir to coat everything in bacon fat. Cover, and cook, stirring occasionally until squash begins to soften, about 7 minutes. Uncover and cook until liquid has evaporated and squash is tender, 2 minutes more.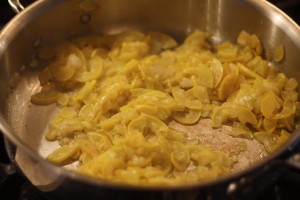 4. Add cream and cooked pasta to skillet, stir to combine and cook until cream begins to thicken.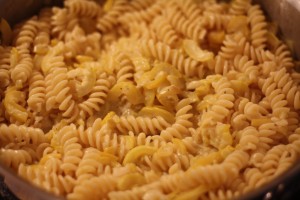 5. Add 3/4 of the reserved bacon and 2 tsp chives, stir to mix through. Remove from heat; stir in Parmesan and add enough pasta water to make a sauce that coats the pasta (I added about 1/2 cup). Serve immediately with the rest of the bacon, the chives and some finely grated Parmesan.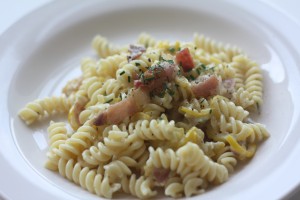 Search

Subscribe

Archives

Categories