Tagliolini with a Zucchini Flower Cream Sauce
Posted on 27 July 2010
In this month's Fusilli with Summer Squash, Bacon and a Cream Sauce recipe I mentioned that we had just been to foodie heaven trip to Italy. We basically ate our weight in food everyday attempting to absorb as much of the local culture through our tummies. I have a huge, huge soft spot for Rome (massive) so I think my favorite meal of the trip was our last meal in Italy at a tiny square called Piazza Ricci. I had a spectacular dish, fresh tagliolini with a zucchini flower cream sauce. It was so flavorful and well balanced but all the flavors were subtle and I was terrified that I would not be able to make it again at home.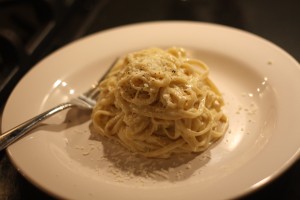 Thankfully, somehow it was far easier than I thought it would be. Using a similar technique to the one I used for the fusilli with yellow summer squash, I was able to recreate this delightful dish at home – and now you can too!
Zucchini flowers or blossoms are the flower that grows out, surprising, zucchini! (They are also called squash blossoms.) They are edible after you have removed the stamen from the males or the pistils from the female (they are inside the flowers and twist off easily). I used the female flowers as they are slightly larger than the males and cut off the stem before slicing. Often, especially in Italian cuisine, they are stuffed and then deep fried. Sauteing them is less common in Italy but equally delicious!
Notes: While this recipe is modeled after the one we ate while we were in Rome, I was unable to find fresh tagliolini and although I know I should make my own, ordering pre-made makes this recipe so easy! I ordered in Ravello's fresh linguine from our local online grocery store, Fresh Direct.
Tagliolini with a Zucchini Blossom Cream Sauce, serves 2 as an entree
1 tbsp unsalted butter
1 tbsp olive oil
1 clove garlic, minced
12 zucchini blossoms, sliced finely
1/2 cup heavy cream
1/4 cup grated provolone
8 oz fresh linguine
Freshly grated Parmesan
1. Heat a large saute pan over medium heat. Add butter and olive oil. When the butter begins to bubble, add the garlic. Cook for 1 minute, until garlic is a light golden brown and beginning to soften. Add the sliced zucchini blossoms and stir to coat with the butter, oil and garlic. They should cook gently so if the heat seems too high, turn down to medium-low heat. Cook until blossoms soften, begin to wilt and become fragrant, about 8-10 minutes.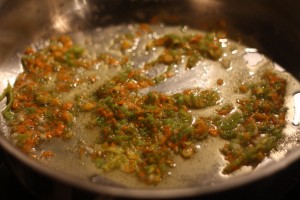 2. Add cream and stir to combine. Cook until cream begins to thicken. Using a strainer (or a sieve in the UK), strain the sauce, pressing on the solids to get as much of the flavor as possible into the sauce.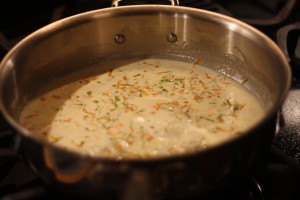 3. Place a large pot of salted water on the stove and bring to a boil. Add fresh pasta and cook according to directions, (see Notes). While pasta is cooking, return strained sauce to pan, and place over a medium heat. Add provolone and stir until melted. Drain pasta and add to sauce. Stir to combine.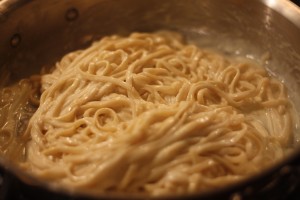 4. Serve immediately with freshly grated Parmesan.
Search

Subscribe

Archives

Categories