Fluffy, Light, Crispy Waffles
Posted on 14 July 2010
As this is my second waffle recipe and my too-many-to-count-th breakfast recipe you may have guessed that I am big into breakfast/brunch/morning meals… My first waffle recipe was for Multigrain Waffles, which even though they contain wheatgerm, oats and wholewheat flour are still more delicious than the average person can handle that early in the a.m. These waffles are not quite as healthy as the other but are just as yummy (maybe more so, ssssh please don't tell the gods of healthy eating!).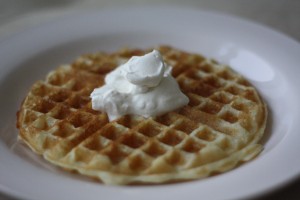 These waffles are the waffles we all wish we grew up with. They taste the way the perfect waffle should. They are light as air, they are fluffy, and they have a fantastic crispness to them. While they may work your arm (or your KitchenAid's arm) when you are whisking the egg white, they only take minutes to pull together. If I could eat these every day and still fit into my skinny jeans I would. The second that baggy clothing comes back into style you know what I'll be eating for my breakfast!
Notes: It is better to whip slightly older (but obviously still fresh!) egg whites. Also make sure they are at room temperature when you whip them; it helps the whites whip faster and fluffier (I don't know how this happens – it's science and magic!). You can tell you have soft peaks when the egg whites are white rather than clear, they have begun to get fluffy and when you pull your whisk out of the bowl, the whites still attached bend slightly and look like a bird's beak (more toucan than woodpecker).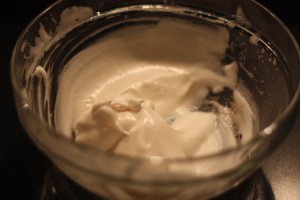 You can keep the waffles warm in a 200°F oven. Remember to keep them in a single layer to avoid them getting soggy!
Fluffy, Light, Crispy Waffles, makes 4 9″ waffles, reproduced from Fine Cooking Magazine
3/4 cup all-purpose flour
1/4 cup cornstarch
1/2 tsp table salt
1/2 tsp baking powder
1/4 tsp baking soda
3/4 cup buttermilk
1/4 cup milk
6 tbsp vegetable oil
1 large egg, separated
1 tbsp sugar
1/2 tsp vanilla extract
1. Heat waffle iron. Mix flour, cornstarch, salt, baking powder, and baking soda in a medium bowl. Measure buttermilk, milk and vegetable oil and mix in egg yolk throughly.
2. Beat egg white to soft peaks (see Notes). Sprinkle in the sugar and beat until peaks are firm and glossy. Beat in the vanilla.
3. Pour buttermilk mixture into dry ingredients and stir until just mixed. Drop egg white into batter in dollops, fold in gently with a rubber spatula until just combined.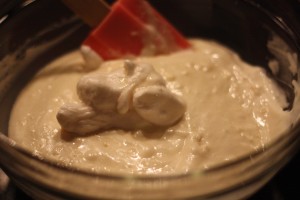 Your final batter should be light feeling and smooth, as shown below.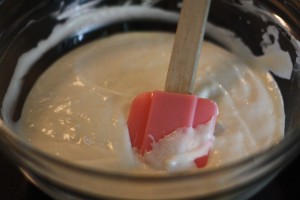 4. Add 2/3 cup to your waffle iron and cook until waffle is golden brown.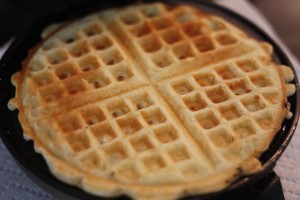 5. Serve with whipped cream and ample syrup. Enjoy!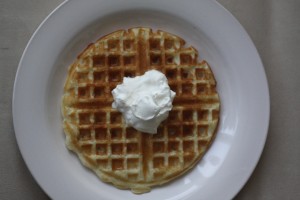 Search

Subscribe

Archives

Categories