Multigrain Waffles
Posted on 16 March 2010
My picture of domestic bliss is me cooking waffles for my husband before he heads off to work… This sadly rarely happens because it isn't often that a) I'm fully awake and able/willing to cook in the wee early hours of the morning and b) my husband has time to sit and think, let alone eat, before he heads off to work.  So whenever we are able to enjoy a breakfast together it's always a treat.  With these waffles there really is almost no excuse though, except for the waiting time when you first combine the oats and buttermilk, these are a snap to make (but you could always jump in the shower, multitasking!).  And as I am on my nutrition kick these are really good for you, containing only 188 calories and 4g of fat per waffle.  They also contain calcium from the buttermilk, protein from the egg and fiber from the wheat germ.  What more could you ask for?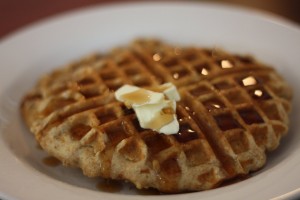 As there are only the two of us and this recipe makes enough batter for about 6 waffles, I make the extras and then cool them and divide them in two and wrap each half in foil and then place them all in a freezer-proof ziploc bag. Perfect for ALL those mornings when our schedules don't quite align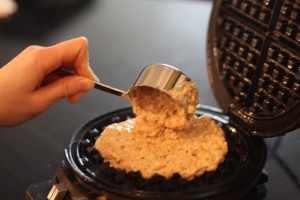 Multigrain Waffles
2 cups buttermilk
1/2 cup old fashioned oats
2/3 cup whole wheat flour
2/3 cup unbleached all-purpose flour
1/4 toasted wheat germ
1 1/2 tsp baking powder
1/2 tsp baking soda
1/4 tsp fine salt
1 tsp ground cinnamon
2 large eggs, beaten until white and yolk have combined
1/4 cup packed light brown sugar
1 tbsp canola oil
2 tsp vanilla extract
1. Mix buttermilk and oats in a medium bowl. Allow to stand for 15 minutes until oats have absorbed the buttermilk.
2. Combine whole-wheat flour, all-purpose flour, wheat germ, baking powder, baking soda, salt and cinnamon in a large bowl.
3. Stir eggs, sugar, oil and vanilla into the oat mixture. Add the wet ingredients to the dry ingredients. Mix with a rubber spatula until just combined.
4. Coat a waffle iron with cooking spray and heat. Spoon 2/3 cup of batter onto the waffle iron. Cook until waffles are crisp and golden brown, 4 to 5 minutes. Repeat with remaining batter.
Search

Subscribe

Archives

Categories