Veal and Pork Meatballs
Posted on 03 May 2010
Often I make dishes with ground meat, ragu, lasagne, meatloaf and I love to use a combination of organic ground beef, ground pork and ground veal. This usually results in my having leftover veal and pork. Not wanting to waste it I began looking for recipes that combined just these two meats. I simply could not find anything that wowed me in all my cookbooks. I did notice however that I kept seeing meatballs from different cuisines, lamb from Northern Africa, beef based polpette from Italy, 'pork balls' from China, so many types of kofkas from Turkey, albóndigas from Spain… I began to think that a pork and veal meatball would work.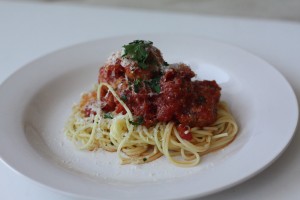 I have used traditional Italian ingredients but simply exchanged the beef to pork and veal and have switched up the cooking method. As we have a small kitchen, whenever I fry anything every counter top gets covered in a fine oily mist so I try and substitute baking wherever possible (it also works out being a lot healthier). Sometimes this leads to a reduction in flavor but in this case it has turned out well and leaves me with a mess-free kitchen. The result is a mouth watering-ly tender meatball, with texture and body from the breadcrumbs, onion and egg and lots of flavor from the fresh herbs and garlic. This whole meal is ready in an hour and most of that time is inactive cooking time. This really is a perfectly balanced meal, taste wise, time wise and nutritionally.
Notes: The dish we now think of as Italian meatballs has changed so much from the dish that was first served in Europe. In the US to order meatballs in an Italian restaurant you assume you are going to get meatballs on top of a tomato sauce with spaghetti. This would not have been the case originally. While meatballs were braised in a tomato sauce, they were not served with any pasta and this switch only occurred when Italian immigrants moved to America and the patrons here simply prefer a starch on their plate with the meat.
I have found that this amount is perfect for a satisfying meal for 2 people, leaving you with enough left overs for 4 sandwiches (I will post the how-to for this tomorrow). For a meal for 2 people (plus leftovers), reduce the amount of spaghetti to half a pound.
I specified using the crumbs of stale white sandwich bread but you can also use 1/4 cup dried plain breadcrumbs instead if you do not have any to hand. The sandwich bread will result in slightly softer meatballs but there is not much taste difference.
You can substitute the fresh oregano for dried. I use a ratio of 1 to 3 for dried to fresh herbs, so you should use 1 tsp of dried oregano for 1 tbsp of fresh.
Meatballs with a Simple Tomato Sauce and Spaghetti, makes 36 meatballs, serves 4 to 6 as an entree
Meatballs
2 slices of stale white sandwich bread, should give you 1/4 cup (see Notes above)
1/4 cup organic whole milk
1 tbsp olive oil
1 small yellow onion, finely chopped
1 garlic clove, finely chopped
12 oz ground veal
12 oz ground pork
1 egg, lightly beaten
2 tbsp parsley, finely chopped
1 tbsp fresh oregano, finely chopped (see Notes for dried herb substitution)
1 tbsp plain flour, for dusting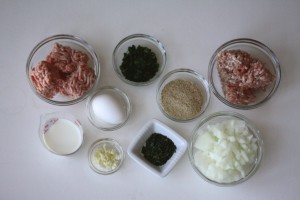 1. Heat 9 inch frying pan over medium heat. Add oil to hot pan. Add onion and cook for 4 minutes, stirring occasionally, until soft. Add garlic, cook for 1 minute, stirring occasionally and make sure it does not color. Let cool.
2. While onion and garlic are cooking, pulse bread in a food processor or using a hand grater, form crumbs. In a small bowl add milk to crumbs, stir to combine.
3. In a large bowl, combine cooled onion and garlic, milk and crumbs, pork, veal, egg, parsley and oregano. Season with a sprinkle of kosher salt and a couple grinds of pepper.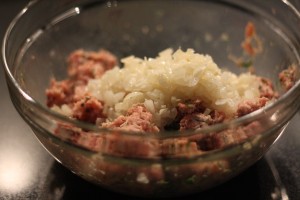 4. Heat oven to 390. Line 2 18 inch by 13 inch baking sheets with unbleached parchment paper. Form 1 inch meatballs, placing them 3 inches apart on the lined baking sheets (you should have 3 rows of 6 on each sheet).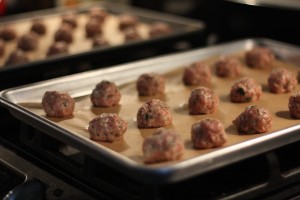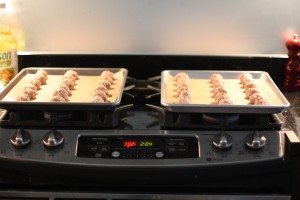 5. Place flour into a sieve/sifter and dust meatballs with flour.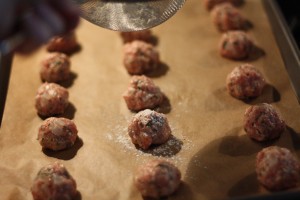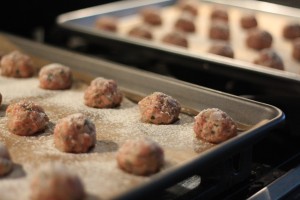 6. Place in oven and bake for 20 minutes. Begin cooking sauce, recipe below.
7. Remove from oven, using tongs, place meatballs in sauce. (I scrape the 'foot' that has formed around the bottom of the meatball off with a spoon prior to adding them to the sauce, you may have to make them to know what I mean.) Reduce heat to low and cover with lid, for 20 minutes.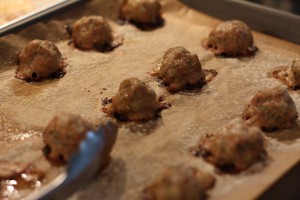 Simple Tomato Sauce
2 tbsp olive oil
2 garlic cloves, crushed with side of chef's knife, skin removed
1 28oz can of crushed tomatoes, preferably San Marzano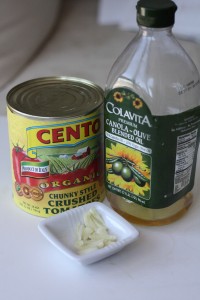 1. Heat oil in large saucepan oven medium high heat. Add garlic, cook for 1 minute, stirring occasionally, making sure it does not color. Add tomatoes, reduce heat to medium prevent spitting and leave to cook for 15-20 minutes.
2. Return to recipe above, step 7.
Spaghettini
1 lb spaghettini or spaghetti
Kosher salt
Parmesan Reggiano, for serving
Parsley, freshly chopped, for serving
1. Place a large pot of water over high heat and bring to a boil. Add pasta and follow cooking directions. Strain pasta.
To serve…
Add a good amount of pasta to each plate, top with tomato sauce and meatballs. Grate a generous amount of Parmesan cheese on each serving and sprinkle on some fresh parsley. Season with a couple grinds of black pepper. Serve whilst still hot and enjoy!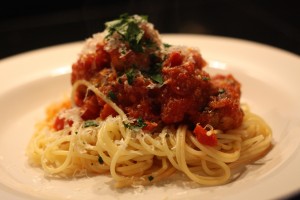 Search

Subscribe

Archives

Categories