Meatball Subs
Posted on 04 May 2010
Whenever my husband heads to work in the city I know two things are going to happen. One, he will be far later home than he says he is going to be, and two, he will rush out in between meetings and buy some awful sounding, bacteria laden sandwich from a hole in the wall. Needless to say, I prefer the days he can work from home and I can make him a clean, wholesome lunch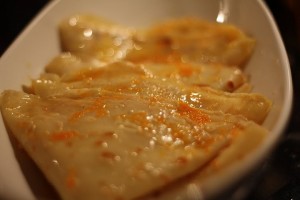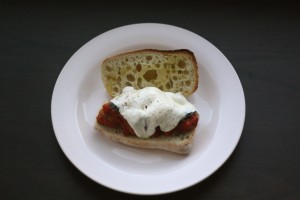 One of my hubbie's sandwich shop favorites is a meatball sub. Once again, as a Brit I was not familiar at all with these so I am pretty impressed that my first attempt beat out the competition (well according to my husband and it is in his interest to flatter my ego). I am actually having difficulty putting into words just how delicious these meatballs subs are. The meatballs are still unbelievably tender, the sauce is delicious and soaks into the bread, the mozzarella is gooey, sweet and salty all at the same time, the basil joins the oregano, they fuse and somehow become even more amazing… All in all perfection on a plate.
If you make the meatballs for a romantic meal for two a la Lady and the Tramp (see below for a reminder), you will have plenty leftover for 4 good-sized sandwiches or 2 over flowing stuffed sandwiches. Either way you will require a napkin… These bad boys get saucy! It is more than worthwhile making the Tiny Test Kitchen meatballs just to make this sandwich, just throwing it out there!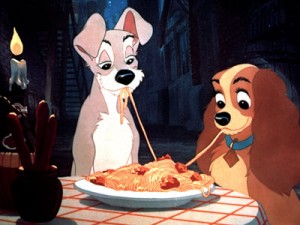 Notes: For the roll for this sandwich I like to use crusty ciabatta bread. You can go two ways with this. I always have some parbaked ciabatta sandwich rolls in my freezer so I can pop them them in for a sandwich any time. But if I feel like a treat, I will go and get some fresh, warm, deliciously chewy, fresh ciabatta. Either works well!
The amounts of mozzarella and basil are just recommendations. You of course can add more or less, or even different things, (a splash of balsamic vinegar brings out the sweetness of the sauce and the mozzarella amazingly). I usually err on the side of more in my sandwich… so feel free to add as much as you want!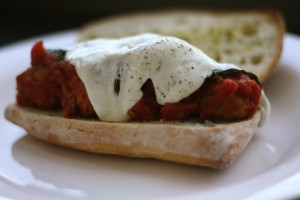 Meatball Subs, makes 2-4 sandwiches
4 sandwich rolls, sliced horizontally
1/2 batch of yesterday's Tiny Test Kitchen meatball and sauce recipe, about 28 meatballs
1/3 lb good, fresh salted mozzarella, sliced thinly
12-16 basil leaves
Olive oil, for drizzling
1. Turn the broiler to high. Line a baking sheet with foil. Reheat meatballs and sauce in a small saucepan over medium-low heat, stirring occasionally. Drizzle top and bottom with olive oil, to prevent burning in the broiler. Once the meatballs are hot, place on top of basil and cover generously with sauce. Cover with basil leaves (3-4 per sandwich), slices of mozzarella (2-3 per sandwich) and a couple of grinds of fresh pepper over the top.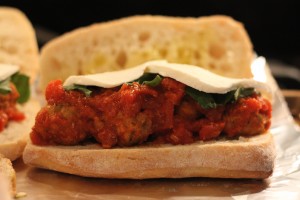 2. Place rolls on baking sheet and place in oven for 2-3 minutes, watching to make sure the bread does not burn. After one minute rotate the sheet. Remove from oven, grab a napkin and enjoy!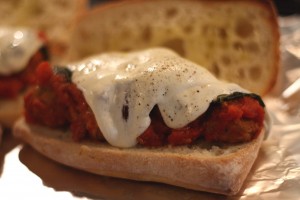 Search

Subscribe

Archives

Categories