Crepe Suzette
Posted on 20 May 2010
I have a confession to make… when I made this dessert I was thinking more about the yummy deliciousness I was about to experience and how soon I could eat them rather than taking photos, so we only have a couple with this recipe. I promise that as soon as we make them again I will add the photos for better visually cues, especially the impressive flaming sauce!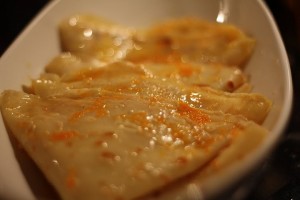 This dessert is such an iconic one; I feel as though in the 1980's every restaurant was making Crepe Suzette table side, flames shooting around dining rooms the world over. I grew up in awe of the dessert without knowing just how easy it is to make. The sauce it takes moments, only four to five minutes, but you have a dinner party dessert ready to wow your guests. Make sure to be careful with the sauce as it is flaming otherwise your guests will be talking about something else other than how sumptuous your food was! Jesting aside, please make sure to use a long match and remove the pan from the burner before you add the alcohol (just to make sure the gas flame does not jump) and never pour alcohol directly from the bottle into the pan or near a naked flame.
Notes: you can make the crepes in advance. Just keep the crepes in the bubbling sauce until they are warmed through.
Crepe Suzette, serves 4 for dessert
4 tbsp unsalted butter
2 oz sugar
Zest of 2 oranges
Juice of 2 oranges
2 tbsp Grand Marnier, or another orange liqueur
2 tbsp cognac or brandy
8 freshly made crepes, made with the Basic Crepe recipe
Mascarpone or creme fraiche, to serve
1. Fold crepes in half and then half again to form small triangles; set aside. In a large frying pan, over medium heat, melt the butter. Add sugar, orange zest and juice and heat until mixture bubbles. Place quartered crepes into the mixture until heated through, about 30 seconds. Place crepes on a heatproof serving dish.
2. Remove pan from burner, add Grand Marnier and cognac to pan and carefully (!) ignite alcohol with a kitchen match. Carefully, swirl the pan to put the flame out. Pour the liquid over the pancakes, serve immediately.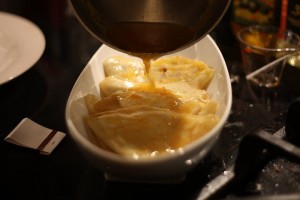 Search

Subscribe

Archives

Categories