Crepes
Posted on 17 May 2010
For unknown reasons, crepes are called pancakes in England. As far as I can tell, through recipe research and tasting them both, French crepes and English pancakes are exactly the same thing. The only difference between the two is the fancy French name. Pancakes, or crepes require just 4 ingredients, and all of them being kitchen staples, it could not be easier. It takes about 5 minutes to make the batter and 3 minutes to cook each pancake. Allowing you to have a meal for four on the table in 20 minutes. They are perfect for a light weekday lunch or dinner, or make for a very cute entree for a weekend brunch party.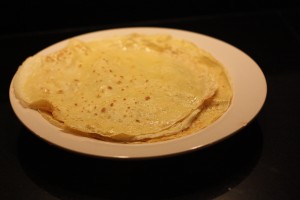 This week I am going to write up recipes for different fillings for crepes, some savory and some sweet; a creamy, mushroom sauce flambéed with brandy; caramelized onion and goat cheese; an orange flavored dessert, crepe suzette; and a gorgeous layered crepe cake called mille crepe! Today I am posting the basic crepe recipe which you can use for all of these meals and more. The beauty of crepes is you can fill them with anything. I made some this morning for breakfast and filled the hubby's with blanched asparagus and goat cheese (he's has more of a savory tooth than I do) and sprinkled sugar and drizzled some fresh lemon juice on mine (must be an English thing!).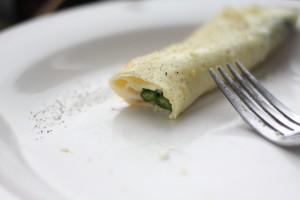 I put 3 snapped cooked asparagus spears lengthwise along the crepe and then crumbled some goat cheese – I used Bucheron – over the top, while the crepe was still very hot. Then rolled the crepe into a long cylinder so that the gooey goat cheese melted over the asparagus. To serve, I ground some fresh black pepper over the top and served immediately.
Notes: I do not usually buy into something that I can only use for one thing but when I first bought my crepe pan that is what I thought I was doing. It was only after I began cooking with it did I find it so useful with other things. As the sides of crepe pans are so low, using one makes it so much easy to flip thin or potential melting things, such as the goat cheese in my Warm Goat Cheese Salad with Pickled Peppers. The pans are also on sale at the moment at Sur La Table, so now is a perfect time to pick one up. I have the largest sized, the 9.5 inch pan.
I find the crepes come out more perfect looking if I pour the batter into the pan in one or two additions rather than several. I do this by using measured ladles, this way I know exactly how much I am pouring in the pan at one time. I have them in a couple of sizes, 2 fluid ounces and 4 fluid ounces. I usually use my 2 fl oz for crepes and just pour one and a half filled ladles into the pan.
Crepes
7 fluid oz whole milk
3 fluid oz water
1 cup plain flour (4 oz)
Pinch table salt
2 large eggs
2 tbsp melted unsalted butter, plus more for greasing the pan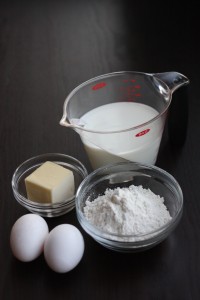 1. Combine milk and water. Sift flour and salt into a large mixing bowl. Make a well in the center of the flour. Break eggs into well and whisk to mix. Begin adding milk mixture in small amounts, whisking to combine. At the end the batter should have the consistency of cream. Add melted butter and stir to combine.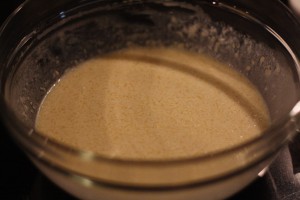 2. Place crepe pan over high heat. Turn heat down to medium and grease pan with a little butter on a paper towel. Add 3-4 fluid oz of batter and turn pan to coat bottom of pan. Allow to cook for 2 minutes and then loosen the edge with a spatula and flip. Allow to cook for 1 minute.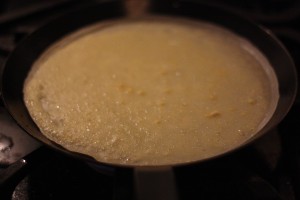 3. Remove crepe from pan and add fillings or toppings.
Search

Subscribe

Archives

Categories