Strawberry Shortcake
Posted on 22 July 2011
As most New Yorkers know there are a plethora of markets all over this city.  Williamsburg has more than most; we have the Brooklyn Flea on Sundays, Artists and Fleas open all weekend, the new Northside Market and since, the amazing Smorgasbord on Saturdays (which has the same website as the Brooklyn Flea).  Smorgasbord is a cross between farmers market and foodie market.  While I intend to do a post on the different food vendors who visit Smorgasbord and the Flea, today I want to discuss the farmers stalls.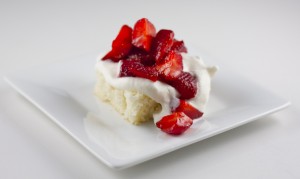 The first week the flea opened we rushed downstairs and ran around the stalls like crazy people trying to make sure we saw everything and sampled as much food as we could. I was struck by the amazing vibrant, deep red of punnets of strawberries on one stall and decided that they were coming home with me.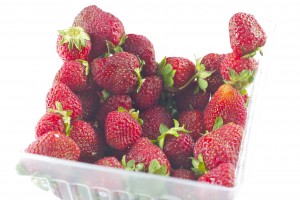 I had just made a birthday cake for one of my besties that week using a recipe by the cake guru himself, Ron Ben Israel. The original recipe was a vanilla cake with a white chocolate blackberry buttercream (pictures and post coming soon) that was posted on Rebecca Taylor's Blog NYC Cake Girl. Rebecca is Ron's right hand gal and I spoke with her more than a few times in the run up to our wedding, where we had the most exquisite cake made by Ron (for pictures and info on wrapping and defrosting that top tier, see this post). After making and eating that cake, I decided the vanilla cake itself had the perfect qualities for strawberry shortcake, which just happens to be my hubby's favorite. So after he came home from a long day in the office I decided to surprise him with it.
The vanilla cake is rich yet very light, from the cake flour and whisked egg whites, but still moist due to the milk and butter. When the cake is baked the sugar helps to form a slight crust which is sweet and slightly crisp but melts when you put it on your tongue. Just f.y.i., the hubs said this was the best strawberry shortcake he had ever had and is he says it is, it is… fact!
Random greenmarket tips: We try to get as much of our weekly groceries at the market directly from the vendors. The produce varies weekly but we always get things from two Greenmarket staples. We head to Ronnybrook Dairy for our whole milk, which comes in old fashioned reusable glass bottles that we return every week for a discount. They also make an amazing vanilla ice cream, my favorite flavor. I know, I know, I heard it a million times, I'm so boring… but in my defense, I believe you can tell a lot about an ice cream company by their vanilla ice cream. It's always the way I judge and rank them. We also get our juices from the ubiquitous Red Jacket Orchards, who drive down from the Fingerlakes to what seems like every farmers market in the city. They have an out of this world fiji apple juice and we love their grape juice and cherry stomp! Last summer, my favorite weeknight cocktail was gin with their Joe's Summer Blend, which is apple and lemon juice, and a splash of tonic. It is the perfect warm weather drink!
Strawberry Shortcake, makes enough for 12 portions
Macerated Strawberries
½ punnet of summer strawberries, cut into quarters
1 tbsp sugar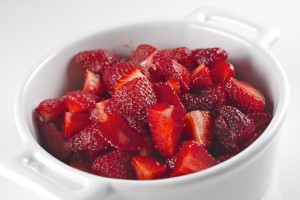 1. Add strawberries to a bowl, sprinkle with sugar and cover with cling wrap. Let sit for at least 30 minutes at room temperature.
Ron Ben Israel's Vanilla Cake, modified from NYC Cake Girl
1 ¾ cups sifted cake flour
1 cup sugar
¾ tsp fine salt
2 ½ tsp baking powder
8 tbsp unsalted butter, at room temperature
½ cup whole milk (separated)
3 egg whites
1 tsp vanilla extract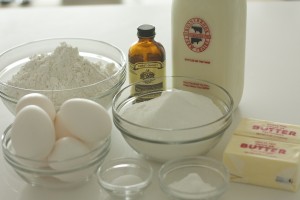 1. Heat oven to 350ºF. Butter and flour a 9″ by 9″ baking pan. Slowly and carefully (I have had mini flour explosions in my kitchen before), mix cake flour, sugar, salt and baking powder in a mixer bowl. Add butter and 6 tablespoons of milk to the dry ingredients and mix on medium speed for 2 minutes.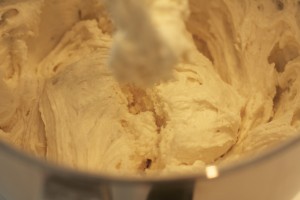 2. In a separate bowl whisk the eggs whites, remaining milk (2 tablespoons) and vanilla extract until combined. Add the mixture to the mixer bowl ingredients in 3 separate additions. Beating for 20 seconds and scraping the bowl down after each one. Pour into prepared cake pan and bake for 25 minutes, or until a toothpick inserted near the center comes out clean.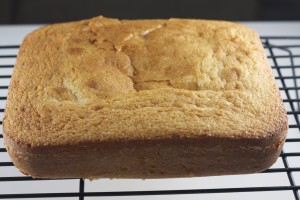 To assemble the strawberry shortcakes
Vanilla cake, removed from pan and cooled to room temperature
Macerated strawberries and their juices (see above)
½ cup heavy cream
1 tsp sugar
½ tsp vanilla extract
1. Whisk cream until it begins to hold soft peaks. Sprinkle sugar on top and add vanilla, continue to whisk until cream hold stiff peaks. Cover and refrigerate until cake is cooled and ready.
2. Cut the vanilla cake into 12-16 2″ to 2 ½" squares. Carefully cut the squares in half horizontally. Place lower half on a plate, add a dollop of cream and a big spoonful of strawberries and drizzle some of the juices over. Add the second half to the plate and serve.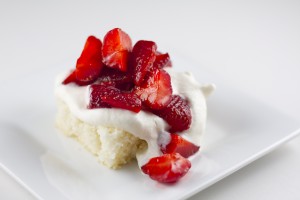 Search

Subscribe

Archives

Categories