Slow Roasted Tomatillo Salsa
Posted on 19 July 2011
While I adore living here, one of the slight inconveniences of living in New York City is not having a car. It makes it more than a little challenging to go do a large shop from a supermarket resulting in my doing most of my shopping online at FreshDirect. One great category that they have is their Speciality Vegetables section. (At the moment they have zucchini flowers which are perfect for this pasta dish we had in Rome, Tagliolini with a Zucchini Flower Cream Sauce.) Always intriguing and full of seasonal produce that I would usually have to hunt through a farmers market to find or get shipped over from the West Coast. While perusing through a little while ago I spied some tomatillos and began dreaming of the grilled dips I could make and before I knew it, they were ordered and on their way to me.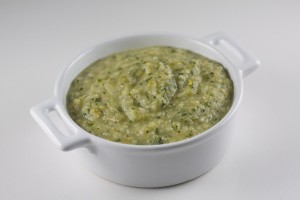 Enter disadvantage of living in New York City numbero dos… Grills are hard to come by. Unless you are lucky enough to have a garden or a large terrace, grills are not terribly legal in NY so we have an indoor stove top cast iron grill/griddle (which I am obsessed with btw) but now here comes disadvantage number three – we don't have a hood above our stove anymore so when we do grill there is a slight chance that the smoke alarm will go off, sending both my hubs and I into a state of door and window flapping panic and create mayhem around our apartment for at least ten minutes… i.e. so not worth it except for notable exceptions, red meat being one of them.
So… anything I can do in the oven I try to. In this case, the tomatillos may be missing a little char on them but for the sake of the peace and serenity of my household, it is worth it. Honestly, you have to hear our fire alarm…There is no sound quite like it. My goodness!
Tip: If you are lucky enough to have a grill (or outdoor space or a patch of lawn… ahhh, I digress) then feel free to experiment. A similar time on a grill over medium heat should be enough to get the vegetables soft enough for blending. Right now, I am coveting this mesh chef's pan from Williams Sonoma which I think is perfect for the job. The one thing you will miss out on, though, is the cooking oil used as it contains lots of the juices from the veggies so you may want to add an extra drizzle of oil to your blender.
This salsa is perfect for accompanying meats, grilled or otherwise, as a dip for tortilla chips or even as a chutney type substitute alongside croquettes (I made this with some chicken croquettes similar to these easy, peasy Pork and Potato Croquettes).
Notes: tomatillos are little, round, bright green peppers which are wrapped in a papery husk. To prepare them you want to remove the husk and then allow them to soak for 5 minutes or so to get rid of the sticky coating (which is completely normal and non-toxic). If it isn't all gone, just give them a little rub under some running water until it does. You can eat them raw, added to salads, roasted, like in this dish, or sliced and grilled.
Tomatillo Salsa, makes 2 cups
3/4 pound tomatillos (about 7), peeled, soaked, then halved or quartered depending on size, until they are about 1 inch chunks
1 medium yellow onion, peeled and cut into thick slices
1/2 jalapeno pepper, seeds removed and cut in half
1 tbsp canola oil
1/4 cup cilantro (more to taste if wanted)
Juice of 1/2 lime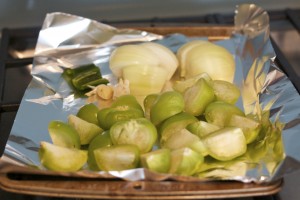 1. Heat oven to 350ºF. Line a baking sheet with foil. Toss chopped tomatillos, onion slices and jalapeno in canola oil with a few pinches of kosher salt. Add to prepared pan and place in oven. Roast for 15 minutes.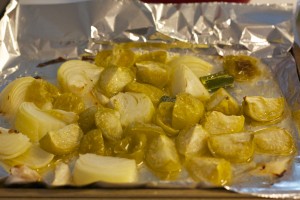 2. Remove from oven and place in food processor. Blend until chunky, about 5 pulses. Add cilantro and lime juice and blend for 30 seconds (longer if a smoother consistency is desired). Season with salt and pepper to taste and serve immediately or at room temperature.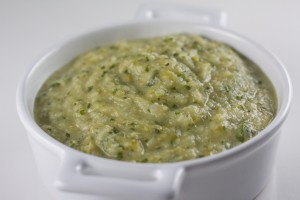 Search

Subscribe

Archives

Categories