Roasted Turkey Sandwich with Mashed Avocado, Bacon and Balsamic Onion Marmalade
Posted on 07 June 2011
A little while ago the hubs and I were lucky enough to go to taping of an episode of Saturday Night Live and the taping of the Jimmy Fallon show in one week – I know, I know, when it rains it pours! These tapings along with errand running meant that I would spend more than a couple of days up at 30 Rock.
Rockefeller Plaza has a cavernous underbelly, full of little flower stalls, boutiques, bakeries, chocolate stores and a full on food court as well as a Magnolia Bakery right upstairs (for evidence of Magnolia's deliciousness, see their Banana Pudding recipe!) So as well as stocking up on cupcakes that week, I also checked out the options in the food court. My favorite is 'wichcraft, Tom Colicchio's casual sandwich and soup place. There are thirteen of them dotted around NYC, one in Bryant Park, another in Lincoln Square, one across the road from Macy's and the one that I frequent almost daily for a week at 1 Rockefeller Plaza. My favorite sandwich was the roasted turkey, bacon, mashed avocado, garlic aioli with balsamic onions (they call it onion relish). I could quite happily eat one a day, which I basically did for a week.
At the end of my week in midtown I was going through withdrawl and decided to try to figure out how to make the sandwich at home. It turns out that I didn't need to look very far… 'wichcraft has a book and the sample recipe was my scrumptious sandwich! So here is the original recipe courtesy of 'wichcraft: Craft a Sandwich into a Meal.
As far as critiquing the book, the only complaint I have seen is that the components of each sandwich take a wee while to make. So the recipes seem a little complicated for making lunch everyday but would be perfect for a fancy picnic or an afternoon tea party.
Notes: Even though this sandwich recipe only calls for ½ cup of the balsamic onion marmalade make the whole recipe as you can add it to other sandwiches, serve it with eggs, add it risottos or pasta. It's so delicious, with such a deep, sweet flavor, it can be added to anything. For me the onions are the star of this sandwich!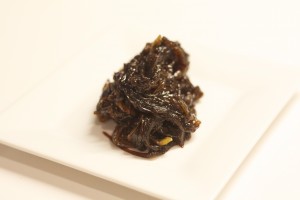 Roasted Turkey with Mashed Avocado, Bacon, Balsamic Onions and Mayonnaise, makes enough for 4 filling sandwiches
6 fresh sage leaves
1 (3- to 4-pound) boneless turkey breast
2 tablespoons unsalted butter, softened
Kosher salt and freshly ground black pepper
12 slices bacon
4 ciabatta rolls
½ cup Balsamic Onion Marmalade (see recipe below)
1 ripe avocado, halved, pitted, peeled, and sliced
4 tablespoons Mayonnaise
1. Heat the oven to 350°F. Slide the sage leaves under the skin of the turkey breast and place the turkey on a sheet pan. Rub the skin with the butter and season generously with salt and pepper. Roast the turkey for 1 to 1½ hours, until it reaches an internal temperature of 165°F. Baste the meat with its juices throughout. (Keep in mind that the meat will continue to cook even after it's removed from the oven, so be careful not to cook it too long.) Allow the meat to rest before slicing, or cool completely.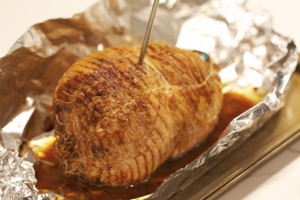 2. In a heavy skillet over medium-high heat, cook the bacon until golden brown and crisp on both sides. Transfer to paper towels to drain.
3. Slice the ciabatta rolls in half. Place the turkey slices on the bottom halves and top with the marmalade. Place the bottom and top halves of the rolls in the 350°F oven and remove once the marmalade is heated through and the bread is toasted. Top the marmalade with the bacon, followed by the avocado. Evenly spread the mayonnaise on the top halves of the rolls. Close the sandwiches, cut into halves, and serve.
Balsamic Onion Marmalade, makes 2 cups (see Notes)
1 tablespoon vegetable oil
4 large onions, thinly sliced (about 8 cups)
Kosher salt and freshly ground black pepper
1/3 cup sugar
2/3 cup balsamic vinegar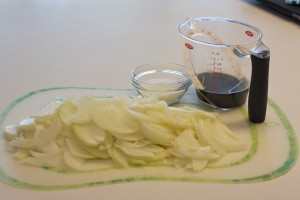 1. Heat the oil in a large skillet over medium heat until it slides easily across pan. Add onions, salt, and pepper and cook, stirring occasionally, for about 20 minutes, until onions are soft.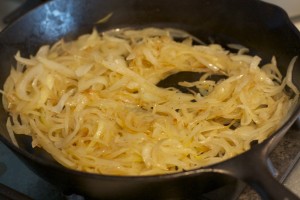 2. Add sugar and reduce the heat to medium-low. Cook, stirring frequently, for about 10 minutes, until onions appear dry.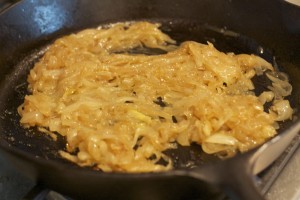 3. Add vinegar and reduce heat to low. Continue cooking, stirring occasionally, for about 1 hour, until onions are soft and dry. Serve warm or at room temperature. Store marmalade in refrigerator. It will keep for several weeks.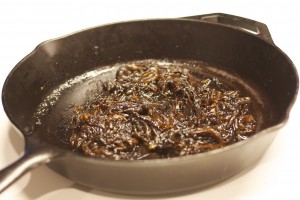 Search

Subscribe

Archives

Categories