Creamed Corn Cornbread
Posted on 29 June 2011
It seems that I just can't keep on a timely schedule at the moment.  What with holiday weekends, traveling and attempting to ready ourselves and our apartment for our new arrival in just over a months time.  I have felt so guilty for not posting but if I told you what we had been eating recently you would be so uninspired! Ok, for those of you that just have to know… DeCecco pasta and Mario Batali pasta sauce completely save me come dinner time!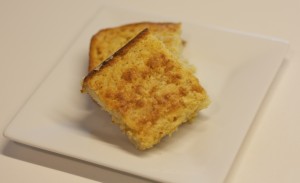 I have also been making a lot of my classic dishes on rotation and this creamed corn cornbread is the perfect accompaniment to one of my favorites, Chipotle Chili! Since the weather has been gorgeous I decided it was time to pull out this perfect summer dish, although it is just as good in cold winter or fall (it's really great for football parties) and make it with this delicious and moreish cornbread.
This cornbread recipe is so easy you will never again need to pick some ready made at the store or even use the dreaded packaged mix! As with most baking this is a case of add the wet ingredients to the dry, stir together and bake. It really couldn't be easier. The resulting cornbread is moist, a little sweet, a little salty with a touch of something most people can't put their finger on (although my super-taster hubs somehow figured out it was a sprinkle of cinnamon with no prompting!) When you have guests over, just revel in the praise and don't tell everyone how easy it is to make!
Notes: this recipe can easily be doubled and made in a 9″ by 9″ baking dish (which is how I make it for a crowd).
Creamed Corn Cornbread, makes a standard sized loaf, about 8 small pieces or 4 side servings
1 tbsp butter (or 2 tbsp if not using bacon drippings)
1 tbsp bacon drippings (optional)
¾ cup medium grind yellow cornmeal
¼ cup all-purpose flour
¾ tsp baking powder
½ tsp fine salt
¼ cup sugar
2 shakes of ground cinnamon
1 egg
½ cup whole milk
½ cup creamed corn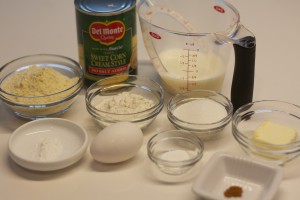 1. Heat oven to 375ºF. Add butter and drippings to a loaf pan and place in oven and wait until melted and frothy.
2. Combine dry ingredients in a medium bowl. Mix egg, milk and creamed corn together. Pour wet ingredients over the dry. Stir to just combine.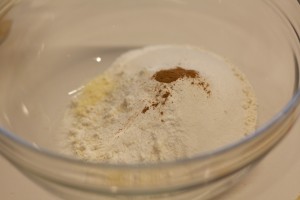 3. Pour mixture into the pan on top of the fat and return pan to oven. Bake for 25-30 minutes or until a toothpick comes out clean. Leave to cool for 5 minutes before cutting into squares. Can be served warm or at room temperature.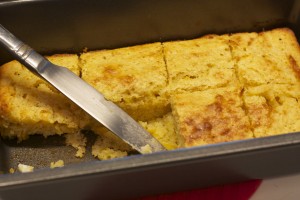 Search

Subscribe

Archives

Categories