It's Time For The Masters Again…
Posted on 08 April 2011
This time last year the hubs and I were sitting down and conducting a very serious and extensive taste test of pimento cheese sandwiches. He had recently come back from Augusta, Georgia where he had watched a day of the practice rounds. Sweetly, of course is he ever anything other, he bought, ate and memorized the taste profile of the famous pimento cheese that is sold every year on the course. As an added bonus he brought back the wrapper.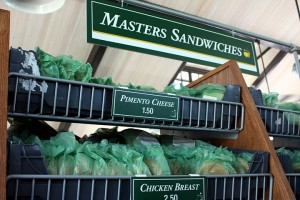 The results of our findings are in this post, The Unofficial Masters Pimento Cheese Sandwich, which details the closest you are going to get to an authentic Masters pimento sandwich without being lucky enough to make the trip to Georgia yourself. And for cuteness' sake, it also has a recipe for a sandwich that is the closest we got to the hubbie's childhood sandwiches.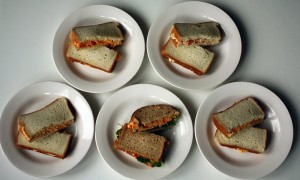 If your corner of the world isn't quite as warm as the US' Southeast (hint hint NY weather!) but you still want to get in the spirit, give this Pimento Mac and Cheese a whirl! Enjoy your tv watching this weekend!
Search

Subscribe

Archives

Categories