Fig, Walnut and Baby Mozzarella Salad with a Sherry Vinaigrette
Posted on 26 April 2011
As Valentine's Day fell on a Monday this year we didn't quite have the time for a long drawn out meal. We were in the midst of moving and I was still feeling the effects of the dreaded first trimester

! We split the meal over two days and had these delicious Smoked Gouda Gougéres to start and then some freshly made lobster pasta with a slow cooked vodka sauce which I covered in finely grated Parmigiano Reggiano and torn basil. Sadly, I did not slave over the pasta dough and the sauce as I probably should have done but in a pinch I bought it from Fairway Market in Red Hook, possibly one of my favorite places on Earth!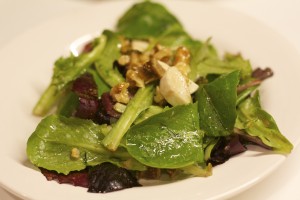 The second night I got a little more involved and made this salad with some Mini Mascarpone Cheesecakes for dessert (recipe coming soon). I had been craving figs but I was unable to find any fresh ones as figs come into season in late July before reaching their peak in September. I made do with some dried Turkish figs I found at a gourmet deli near our apartment. These sweet dried figs, which have a little 'chew' to them, combined with soft, milky mozzarella, crunchy walnuts and a tangy, silky sherry dressing over mixed baby lettuce, made the perfect meal.
A quick sneak peak at the heart shaped lobster ravioli with slow simmered vodka sauce covered in lashings of Parmesan and torn basil.
I'm not normally so mushy as to get heart shaped pasta… Let's blame the preggo hormones, shall we?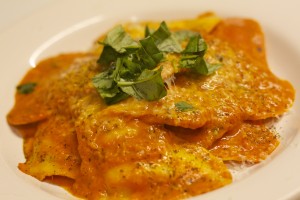 Tip: If I were not currently with child I would have added some chopped prosciutto to this in a heart beat. I advise you, if you are able, to do the same!
Notes: this dressing can be tangier or sweeter depending on your taste. Just adjust the mustard and honey until you have it exactly the way that you like it.
Fig, Walnut and Baby Mozzarella Salad with a Sherry Vinaigrette, serves 2 (makes 1/4 cup dressing)
1 1/2 tbsp sherry vinegar
3/4 tsp honey
1/2 tsp Dijon mustard
3 tbsp olive oil (not extra virgin olive oil)
Salt and freshly ground black pepper
4 dried figs, Turkish or Californian if you can, quartered
8 baby mozzarella balls, quartered
1/3 cup walnut halves, chopped coarsely
3 cups mixed baby lettuces, washed and dried
1. In a medium sized bowl, combine vinegar, honey, mustard and a sprinkle of salt and pepper with a whisk. Continue to whisk while slowly adding the olive oil in a thin stream. Whisk until the mixture thickens. Taste and season with more salt and pepper if wanted. (See Notes)
2. Pour vinaigrette into a small milk jug/gravy boat/measuring cup, and add the cut figs, mozzarella, walnuts and lettuces to the bowl. Using tongs or a fork and a spoon, toss together. Pour over the dressing in a thin stream while tossing until you have enough to coat the leaves. Reserve any leftover dressing for another salad, another day.
Search

Subscribe

Archives

Categories