Cider-Braised Normandy Pork
Posted on 20 April 2011
Even though this dish is named Normandy Pork after a northern region of France, it just screams England to me. Maybe it's the fact that in England we love to use apples in our savory dishes as well or it could also be that this dish was made at a lot of dinner parties when I was at university in St Andrews. It was so commonly made as it is unbelievably easy. I know I say that a lot but this dish really is a quick throw-it-in a pot dish and you can let it bubble away gently, filling your whole kitchen with a wonderful aroma. The sides, which I suggest below, are also impossibly easy. Leaving some time to get yourself and your kitchen looking perfect! It is also the sort of meal which is fancy enough for a dinner party (to make larger quantities just double, triple etc the recipe) or easy enough for a quick, weeknight meal.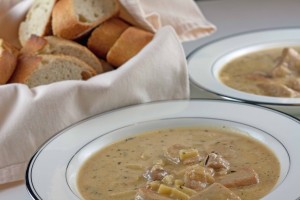 Normandy cuisine is known for its' use of locally grown apples and the resulting cider. The famous cider is more dry with a kick (as most serious cider is) rather sweet and round. If you can get your hands on a bottle to cook with and to enjoy a chilled glass of alongside the meal, you won't be disappointed.
This really is a dish for all seasons which is very handy especially at the moment when the weather here in New York can't decide if it wants to be winter with Arctic winds or high summer with welcome, unexpected sunny days. For those chilly or rainy days, I like to serve this with Roast Potatoes and asparagus or broccoli and on those lovely warm days, I make it easy on myself by slicing a French baguette and serving it with salted creamery butter and a green salad with an easy, light vinaigrette. Bon appetit!
Notes: Currently I am making this with apple juice as I am not entirely convinced that alcohol does evaporate from stews and braises (I know, I know, I am paranoid and over-thinking it) but please do switch this for some cider (hard rather than spiced).
If you have some on hand, you can use fresh thyme leaves rather than dried. Using the 3 fresh to 1 dried substitution, add 3/4 of a teaspoon of fresh thyme leaves to your pot.
Normandy Pork Stew, serves 4 as a main course
2 tbsp all purpose flour
Salt and pepper
1 lb pork loin, chopped into 1″ pieces
1 tbsp canola oil
2 tbsp unsalted butter, divided
½ large onion, diced
1 Granny Smith apple, peeled and diced
1 cup cream
¼ cup hard cider/apple juice (see Notes)
1 cup chicken stock
1 bay leaf
¼ tsp dried thyme (see Notes)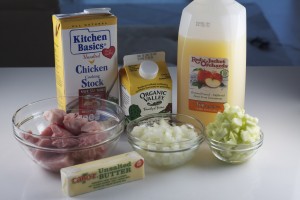 1. Place flour into a flat bowl or a plate. Season with salt and pepper. Toss pieces of pork loin in flour. Set aside.
2. Heat canola oil and butter in a large saute pan over medium high heat. Once hot, add floured pork and cook for 5-8 minutes until browned on all sides. Remove pork from the pan and set aside on a clean plate.
3. Add 1 tbsp butter to the pan and allow to melt. Add onions and saute for 3 minutes, stirring frequently to scrape up any browned bits from the pork. Add apple and cook for 3 minutes until both the onions and the apple are softened. Add cream, chicken stock, hard cider/apple juice, bay leaf, dried thyme and browned pork and allow to simmer gently for 30-45 minutes, until the sauce has reduced and thickened. Season with salt and pepper to taste.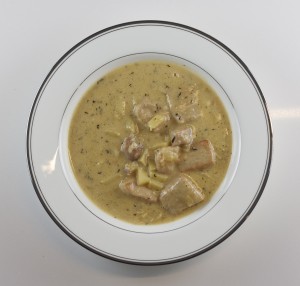 Search

Subscribe

Archives

Categories