Spicy Chipotle Chili
Posted on 15 March 2011
For the last four years, we have hosted an Oscar's party. The theme changes each year from black tie and fancy hors d'oeuvres to jeans and t-shirts and this chipotle chili (although one year we might have to do black tie and chili!) As I have some news, I was feeling a little too tired to make the 13 or so different kinds of small bites last year, although hopefully I will be able to get it together to do that again next year to keep mixing it up but friends' advice tells me that might not be happening. My news, which I suppose is our news, is that I am expecting. Currently 19 weeks and counting!
I hope this explains the patches of absence over the last few months. So not only were we moving, I was just trying to stay awake! Now that I am through the craziness of the first trimester, I am excited about giving Tiny Test Kitchen and you, my dear readers, the attention you deserve!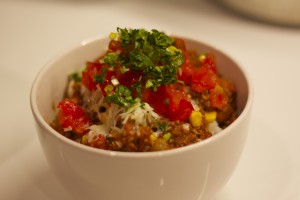 So without further ado, let us move on to the recipe. When I am making this chili for a crowd I tone down the spicy, for recommendations on how to do this please the Notes below. As you can see by the topping list, I have a fair few out. The crazy thing is even when I am just making this for me and the hubby I add them all as they all work so well. If I was stuck on a desert island and could only bring my chili and three of the toppings, I would pick the mascarpone, the diced avocado and the chopped tomato. Do with this information what you will. But seriously, they all do add something so if you can I recommend serving them all.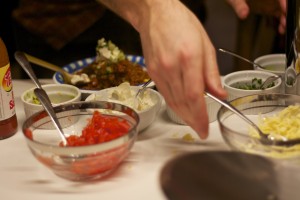 This chili is always a huge hit, no matter how many times I make it or how often people tell me that they don't like chili immediately before eating it (weirdly, this has happened more than once!) At our last Oscars party I made twice the amount I thought I would need for 14 or so people coming so that we would have plenty of leftovers for us for a few meals…. The hubs and I eked a bowl each out of the remainder the next night… I usually serve it with my Creamed Corn Cornbread (recipe coming) which also all went. I am sure it will be just as popular in your house! Oh drat, going back to my desert island trip, I really wish that I had brought some grated cheddar. Could I bring just 4 toppings?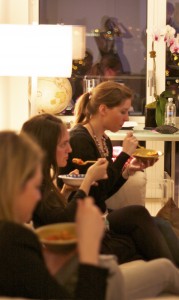 Notes: To help make this chili less spicy, I only use one seven ounce can for three times the other ingredients so you are more that welcome to do that as well. If you are not a big fan of spice, use about two peppers from the can and finely chop them and add a teaspoon or two of the adobe sauce to the chili. Taste and add more if you think you can handle it. Make sure to wash your hands thoroughly after handling the peppers. Like any hot pepper it will more than sting if you get the juices near your eyes so handle with care!
Spicy Chipotle Chili, serves 4-6 as a main course
3 tbsp canola oil
½ sweet onion, finely chopped
½ green pepper, finely chopped
2 stalks celery, finely chopped
1 pound ground beef, organic and anti-biotic free
28 oz can crushed tomatoes, fire-roasted (Muir Glen organic brand)
1 7oz can chipotle peppers in spicy adobe sauce (La Preferida brand)
2 tsp chili powder
1/8 tsp paprika
1/8 tsp cumin seed
1 15.5 oz can kidney beans (goya brand)
5 splashes Tabasco
1 splash Worchestershire sauce
Salt and pepper to taste
¼ cup sweetcorn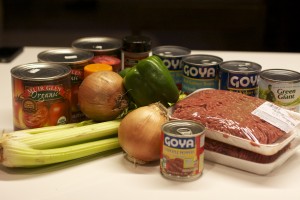 Suggested toppings –
Sliced scallions
Chopped tomatoes
Sweetcorn
Diced avocado
Chopped sweet onion
Cilantro leaves
Grated sharp cheddar
Mascarpone
1. Heat oil in a large saucepan over medium heat. Add onion, green pepper and celery and heat until softened, about 7 minutes. Add beef and cook until done (browned but not over cooked).
2. Add crushed tomatoes to saucepan, stir to combine. Add chipotle peppers, chili powder, paprika, cumin seed, kidney beans, Tabasco and worchestershire sauce. Lower heat and simmer gently for 30 minutes. Season to taste. (See Notes).
3. Add sweetcorn and continue to simmer for at least 10 minutes. Serve hot with toppings and Creamed Corn Cornbread.
Search

Subscribe

Archives

Categories