Pulled Pork Quesadillas
Posted on 14 March 2011
As I mentioned in my Smoked Gouda Gougéres recipe, the tiny test kitchen has moved. The hubs and I recently moved from dumbo in Brooklyn to Williamsburg just up the river. While we love, love, loved dumbo, we were sometimes frustrated by the lack of culinary diversity in the area (although if we could have eaten at Vinegar Hill House every evening we may have never left the neighborhood – it's our TOP dumbo pick and one of our favorite restaurants, perfect for a romantic date night or taking out of town family). In Williamsburg we are inundated with new places to try and we are loving it. (If I figure out how to become tech savvy, I want to add another couple of pages to the site, one for restaurant reviews and one for reviews of places on our travels.) One of our favorite restaurants is now within walking distance from our apartment and on the night of our move, when we were exhausted and surrounded by boxes, we decided to make the journey over to get some great grub. Fette Sau has been voted best barbecue in NYC since 2009 but my friends and I have been taking advantage of the outdoor picnic benches and beer served by the gallon in glass growlers since they first opened in 2007. While we were there, I found out that they delivered and we lived in their delivery zone!! Whoop whoop!!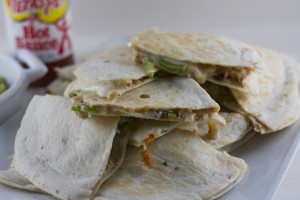 As anyone could have predicted we have ordered takeaway from Fette Sau about two times a week since our move. We usually over order, leaving me with leftovers to get creative with. The pulled pork is tender, moist and has a delectable lick of smoke so the resulting dishes are usually pretty delicious, none more so than these pulled pork quesadillas.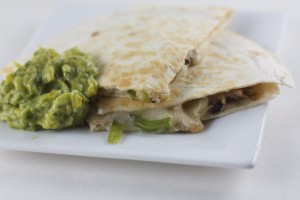 Side note: If you are able to make it to Fette Sau I would highly recommend the pulled pork and the pork belly, I get them every time I go (the pork belly occasionally runs out later on busy Saturday nights so get there early) and the ribs, lamb and baby back, are perfect examples of fall off the bone, smoky deliciousness. For sides we get either baked beans or broccoli salad depending on who wins, I pick beans, hubs picks brocolli – go figure. When we are with friends a gallon or few of a beer called Liquid Gold is drunk. Be careful though, it is more potent that you would think! My favorite, however, is a Manhattan. The bourbon and rye (which is what a Manhattan should be made with) collection is AWEsome there and you can even get a flight of a few to try. Oh, also please do marvel at their Southen Pride cooker, which can fit 500 pounds of meat at one time and their amazing wall of meat cut diagrams, which is sure to inspire your dining choices while you are waiting in line for your food. On a slightly obvious note, this temple of meat is not the place to take that comely vegetarian you have been trying to woo!
This is my husband's invention, pork belly atop pulled pork on a potato roll at Fette Sau. Just one of the multitudinous reasons why I love him!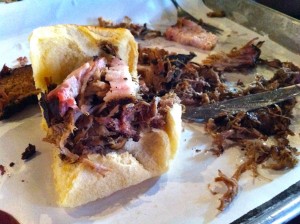 Tips: make sure the Oaxaca melting cheese is refrigerator cold when you grate it as becomes harder to work with as it gets warmer. Grate just before using as it begins to wilt at room temperature. If you do grate the cheese ahead of time, refrigerate until you assemble the quesadillas.
Pulled Pork Quesadillas, serves 4 as an entree
1 tsp canola or vegetable oil
½ green pepper, finely sliced
½ Spanish onion, finely sliced
8 medium-sized tortillas (approx. 8″)
12 oz Oaxaca cheese, coarsely grated
1 ½ cups pulled pork, finely shredded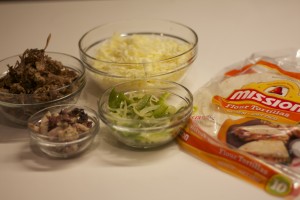 1. Heat oven to 275º and line a baking sheet with foil. Heat a medium sauté pan over medium high heat. Add oil to hot pan. Add sliced peppers and onions and cook until wilted. Remove and set aside. Wipe pan out with paper towel and set aside.
2. Begin to assemble the quesadillas. On one tortilla, spread about 1/2 cup of grated cheese evenly. Sprinkle cooked peppers and onions and shredded pork on top. Add another small handful of cheese evenly over the fillings and top with another tortilla.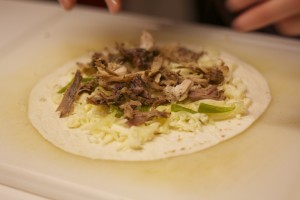 3. Place sauté pan used to cook peppers and onions over medium low heat until warm. Add quesadilla and cook for 3 minutes until cheese has melted. Using a spatula flip quesadilla and cook for another 2 minutes. While this quesadilla is cooking, assemble the other 3 quesadillas.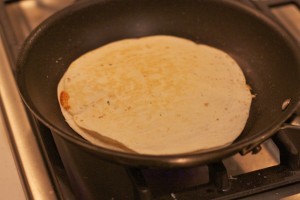 4. Once the quesadilla is cooked through and the cheese has melted, remove from pan and place on the foil lined baking sheet into the oven. Repeat cooking technique with the other 3 quesadillas.
To serve: Cut into quarters and serve with Guacamole (and hot sauce and barbecue sauce, if wanted).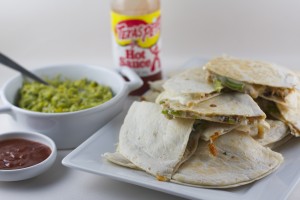 Search

Subscribe

Archives

Categories