Pimento Mac and Cheese
Posted on 23 March 2011
The hubs and I recently took a trip to Park City, Utah for a wedding of some good friends. Ordinarily this trip would fill me with a fair amount of glee. Ski, waffles and crepes, aprés ski and a couple of cuties getting married, why yes please! The skiing and aprés skiing part changes slightly when you are with child. My usual falling-down-a-mountain style of skiing would be even less graceful with my new center of gravity and the requisite hot toddies and spiced cider seemed like a decidedly bad idea, so I decided wisely to sit this one.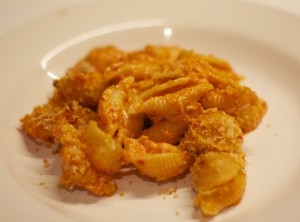 I filled my days with trips to Park City (where I got all altitude-y and had to high tail it to the nearest place that sold copious amount of water) and Whole Foods while waiting for everyone to return cold and rosy cheeked from the slopes (and way too gleeful if you ask me!). On one of said trips to the Whole Foods I was waiting in line and spied the March issue of Bon Appetit. I was a long time subscriber, until we recently moved and I decided to cancel all my magazine subscriptions, and I had not seen this edition. If you also haven't seen it I suggest you hot foot it over to the website tout de suite. The cover picture of this pimento mac and cheese is divine. With gooey cheese dripping down the side of a Staub mini casserole tempting me, I grabbed a copy and waited until we flew home to make it.
I knew the dish would be a home run as my pimento loving husband also thankfully loves mac and cheese (which he pronounces mac and chee… Don't worry I am trying to train it out of him before littler, impressionable ears can hear!) I myself get a little scared of pimento cheese, I don't know what it is but I always expect it to be vinegary or sour tasting. Thankfully this dish is neither. The three cheeses ensure a good level of goo, the ground ancho chiles (which I replaced with New Mexico chiles) add a hit of heat and the brine from the Peppadew peppers add just the right amount of tang. The topping is a crust of toasted, crispy Panko breadcrumbs, salty Parmesan cheese and butter. What could be more perfect?
I served this with a green salad with avocado and tomatoes and a light white balsamic vinaigrette.
Love pimento cheese? You may also be interested in my scrummy "Unofficial" Masters Pimento Cheese Sandwich recipe.
Notes: Panko breadcrumbs are light and crispy Japanese breadcrumbs. Very similar to fried tempura batter. They can be found in the ethnic section of most supermarkets.
While I was not familiar with Peppadew peppers (nor apparently is my spell check), I had to do some looking around. They are usually sold with the jarred olives and pickles and in larger supermarkets, on the olive cart.
I replaced the ground ancho chile with ground New Mexico chile as I had it on hand. In this recipe, I would also substitute the same amount of chile powder if you do not want to buy another spice. Which trust me, I understand, y'all need to see my spice cabinet! I need to organize!
For the shell type pasta, I used DeCecco conchiglie rigate no. 50 which were large enough for the sauce to encapsulate so you get a cheesy bite every time.
Pimiento Mac and Cheese, serves 4-6 as a main course
Recipe reproduced from Bon Appetit, March 2011
1 medium red pepper, cut into 1 inch chunks
2 garlic cloves, peeled and cut in half
1/2 cup panko breadcrumbs (see Notes)
3 tbsp unsalted butter, room temperature
1/2 cup finely grated Parmesan cheese
3/4 cup drained mild Peppadew peppers in brine, 1 tbsp brine reserved (see Notes)
1/4 tsp ground ancho chiles (which I replaced with ground New Mexico chile, see Notes)
1 1/4 cups packed coarsely grated extra-sharp Cheddar cheese
1 cup packed coarsely grated whole-millk mozzarella
8 oz medium shell pasta (see Notes)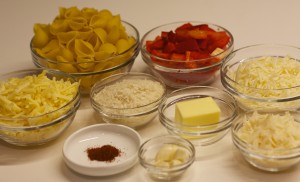 1. Heat oven to 400ºF. Butter a 2-quart baking dish and set aside. Bring 1/2 cup water, the bell pepper and 1 1/2 garlic cloves (you should still have 1/2 set aside) to a boil in a small saucepan. Cover and reduce heat to medium low, simmer for 15 minutes until pepper is tender.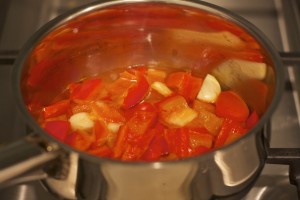 2. At the same time, heat a sauté pan over medium high heat and add the panko. Toast until they are golden brown, about 5 minutes. Remove from pan into a small bowl and set aside until they are cool to lukewarm. Rub 1 tbsp of the butter into the crumbs. Mix in 1/4 cup of the grated Parmesan.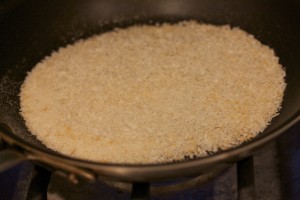 3. Transfer bell pepper mixture, without draining, into a food processor and add Peppadews and reserved brine, 2 tbsp butter, ground chile, the remaining 1/2 clove garlic, cheddar and remaining 1/4 cup grated Parmesan. Blend sauce until smooth.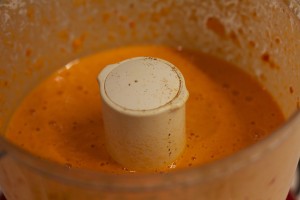 4. Cook pasta according to directions until al dente. Drain and return to pot, stir in sauce and grated Mozzarella until the pasta is coated. Season to taste with salt and pepper (you may not need much salt due to all the cheese). Pour into the buttered baking dish and spinkle with the panko topping.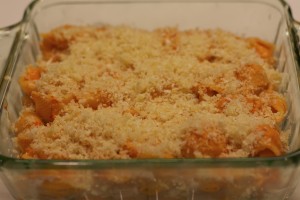 5. Bake for 25 minutes, until the topping is crisp and the sauce is bubbling.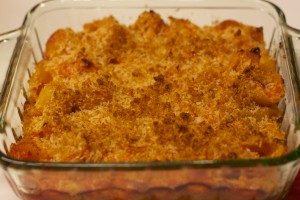 6. Let stand for 10 minutes before serving.
Search

Subscribe

Archives

Categories