Magnolia Bakery's Banana Pudding
Posted on 25 March 2011
I served this at our Oscar's night party, right after the Spicy Chipotle Chili and Creamed Corn Cornbread. I thought the two home style courses fit well together and this banana pudding recipe makes a lot which is perfect for making a lot of dessert for a lot of people. It is also completely 'make ahead' so when your guests arrive you don't have to do a thing but pull this delectable dessert out of the fridge and you look like the perfect Stepford (if, of course, that is your wish. If it isn't, might I suggest you try to 'messy-up' the layers!).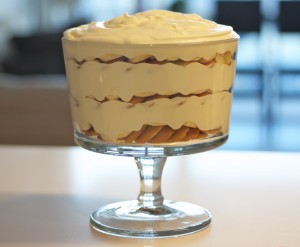 When I first moved to New York I naively thought knowing about Magnolia Bakery made me an insider, knowing at least a few of the secrets this huge and fabulous city has to offer. Little did I know that this fabled bakery was written up in publications the world over after being frequented by Carrie in Sex in the City circa 2002. I always favored the vanilla cupcake with pink vanilla buttercream icing until I was introduced to the banana pudding. Growing up in London I had never had banana pudding before, or any pudding when it comes down to it, so when I first tasted it it was a revelation. The rich creamy vanilla pudding, the slices of banana layered with the moist but still intact vanilla wafers, I had no idea on how to begin to recreate it. After buying the More from Magnolia cookbook, I knew the first recipe I was going to make would be Magnolia's famous banana pudding. I usually utilize fresh ingredients, cooking food that is as natural as possible but I will make an exception for particularly delicious desserts!
Leaving the dessert to sit for 4 hours lets the pudding soak into the nilla wafer cookies and gets them melt in your mouth tender. This is a step that cannot be skipped so plan ahead. It is also what makes it the perfect make ahead dessert.
This recipe makes a large amount of pudding, it is recommended for 12-15 people. I have halved the recipe with no consequence for smaller crowds. Also this recipe is easy to make with a stand mixer, if you don't have one a hand mixer or whisk are just as good, just a little harder on the arm, but sometimes I skip the appliances just to get a workout! I serve this pudding in a glass trifle bowl that allows you and all your guests to see the layers in the dessert which makes for an impressive presentation. As this make a lot so you will need a 4-5 quart bowl (about 4 litres) for a full recipe.
Notes: I wish I had a photo of a served portion of pudding but I could not capture one in time. I am not fibbing when I say that there were NO leftovers for me to take photos with! If you need the mental image, just imagine fluffy, creamy clouds of vanilla intermingling with melt on your tongue wafer biscuits and layers of fresh banana. Next time I'll try to get a photo that does this dessert justice.
Magnolia's Famous Banana Pudding
1 14-oz can sweetened condensed milk
1 1/2 cups ice cold water
1 3.4 oz package instant vanilla pudding mix (preferably Jell-O brand)
3 cups heavy cream
1 12-oz box Nabisco Nilla Wafers (recommended brand)
4 cups sliced ripe bananas (about 3 medium bananas)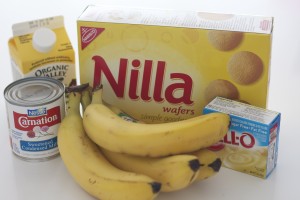 1. On medium speed of a stand mixer or in a small bowl, beat together sweetened condensed milk and water until well combined, about 1 minute. Sprinkle pudding mix over the liquid and beat well until all the powder has dissolved, about 2 minutes. Cover and place in refrigerator until completely set, about 3-4 hours or over night.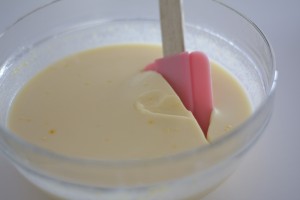 2. On medium speed of a stand mixer, whip cream until stiff peaks form. Gently fold in set pudding mixture until blended and no streaks remain (the mixture should be a pale yellow color).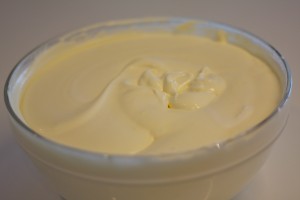 3. In the bowl you wish to serve the pudding in, arrange 1/3 of the wafers on the bottom of the bowl, they may need to overlap to fit.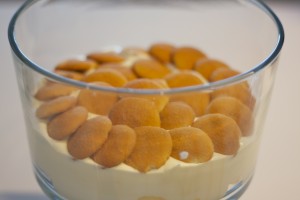 4. Then one third of the bananas as the next layer.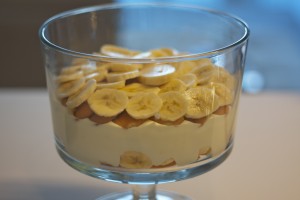 5. Then one third of the pudding mixture, repeat three times in total, until you fill the serving dish.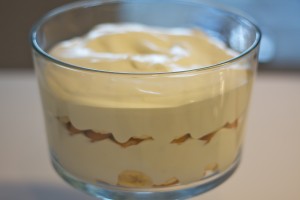 6. Save any bits of the wafers for garnish. Cover tightly and place back in refrigerator for 4 hours to chill. Garnish with crumbs and bits of the wafers.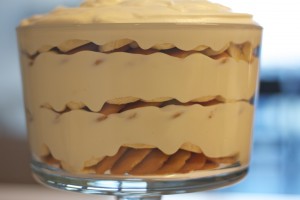 Search

Subscribe

Archives

Categories