Curried Cauliflower Soup, part 2
Posted on 22 March 2011
Sometimes when I am reading a blog I find a post that I am sure I have read before. It's like a sense of déja vu web 2.0 style. While some of you longer term readers may remember that I did a Curried Cauliflower Soup from Thomas Keller's book Ad Hoc, this is a different recipe. How many curried cauliflower soup recipes does one food blog need, you may ask. In this case of this food blog, at least two!
Where the Ad Hoc soup is silky and sophisticated and made using French culinary techniques (which I promise I fully explain!), this is rustic, homey and easy to prepare. Think of this soup as the younger brother of the other soup. Even though this soup is a little more wild than the other does not mean you can't 'fancy' it up with some nice china.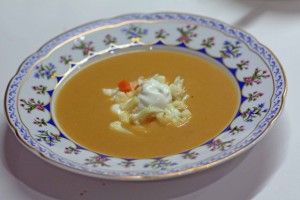 This recipe comes from Chris Bradley, who is a sous chef at Gramercy Tavern in New York. As soon as I received this recipe in my inbox, I knew I was going to have to make this soup and it was a sure to be winner. It looked the perfect recipe to post for spring time and it is has a host of my favorite ingredients. Freshly chopped leeks, curry powder, yoghurt… Coriander, cumin, cilantro oh my! While I wish I could say that sous chefs from the city's top restaurants just email me recipes, sadly this is not the case. Well not until Tasting Table had the genius idea to do a 'Sous Chef Series' where exactly that happens. Sous chefs from around the country submit recipes and you get the recipes right in your inbox! Sign up for the series here.
I made this recipe for a casual dinner at home for my dad's visit from the UK (which is odd because I also made the Ad Hoc Cauliflower Soup for him, apparently I subconsciously believe he loves cauliflower), and I served it with a freshly baked baguette, rich, creamery butter and a green salad.
Notes: I used freshly squeezed Meyer lemon juice but in the original recipe it calls for freshly squeezed lime juice. I just wanted to add something a bit bolder but you can of course stick with the lime juice if that is what you have on hand.
Curried Cauliflower Soup, serves 4-6 as a main course
Recipe reproduced and slightly modified from Tasting Table's Sous Chef Series
2 heads of cauliflower, cut into florets (about 10 cups)
1 onion, diced (about 1 cup)
1/2 leek, white and light green only, diced (about 3/4 cup)
2 large carrots, diced (about 1 cup)
1/4 cup plus 1 tbsp vegetable oil
1/2 tsp coriander seeds
1/2 cumin seeds
1/2 bunch coriander, roughly chopped (about 2 cups)
1/4 tsp ground tumeric
1/2 tsp ground curry powder
4 garlic cloves, roughly chopped
8 cups vegetable or chicken stock
3/4 cup Greek yoghurt
2 tsp freshly squeezed Meyer lemon juice (see Notes)
3 tbsp olive oil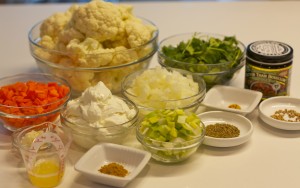 1. Reserve 1 cup of small cauliflower florets, 1/4 cup diced onion, 1/4 cup diced leek and 1/4 cup diced carrot and set aside for garnish.
2. In a large pot, warm 1/4 cup of the vegetable oil over medium heat. Add the remaining onion, leek and carrots and cook, stirring frequently, until the vegetables have begun to soften, about 6 minutes. Add the cauliflower and cook until soft, about 10 minutes longer.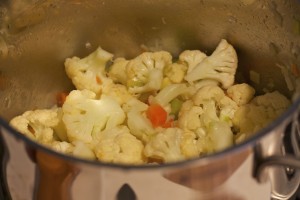 3. In a small skillet over medium-high heat, combine the coriander and cumin seeds and toast until they are fragrant and slightly browned, about 2 minutes. In a square of cheesecloth, combine the toasted seeds and the cilantro and tie into a bundle, securing it with a piece of kitchen twine. Add the spice bundle, turmeric, curry powder and garlic to the vegetables in the pot and cook until fragrant, about 1 minute.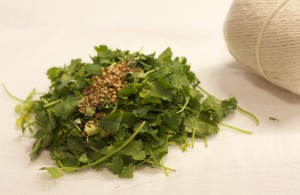 4. Add the vegetable stock, bring a simmer and cook until the vegetables are very tender, about 25 minutes. Remove the cheesecloth bundle, then puree the soup in a blender until smooth. Season to taste with salt and pepper. Return the puree to the pot and keep warm.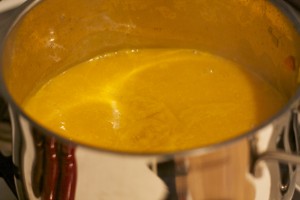 5. In a large skillet, warm the remaining 3 tablespoons of vegetable oil over medium-high heat. Add the reserved cauliflower, onion, leek and carrots and cook until the vegetables are just tender and lightly browned, about 6 to 8 minutes. Season to taste with salt and pepper and reserve.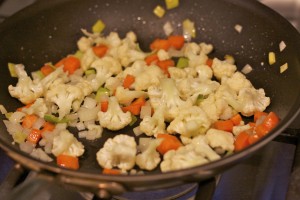 6. In a small mixing bowl, whisk together the yogurt, olive oil and Meyer lemon juice and season to taste with salt and pepper.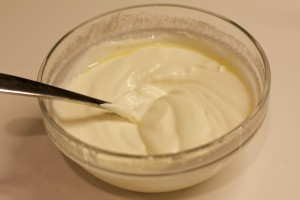 7. Divide the hot soup among 6 deep bowls, garnish with the reserved vegetables and drizzle with the yogurt mixture. Serve immediately.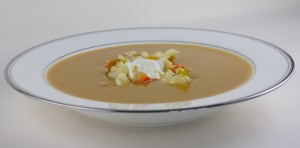 Search

Subscribe

Archives

Categories