Smoked Gouda Gougéres
Posted on 24 February 2011
After several months of very sketchy scheduling with my blog posts, I am sure this is not the post you were expecting… Please do think of it as an mini amuse bouche to the plethora of recipes that I will begin posting. Things have been a little crazy around these parts recently. Your favorite tiny test kitchen has moved about a mile and a half north and to the waterfront and in the process has gotten a little smaller.
But what we lost in cabinet space, we gained in counter space which has proven to be perfect for photographing and making multiple things at one time. I hope to do a whole post on how we have overcome our space challenges and the nifty ways we have found for storing all my kitchen equipment, so that shall come at a later date.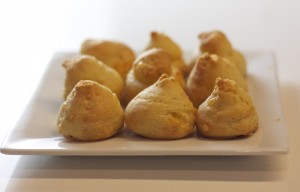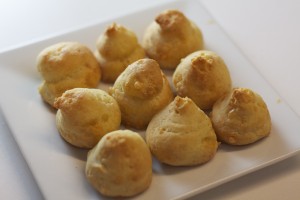 For now though, I would like to share with you this recipe for Smoked Gouda Gougéres. If you are a long time reader, you may remember that I posted a recipe for traditional Gougéres several months ago. Both are equally cheesy and crispy-on-the-outside, gooey-on-the-inside but these ones have a slightly smoky taste. The three different cheeses all add something to final little bite. The gouda lends its' smoky taste, the Gruyére is gooey and a little nutty and the Parmesan has a crisp and salty flavor.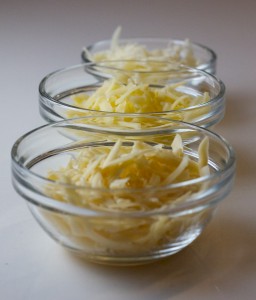 I decided to make them as an hors d'oeuvres before our Valentine's Day meal last week (better late than never on posting these, right?!) They are a snap to make, taking more time to prepare to assemble the ingredients (about 6-7 minutes) than to actively make (about 5 minutes), then you have to quickly pipe them onto a sheet pan and pop them in the oven until golden and a little crispy on the bottom before eating them right out of the oven!
Smoked Gouda Gougéres, makes 20 hors d'oeuvres
4 tbsp unsalted butter, cut into chunks
1/4 tsp kosher salt
3/4 cup all purpose flour
1/2 cup grated smoked Gouda (with the rind removed)
1/4 cup grated Gruyére (optional)
2 tbsp grated Parmesan
Pinch freshly ground black pepper
2 large organic eggs, beaten until yolks and whites are combined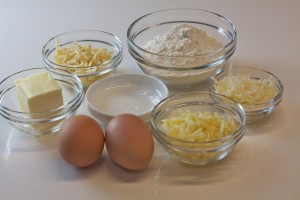 1. Heat oven to 400ºF. Using vegetable or canola oil, lightly grease a baking sheet.
2. Place 1/2 cup water, the butter and salt in a small saucepan and bring to a boil over medium high heat, stirring to make sure the butter melts evenly. Once the mixture is boiling, add the flour in one addition and stir firmly and quickly until a dough forms. The dough should begin to form one mass and begin to pull away from the sides of the pan. Turn the heat down to medium low and continuing to stir for 2 minutes until the dough begins to dry out slightly. Remove the pan from the heat and add the eggs slowly, stirring continuously until the eggs are incorporated. Add the cheeses and pepper and stir until combined.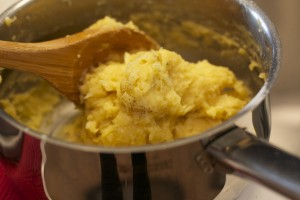 3. Using a wide, round tip with a piping bag or a Ziploc bag with a hole cut in one corner, pipe the dough into 1-inch rounds. Place in oven allow to bake for 15-20 minutes until the gougéres are golden brown and the bottoms are slightly crispy. Serve warm.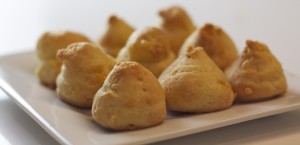 Search

Subscribe

Archives

Categories