Warm Asian Slaw
Posted on 07 January 2011
After yesterday's disturbingly healthy soup (except for the generous heap of Jack cheese I add to each bowl), I bet you were all hoping for a delicious gooey cream cake or a buttery pastry. Sorry to disappoint. You'll have to wait until the next post for a sugary treat! But this recipe is also amazingly healthy and thankfully, just as tasty.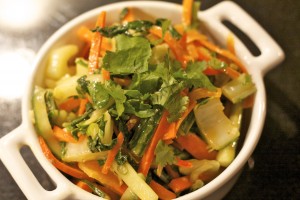 It is chock full of vegetable and tastes healthy but not in that holier than thou way that some foods have. (Seriously, if something is low-fat, vegan or in any other way "healthier" than usual, please do not let me know. I will instantly be looking for flaws.) By quickly sautéing the vegetables, they are warmed through, slightly wilted but with a crispy bite and the peanut dressing has a spicy, vinegary kick that coats the vegetables. As the sautéing is so quick, this slaw takes about as long as chopping the vegetables takes, (which depending upon your knife skills can be mere moments or maybe slightly more!).
Notes: In the recipe below I give some direction to the length and width of the different vegetables. These are just guidelines, please do not feel as though you have to get them exactly to these measurements. As long as they are roughly about this size and a consistent size overall, they will cook evenly and in the same time as listed below.
Warm Asian Slaw, makes 4 side servings
Peanut Dressing
4-5 tsp peanut butter
1 tbsp rice wine vinegar
2 tsp soy sauce
3/4 tsp Sriracha sauce
3/4 tsp sesame oil
1/4 tsp freshly grated ginger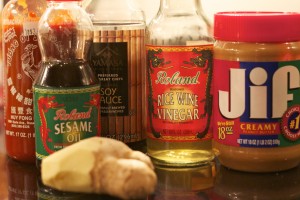 1. Whisk all the ingredients together vigorously until smooth. Set aside.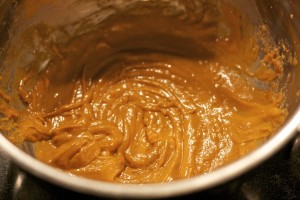 1 tbsp vegetable oil
1 clove garlic, minced
1 head bok choy, sliced in 1/4″ slices (makes about 4 cups)
1 large carrot, peeled and thinly sliced into 1/8″ thick and 1 1/2″ long matchsticks (about 1 1/2 cups)
1/2 red pepper, thinly sliced into 1/8″ thick and 1 1/2″ long matchsticks (about 1/2 cup)
1/2 English cucumber, sliced into 1/8″ thick and 2″ long matchsticks
2 scallions, thinly sliced
1/4 cup cilantro leaves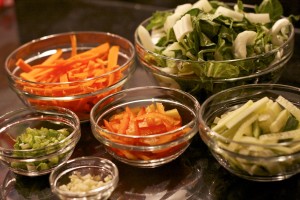 1. Heat a wok or large frying over medium high heat. Add oil and allow to heat, carefully tilt the pan to make sure the oil coats the bottom. Add garlic and cook for 1 minute until fragrant. Add carrot, cook for 3 minutes. Add bok choy and pepper and cook for 2 minutes, until wilted. Add scallions, stir and remove from heat.
2. Add cucumber and half the cilantro, pour on dressing and toss to coat. Serve while warm with the extra cilantro.
Search

Subscribe

Archives

Categories