Chicken Tortilla Soup
Posted on 05 January 2011
Happy New Year! I feel as though it has been an absolute age since I last posted. Okay… so that isn't so much a feeling; it has been, I know. But you'll be glad to hear that one of my New Years' resolutions is to post more. So more recipes, more regularly. I also want to begin writing about my travels and the great food that I find and also doing reviews in my own town, NYC. As soon as I figure out how to get the extra page links at the top of the page, we'll be in business!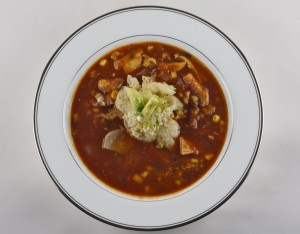 For now though I want to share this delicious Chicken Tortilla Soup. It is hearty, velvety, fresh tasting and perfectly spicy for cold weather or hot. It may just be me but right before the holidays all I could think about was Mexican food. Sometimes I think that your body knows exactly what it needs so I usually give in to all kinds of cravings. (Sometimes however I have to ignore them, as occasionally the craving is for a second or a third Krispy Kreme!) Due to my hippy-ish idea of feeding my body what it "needs", my poor hubby had to eat countless bowls of guacamole and salsas of all kinds and fajitas were almost always on the menu. So I decided to make this soup to shake things up. I hadn't made it before (or even tasted it) but I just instinctively knew that it was going to be delicious. And I was craving all things spicy and south of the border, it was to me. Thankfully the hubs thought so too!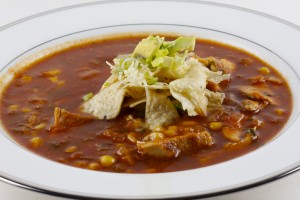 This soup is soooo unbelievably easy to make. I mean there are only two steps and when do my recipes have two steps? Madness! If you poached or roast and cube the chicken breast ahead of time it is even easier. This soup is also, dare I say it, unbelievably healthy. Leaving you guilt free and with at least one of your NY resolutions intact! You can of course lessen the amount of Jack cheese and tortilla chips you add to the soup prior to serving or leave them on the table and let everyone serve themselves.
All the accompaniments and the ubiquitous Guacamole and salsa!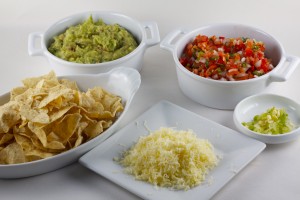 Notes: If you are cooking the chicken breasts the same evening as you make the soup, poach or roast them quickly.
To poach: Bring a medium saucepan of water to a medium simmer and slip the breasts in. Poach for 8 minutes or until cooked through. Leave until cool enough to handle and then cube into 1/2″ chunks.
To roast: Heat oven to 350ºF. Place breasts on a foil lined baking sheet and drizzle with olive oil and sprinkle with salt and pepper. Roast for 20 minutes or until cooked through. Leave until cool enough to handle and then cube into 1/2″ chunks.
Chicken Tortilla Soup, makes 4 main course sized bowls
2 chicken breasts, cooked, cooled and diced
1 onion, diced
1 jalapeno, finely diced
3 cloves garlic, minced
2 cups chicken stock
1 cup strained tomatoes (Pomi brand recommended or another BPA-free brand)
1 11oz can sweetcorn
1/4 cup chopped fresh cilantro
2 tsp chili powder
3/4 tsp dried oregano
1/2 tsp sweet paprika
1/2 ground New Mexico chile (optional)
1/4 tsp ground cayenne pepper
Finely sliced scallions, to serve
Crushed tortilla chips, to serve
Diced avocado, to serve
Grated Monterey Jack cheese, to serve
1. Sauté onions and jalapenos for 5 minutes, until softened. Add garlic and stir constantly to prevent burning for 2 minutes, until fragrant.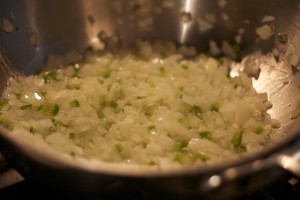 2. Add chicken stock and tomatoes and bring to a gentle simmer over medium heat for 10 minutes. Add chicken, sweetcorn, cilantro and spices and cook for a further 15 minutes. Taste and adjust seasoning with salt and pepper.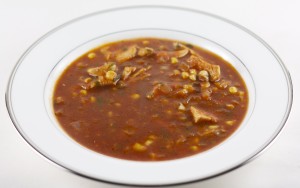 Serve immediately with scallions, tortillas, avocado and cheese. Enjoy!
Search

Subscribe

Archives

Categories