Turkey Chili
Posted on 07 December 2010
I'm not sure if it's the cold weather or the absence of the summer but for some reason I have been craving Mexican food all winter long. This turkey chili, made with leftover Thanksgiving turkey, is no exception. The mild heat in this dish will warm your cold bones and is perfect for a quiet day in front of the telly. I served mine with rice for a stick to your bones meal and topped it with grated Monterey Jack (which melts almost instantly on contact), sour cream and fresh cilantro. I also served a large bowl of guacamole and tortilla chips, which I topped with more grated Jack and broiled quickly just to get the cheese gooey and molten. It was the perfect lazy day after Thanksgiving meal!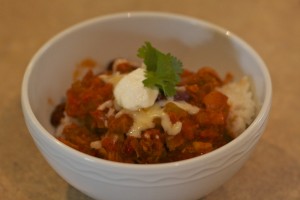 Turkey is such an underused meat which is so sad as it is also very versatile meat. Its' versatility comes in handy, however, when it is transformed into a thousand different dishes in households all over the Western world after Thanksgiving and Christmas. In England coronation turkey or chicken is just synonomous as the roasted turkey and gravy on the day. If for some odd reason you do not have the copious amounts of turkey that I did that day (!), you can of course use chicken instead and the chili will taste just as delicious.
Notes: I cut my celery by cutting each stalk into three along its' length. I then hold the three pieces together and chop across the short side to get a regularly dice. I find this makes for smaller, more manageable chunks in the final dish.
Turkey Chili, makes enough for 8
2 tbsp olive oil
1 white onion, chopped
3 celery stalks, chopped (see Notes)
6 cups cooked turkey (white or dark meat)
4 tsp chili powder
1 tsp ground chipotle pepper
1 tsp sweet paprika
1/2 tsp crushed red pepper
1/4 tsp roasted ground coriander
1 15.5oz can of low sodium kidney beans
1 28-oz box/jar of crushed tomatoes
2 cups chicken stock
1. Heat olive oil in a large pot over medium high heat. Add onions and celery and cook for 10 minutes or until soft.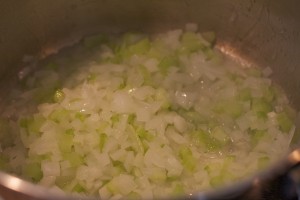 2. Add turkey and stir to combine the meat and vegetables. Cook for 3-4 minutes or until heated through.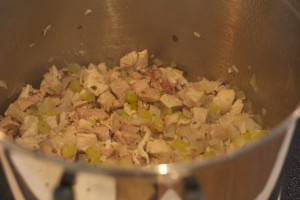 3. Add spices and stir to coat the turkey and the vegetables.
4. Add remaining ingredients and turn heat to low. Allow chili to simmer for at least 40 minutes and up to 2 hours, adding more chicken stock whenever the chili begins to look dry.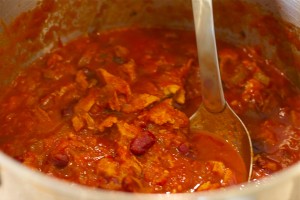 3. Serve with rice, grated Monterey Jack cheese, fresh chopped cilantro and sour cream.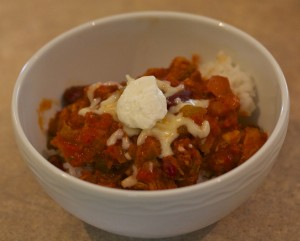 Search

Subscribe

Archives

Categories